Whether you already have experience or have never picked up a needle and thread, but interested to build a career with this profession, then you are on a right place! This is your chance to combine your creativity with newly learned technical skills to learn how to produce fashionable garments for every occasion.
Through this Advanced Diploma in Sewing and Fashion Design you will understand the ins-and-outs of the industry by providing you with a detailed context. You will look into many contributing factors in the fashion industry such as garment details, body type, sewing machine and practices. You will learn to create your own special garment from start to finish, made to fit you. 
Who is this Course for?
Advanced Diploma in Sewing and Fashion Design is perfect for anyone trying to learn potential professional skills.
As there is no experience and qualification required for this course, it is available for all students from any academic background.
Entry Requirement:
This course is available to all learners, of all academic backgrounds.
Learners should be aged 16 or over to undertake the qualification.
Good understanding of the English language, numeracy and ICT are required to attend this course.
Career path
This course opens a new door for you to enter the relevant job market and also gives you the opportunity to acquire extensive knowledge along with required skills to become successful. You will be able to add our qualification to your CV/resume which will help you to stand out in the competitive job industry.
Course Curriculum
Module 01
HISTORY OF FASHION DESIGNING

00:30:00

THEORY OF COLOUR

00:30:00

GARMENT DETAILS

00:30:00

BODY TYPE

00:30:00

SEWING MACHINE & PRACTICE

00:30:00

COMMON MACHINE PROBLEMS

00:30:00

PATTERN TERMINOLOGY

01:00:00

SEWING AIDS

00:30:00

NEEDLE AND THREAD

00:30:00

Module 02
ESSENTIAL TERMINOLOGY OF FASHION INDUSTRY

00:30:00

BASIC HAND STITCHES

00:30:00

SEAMS

00:30:00

FIBRES AND FABRICS

01:00:00

DIFFERENT TYPES OF FABRICS

00:30:00

TRIMS

00:30:00

FABRIC CARE

00:30:00

SPOTS AND STAIN REMOVAL

00:30:00

GARMENT FITTING

00:30:00

SKETCHING

00:30:00

Module 03
HOW TO TAKE MEASUREMENTS

00:30:00

WOMEN'S SIZE CHART

00:30:00

MEN'S SIZE CHART

00:30:00

SIZE CHART FOR KIDS (IN INCHES)

00:30:00

SEAM ALLOWANCES

00:30:00

MEASURE FROM A GARMENT

00:30:00

FABRIC REQUIREMENT

00:30:00

MULTI POCKET APRON

00:30:00

BATUA

00:30:00

CUSHION COVER

00:30:00

Module 04
DECORATIVE HAND TOWEL

00:30:00

DECORATIVE PLACEMAT

00:30:00

JEWELLERY BOX

00:30:00

BED SHEET

00:30:00

MULTI PANELLED CURTAIN

00:30:00

WALL HANGING

00:30:00

TABLE CLOTH

00:30:00

TABLE MATS, COASTERS & NAPKINS

00:30:00

ACCESSORIES

00:30:00

BASIC BODICE BLOCK

00:30:00

Module 05
PANELLED TOP WITH CUFF SLEEVES

00:30:00

FRONT OPEN TOP WITH TIE AT NECKLINE

00:30:00

HALF SLEEVE TOP WITH SHOULDER FLAP

00:30:00

ROLL UP HALF SLEEVE SHIRT

00:30:00

BASIC SKIRT BLOCK

00:30:00

SEMI CIRCULAR KNEE LENGTH SKIRT

00:30:00

BASIC TROUSER BLOCK FOR WOMEN

00:30:00

FLAT FRONT TROUSER

00:30:00

CAPRIS

00:30:00

SHAMIEZ

00:30:00

Module 06
SIMPLE KURTA WITH NECK AND SLEEVE OPTIONS

00:30:00

PRINCESS SHIRT (LADIES)

00:30:00

PATCHWORK KURTA

00:30:00

ANGRAKHA

00:30:00

SQUAT

00:30:00

WOMEN'S CHURIDAR

00:30:00

PLAIN PAJAMA – LADIES

00:30:00

SALWAR WITH BELT

00:30:00

DOGRIS

00:30:00

ODHNI / SHAWL

00:30:00

SIX PANELLED PETTICOAT

00:30:00

Module 07
PLAIN BLOUSE

00:30:00

BLOUSE WITH LINING

00:30:00

NIGHT SUIT

00:30:00

KAAFTAAN

00:30:00

NIGHTIE

00:30:00

NIGHTIE AND GOWN SET (2 piece)

00:30:00

FULL LENGTH WRAP AROUND SKIRT

00:30:00

BASIC SHIRT BLOCK FOR MEN

00:30:00

SHIRT (HALF SLEEVE)

00:30:00

FORMAL MEN'S SHIRT (FULL SLEEVE)

00:30:00

ALIGARHI PAJAMA (VARIATION)

00:30:00

Module 08
BASIC TROUSER BLOCK FOR MEN

00:30:00

FLAT FRONT TROUSER

00:30:00

MEN'S CHURIDAR

00:30:00

CARGO PANTS

00:30:00

ACHKAN

00:30:00

KALIDAR KURTA

00:30:00

NEHRU KURTA

00:30:00

BENGALI KURTA

00:30:00

WAISTCOAT

00:30:00

DENIM JACKET

00:30:00

Module 09
BIB

00:30:00

FEEDER

00:30:00

BABY PANTIES

00:30:00

TODDLER'S FROCK (JHABLA 1)

00:30:00

BABA SUIT

00:30:00

SLIP

01:00:00

BLOOMER (For 6 Month Old)

00:30:00

UNDERWEAR WITH GUSSET

00:30:00

JANGHIA

00:30:00

TOP

00:30:00

Module 10
SHIRT

00:30:00

SUN SUIT

00:30:00

PLEATED SKIRT

00:30:00

SPORTS SKIRT FOR GIRLS (DIVIDED SKIRT)

00:30:00

SIMPLE FROCK

00:30:00

A-LINE FROCK

00:30:00

UMBRELLA FROCK

00:30:00

DUNGAREES

00:30:00

JUMP SUIT

00:30:00

DECORATIVE BABY BAG

00:30:00

Recommended Reading
Recommended Reading: Advanced Diploma in Sewing and Fashion Design

00:00:00

Mock Exam
Mock Exam – Advanced Diploma in Sewing and Fashion Design

00:20:00

Final Exam
Final Exam – Advanced Diploma in Sewing and Fashion Design

00:20:00

Certificate and Transcript
Order Your Certificates or Transcripts

00:00:00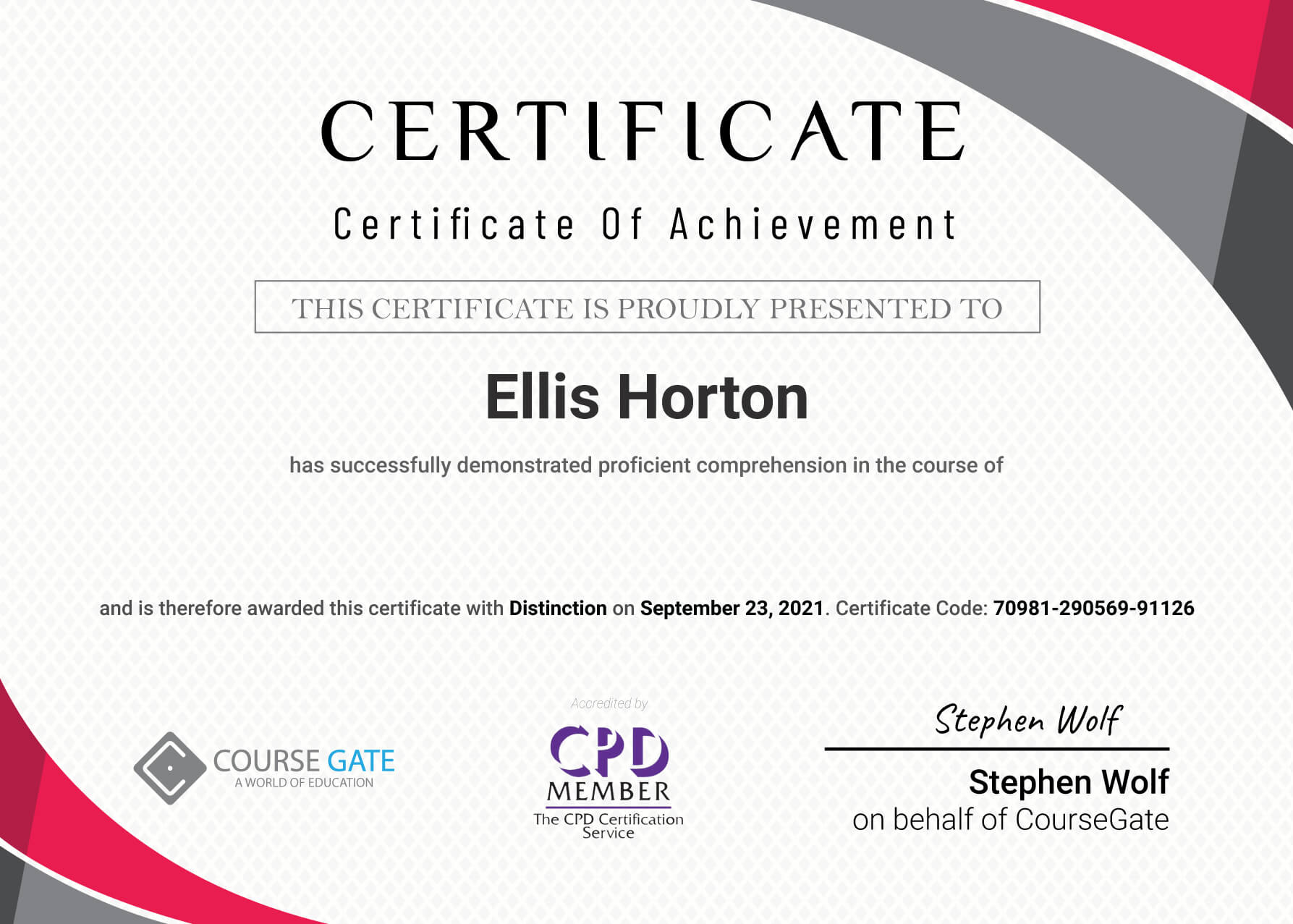 Advanced Diploma in Sewing and Fashion Design
Course Reviews
5 stars

1

4 stars

0

3 stars

0

2 stars

0

1 stars

0