Description:
Microsoft Excel – Complete Course – Beginners, Intermediate & Advanced – CPD Accredited
We have carefully combined our three best courses in one bundle- Microsoft Excel Beginners, Intermediate and Advanced to make it easy for you learn Excel. You won't find a great deal like this anywhere else at this price.
Microsoft Excel is one of the most widely used programs in the world for visualising and analysing data created so far. This useful software is used for personal use in households as well as in almost every industry these days. Business owners use Excel to track hours, finances, and statements, data analysis, visualise data and other countless tasks. Whether you are a beginner, have a little training and knowledge of the software or haven't used Excel in years and require a significant refresher, and take your skill to an advanced level, then this Microsoft Excel Complete Course can benefit you a lot. Once you have finished this course, will be an expert user in Excel.
Our easy to grasp tutorials will provide the knowledge in a pretty easy format in a little amount of time. You can study at your own pace, whenever you want, so there will be no rush. You will feel more confident in working with Excel upon completion of the course.
Who is this Course for?
Microsoft Excel Complete Course – Beginner, Intermediate & Advanced is perfect for anyone trying to learn potential professional skills.
As there is no experience and qualification required for this course, it is available for all students from any academic background.
Requirements
Our Microsoft Excel Complete Course – Beginner, Intermediate & Advanced is fully compatible with any kind of device. Whether you are using Windows computer, Mac, smartphones or tablets, you will get the same experience while learning. Besides that, you will be able to access the course with any kind of internet connection from anywhere at any time without any kind of limitation.
Career path
This course opens a new door for you to enter the relevant job market and also gives you the opportunity to acquire extensive knowledge along with required skills to become successful. You will be able to add our qualification to your CV/resume which will help you to stand out in the competitive job industry.
Alison Stephens
No need to worry this is an amazing course. Stop, start, pause when you want. Replay whatever if you you do not understand. Excellent value would definiitely recommend.. Delivery of the course is friendly and to the the point . Useful tips and shortcuts as most of you know Microsoft Excel is an amazing programme and you learn something from it each day
Lara Freeman
This course a valuable course and suitable for all level of learners. Recommended to everyone.
Course Curriculum
Microsoft Excel 2019 New Features
Introduction to Microsoft Excel 2019 New Features

00:07:00

CONCAT

00:02:00

IFS

00:01:00

MAXIFS

00:01:00

MINIFS

00:01:00

SWITCH

00:02:00

TEXTJOIN

00:01:00

Map Chart

00:02:00

Funnel Chart

00:01:00

Better Visuals

00:06:00

Pivot Table Enhancements

00:02:00

Power Pivot Updates

00:01:00

Getting Started with Microsoft Office Excel 2016
Navigate the Excel User Interface

00:28:00

Use Excel Commands

00:10:00

Create and Save a Basic Workbook

00:19:00

Enter Cell Data

00:12:00

Use Excel Help

00:05:00

Performing Calculations
Create Worksheet Formulas

00:15:00

Insert Functions

00:17:00

Reuse Formulas and Functions

00:17:00

Modifying a Worksheet
Insert, Delete, and Adjust Cells, Columns, and Rows

00:10:00

Search for and Replace Data

00:09:00

Use Proofing and Research Tools

00:07:00

Formatting a Worksheet
Apply Text Formats

00:17:00

Apply Number Format

00:08:00

Align Cell Contents

00:09:00

Apply Styles and Themes

00:12:00

Apply Basic Conditional Formatting

00:11:00

Create and Use Templates

00:07:00

Printing Workbooks
Preview and Print a Workbook

00:10:00

Set Up the Page Layout

00:08:00

Configure Headers and Footers

00:07:00

Managing Workbooks
Manage Worksheets

00:05:00

Manage Workbook and Worksheet Views

00:07:00

Manage Workbook Properties

00:05:00

Working with Functions
Work with Ranges

00:18:00

Use Specialized Functions

00:11:00

Work with Logical Functions

00:23:00

Work with Date & Time Functions

00:08:00

Work with Text Functions

00:11:00

Working with Lists
Sort Data

00:10:00

Filter Data

00:10:00

Query Data with Database Functions

00:09:00

Outline and Subtotal Data

00:09:00

Analyzing Data
Create and Modify Tables

00:15:00

Apply Intermediate Conditional Formatting

00:07:00

Apply Advanced Conditional Formatting

00:05:00

Visualizing Data with Charts
Create Charts

00:13:00

Modify and Format Charts

00:12:00

Use Advanced Chart Features

00:12:00

Using PivotTables and PivotCharts
Create a PivotTable

00:13:00

Analyze PivotTable Data

00:12:00

Present Data with PivotCharts

00:07:00

Filter Data by Using Timelines and Slicers

00:11:00

Working with Multiple Worksheets and Workbooks
Use Links and External References

00:12:00

Use 3-D References

00:06:00

Consolidate Data

00:05:00

Using Lookup Functions and Formula Auditing
Use Lookup Functions

00:12:00

Trace Cells

00:09:00

Watch and Evaluate Formulas

00:08:00

Sharing and Protecting Workbooks
Collaborate on a Workbook

00:19:00

Protect Worksheets and Workbooks

00:08:00

Automating Workbook Functionality
Apply Data Validation

00:13:00

Search for Invalid Data and Formulas with Errors

00:04:00

Work with Macros

00:18:00

Creating Sparklines and Mapping Data
Create Sparklines

00:07:00

MapData

00:07:00

Forecasting Data
Determine Potential Outcomes Using Data Tables

00:08:00

Determine Potential Outcomes Using Scenarios

00:09:00

Use the Goal Seek Feature

00:04:00

Forecasting Data Trends

00:05:00

Resources
Resources – Microsoft Excel Complete Course – Beginner, Intermediate & Advanced

00:00:00

Mock Exam
Mock Exam – Microsoft Excel Complete Course – Beginner, Intermediate & Advanced

00:20:00

Final Exam
Final Exam – Microsoft Excel Complete Course – Beginner, Intermediate & Advanced

00:20:00

Certificate and Transcript
Order Your Certificates or Transcripts

00:00:00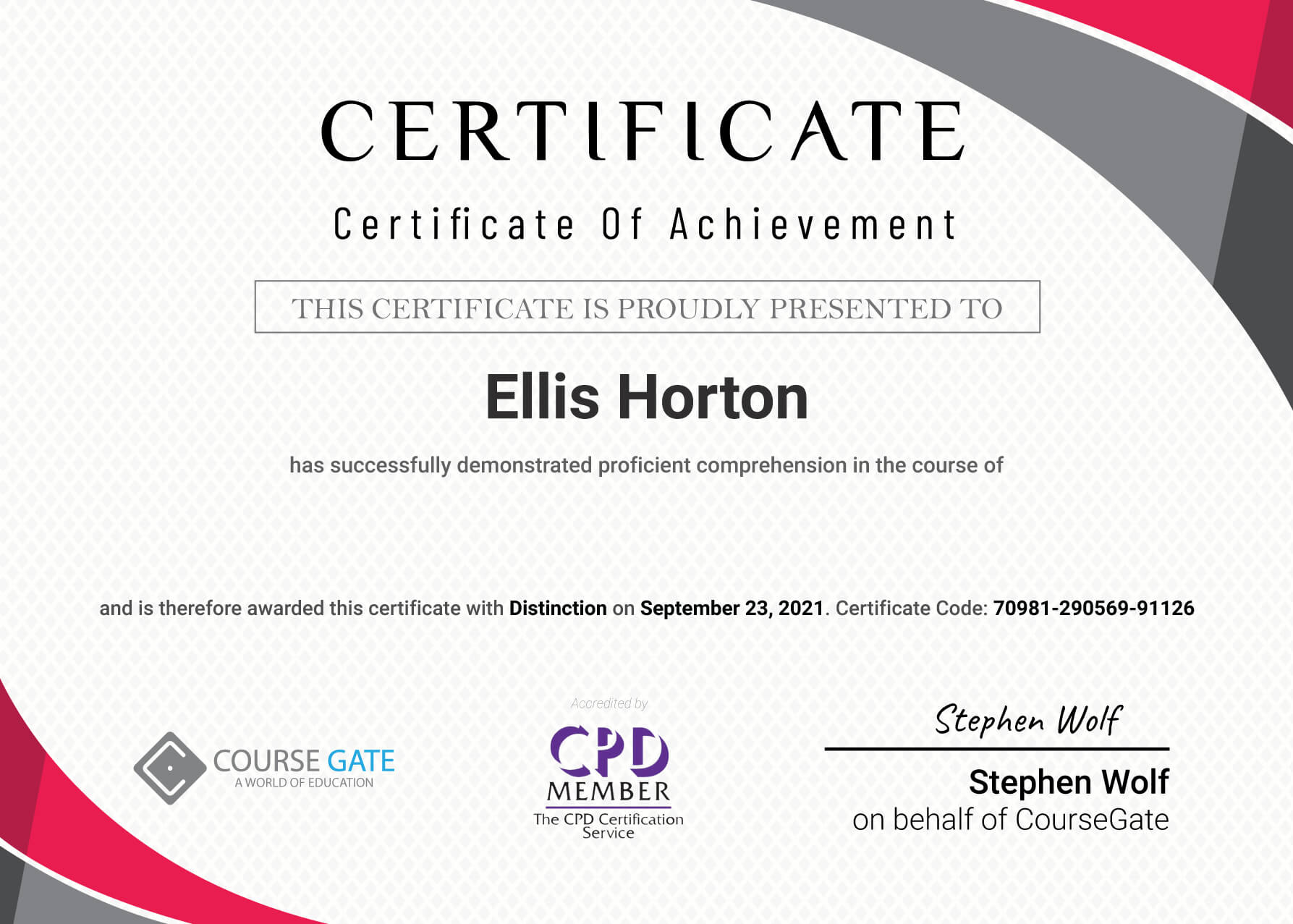 Microsoft Excel Complete Course - Beginner, Intermediate & Advanced
Course Reviews
5 stars

9

4 stars

3

3 stars

0

2 stars

0

1 stars

0