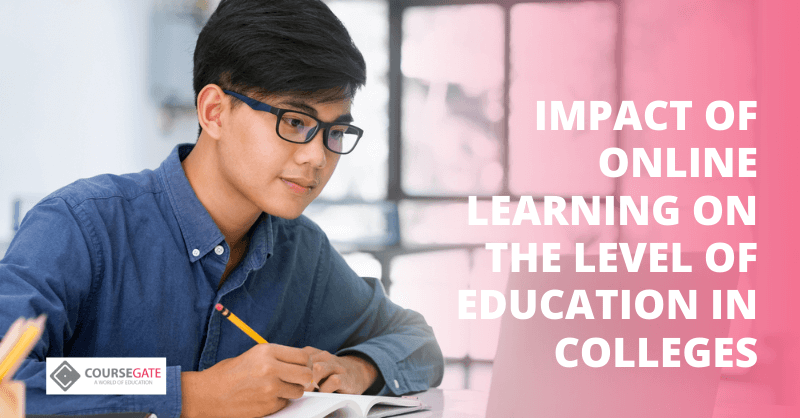 Online learning has become popular among students and working professionals in colleges due to its flexibility and autonomy. Online courses are designed to cater to family care, internships, and full-time employment. 
Successful institutions are those adapting to the changing times and the expectations of society, learners, and parents. The lives of students have changed significantly since the implementation of online learning in colleges. This blog reveals the positive and negative impact of online learning on the level of education in colleges. 
Benefits of Online Learning
The benefits of online learning are listed below.
Learning Flexibility
The online learning environment offers opportunities for individuals who would not have had access to education. Asynchronous learning enables learners to enjoy high-quality studies, especially if they live far from the institutions. 
Students can progress with their studies regardless of their geographical locations as long as they have an internet connection and computers. Additionally, the online format enables physically challenged learners to enjoy the freedom of participating in class. 
Learners are now balancing college life with family and social life because they can access the learning materials at their convenience. Virtual classrooms are accessible throughout, so learners can study at any pace at whatever time. 
Asynchronous communication that takes place through conferencing programs offers an avenue for working-class learners to participate and progress with their studies. Further, they can continuously access course materials, classroom discussions, and lectures at any time. This is ideal for slow learners who may need to go through the study materials again before proceeding to the next level. 
Synergy and Improved Dialogue
Online courses are designed to facilitate dynamic interaction between facilitators and learners and among the learners themselves. The participants share ideas and resources, thereby generating continuous synergy through the learning process. 
The individual students are encouraged to contribute to class discussions and comment about other people's work. The synergy in the student-centred classroom is one of the most important and unique features of the online learning format. The learners benefit from the synergy in the following ways:
Teachers must work together to identify the unique needs of learners and develop courses accordingly.

Whereas teachers play a significant role in the learning process, students should also be encouraged to be independent.

Teachers should act as facilitators by providing a conducive learning environment and advising learners. 
Within the structure of online asynchronous interaction, the student may reflect on their colleagues' comments before progressing to the next stage. The students will have more time to articulate feedback in more detail, which is better than the traditional face-to-face classroom setup.
Student-centred
When students participate in online discussions, they can respond to course books and lectures and comments from their fellow learners. In most cases, students respond to the subjects and topics that seem more influential to their lives. 
Such discussions result in further discussions taking place within smaller groups. Students are required to read all the contributions from their classmates, but they are often focused on those areas that are relevant to their interests. This is how online learning enables learners to control learning experiences and customize discussions to meet their unique needs.
College students love to discuss issues that touch on their individual lives and are motivated to study online to meet specific goals. Finding help for assignment writing from writers who have undergone training is good because the student will be able to learn and enjoy online discussions. Writix is an essay writing service for cheap, offering the best quality services that guarantee good grades. The writing professionals check plagiarism before submitting the final work to ensure that it is original and unique. 
Anonymity and Resource Access
The online learning environment offers some degree of anonymity which enhances the convenience of learning. Discriminating elements such as dress, disabilities, physical appearance, race, nationality, religion, and gender are eliminated. 
The attention lies on the discussion content and the ability of learners to comprehend important issues. The educators are also interested in the ability of learners to contribute intelligently and thoughtfully about the subject of discussion.
The online learning structure allows educators to invite students or experts from other institutions to contribute to the learning process. Furthermore, students can access materials and resources that could be located anywhere in the world. 
A tutor or instructor can create an online resource section with links to institutions, scholarly articles, and other relevant materials. The students can access such resources for extension, research, or in-depth material analysis. 
Challenges of Online Learning
Whereas online programs are beneficial in various aspects, they also come with some inherent weaknesses. 
Technology Access and Equity
The success of online learning programs depends on the ability of learners to access the learning environment. Failure to access the environment for logistics or economic reasons can exclude eligible students from the program.
Students in lower socioeconomic neighbourhoods and marginalized areas face the challenge of accessibility. If learners are unable to access the technology needed for online learning, this may translate to a lack of equity which is detrimental to the future generation. 
In some parts of the United States, internet access is not affordable to learners, so some of them are excluded from the courses. Some people have monthly internet subscriptions for their connection, while others are billed based on usage. If the time of the learner is limited by internet access affordability, then instruction in the online courses will not be equitable to all learners. 
Digital Literacy
Attending online classes requires students to have a certain level of technological literacy- the ability to log in well, participate in discussions and submit their work. This also includes the ability to communicate effectively with their facilitators and fellow learners.
They should understand communication etiquette as well as students' responsibilities and rights in an environment of online learning. Some learners are encountering challenges in the use of various search engines and are not comfortable "running" through the world wide web. If the learners don't have the right technology tools, they are likely to fail in online programs. 
Students should choose a college offering a wide range of online support services such as technical support via email, live chat, or phone. They should also pay attention to how their instructors ask them to submit their work and stick to those requirements. They need to pay attention to netiquette best practices, such as avoiding being sarcastic and typing in all caps. 
Technological Limitations
Reliable, efficient, and user-friendly technology is important for the successful implementation of online learning. Some students have not been able to access reliable technology and functional equipment that facilitate learning. 
Regarding online learning vs. physical classrooms, online is greatly affected by technological breakdown, which is not the case for physical learning. For instance, a server that hosts an online program may crash and disconnect participants, leading to a waste of time and unprecedented inconveniences.  
Similarly, personal computers could have various problems which may limit students' access to online programs. Access to the internet could also fail, or the hosting institutions get bogged down with users leading to a complete systems failure. In such situations, technology is neither reliable nor seamless, and it can hamper learning experiences. 
Students who plan to enrol in online learning should consider a fast and reliable internet connection. They should choose a high-quality home solution and know whom to contact in case they need technical help. It is also important to know the Wi-Fi-connected places they can visit, such as a coffee shop or public library. 
Inadequate Online Qualities
Successful instructions for online learning among the facilitators may not necessarily mean successful online instruction. Failure to train facilitators adequately regarding online methodologies and delivery could compromise the quality of online learning. The instructors must be good communicators and have language proficiency to guide the learners accordingly. 
In some cases, instructors are not able to create a supportive learning environment through virtual learning, thereby weakening the online program. Students may feel uncomfortable participating, especially when they realize that their instructor is not accessible. 
Failure to create a conducive learning environment can make the students feel alienated and hinder the achievement of learning goals. However, even if an instructor can create a good virtual environment, a lack of physical presence can still limit an online program. For online learning participants and faculty, things such as the inability to participate in meetings that need physical interaction could limit the success of online programs. 
Michael Stoddard works as a copywriter for a media agency and as a freelance academic writer for an online essay service aimed to help college students. He has been writing since his college days and professional training gives him the edge over other writers in the same field. In his free time, he loves drawing mythological figures, reading sci-fi novels and playing tennis.
Educational Psychology Course
This Educational Psychology Course will help you understand the current demands, trends and skills in Education industry
Educational Psychology Course
This Educational Psychology Course will help you understand the current demands, trends and skills in Education industry