Overview
Does caring for others give you a sense of purpose in life? Do you love to serve vulnerable and needy people? If your answer is yes, then you have come to the right place. Our level 3 health and social care course will equip you with all the fundamental tools to make you an asset in the care industry.
If you are interested in pursuing a career in the Care industry, then this online training will equip you with all the fundamentals to turn you into an asset for the care setting.

Through this course, you'll be able to learn about the responsibilities of a care worker. The training materials in our course will enrich your knowledge of working in the care industry and will familiarise you with the essential principles and policies in health & social care work. You'll get to learn a wide variety of topics, starting from how to safeguard vulnerable individuals to principles of risk management in healthcare.
Experts are suggesting that by 2035, there will be a sharp 29% growth in the care industry, and it will be among the most in-demand jobs. Not only is caregiving just a secure and well-paying job, but it is also very rewarding because you get to make a positive difference in others' lives.
If you want to secure your career for the future, you can seize the opportunity right now. Get access to our level 3 health and social care online course today and prepare yourself to become a successful caregiver and future leader in the care industry.
This beginner-friendly course allows anyone with a basic academic background to complete the course with good grades. So what are you waiting for? Enroll now and make your dreams come true!
Please note: Our Health and Social Care Level 3 course only gives you the theoretical knowledge to excel in this field. This course doesn't entitle you to practise as a professional in this specific field.
Learning Objectives of 

Level 3 Health and Social Care Online Course
Know what is effective communication in healthcare 

Understand how to perform your role as a caregiver or healthcare professional

Learn about the ethical aspects of healthcare

Know your health and safety responsibilities

Get to know about the typical hazards in a care setting

Enrich your knowledge of risk management in health and social care
Who is this Course for?
This Health and Social Care Level 3 is ideal for aspiring professionals who wish to gain the relevant skills and knowledge to fast track their careers. It is for those who have little or no knowledge of caregiving or those who are new to the field and want to test their skills and knowledge. There are no entry requirements for this course. However, an eye for detail and a creative mind is essential.
Entry Requirement
This course is available to all learners of all academic backgrounds.

A good understanding of the English language, numeracy, and ICT are required to attend this course.
CPD Certificate from Course Gate 
At the successful completion of the course, you can obtain your CPD certificate from us. You can order the PDF certificate for £4.99 and the hard copy for £9.99. Also, you can order both PDF and hardcopy certificates for £12.99.
Career Path
Upon successfully completing the Health and Social Care Level 3, learners can progress to a more advanced program from our course list. Career opportunities in this field include freelancing or working in-house, within a range of professional settings, with the opportunity to earn a high salary. Related professions in this industry include:
Health Care provider

Social Care Manager

The Health Care Assistant

Family Support worker

Support Worker

Pediatric Nursing

Health Care Technician

Health and Safety Executive

Mental Health Care Nurse

Registered Care Nurse

 

 
Health and Social Care Course FAQs
What is a health and social care course?
A health and social care course allows you to acquire the skills necessary for a satisfying job in the care sector. If you want to start a career in the Care sector, then a course would be your first step to beginning your career in the social and healthcare field.
Why choose a health and social care course?
By completing a CPD-accredited course on health and social care, you will gain the right skills and confidence to work in the care industry, where the average income of a care worker is £22,425 per year.
What does the health and social care course cover?
A health and social care course usually covers multiple modules to provide in-depth knowledge about every aspect of the care industry.
It teaches you how to safeguard and look after vulnerable individuals such as children and the elderly in the care setting. It also covers the essential principles, policies and legal aspects of the care industry as well.
Course Curriculum
Module 1: Introduction to Health and Social Care
Introduction to Health and Social Care

00:19:00

Module 2: Communication and its Relevance
Communication and its Relevance

00:42:00

Module 3: Rights and Responsibilities as a Health and Social Care Worker
Rights and Responsibilities as a Health and Social Care Worker

00:38:00

Module 4: Role as A Caregiver and Healthcare Professional
Role as A Caregiver and Healthcare Professional

00:26:00

Module 5: Working in Health and Social Care; Promoting Equality, Diversity and Rights
Working in Health and Social Care; Promoting Equality, Diversity and Rights

00:49:00

Module 6: Important Principles and Policies in Health and Social Care Work
Important Principles and Policies in Health and Social Care Work

00:23:00

Module 7: Understanding Legal, Professional Standards of Practice and Ethical Aspects of Health Care Part – 1
Understanding Legal, Professional Standards of Practice and Ethical Aspects of Health Care Part – 1

00:50:00

Module 8: Understanding Legal, Professional Standards of Practice and Ethical Aspects of Health Care Part – 2
Understanding Legal, Professional Standards of Practice and Ethical Aspects of Health Care Part – 2

00:48:00

Module 9: Safeguarding Vulnerable Individuals
Safeguarding Vulnerable Individuals

00:52:00

Module 10: Health and Safety Responsibilities
Health and Safety Responsibilities

00:51:00

Module 11: Risk Management in Health and Social Care
Risk Management in Health and Social Care

00:03:00

Mock Exam
Mock Exam – Level 3 Certification in Health and Social Care

00:20:00

Final Exam
Final Exam – Level 3 Certification in Health and Social Care

00:20:00

Certificate and Transcript
Order Your Certificates or Transcripts

00:00:00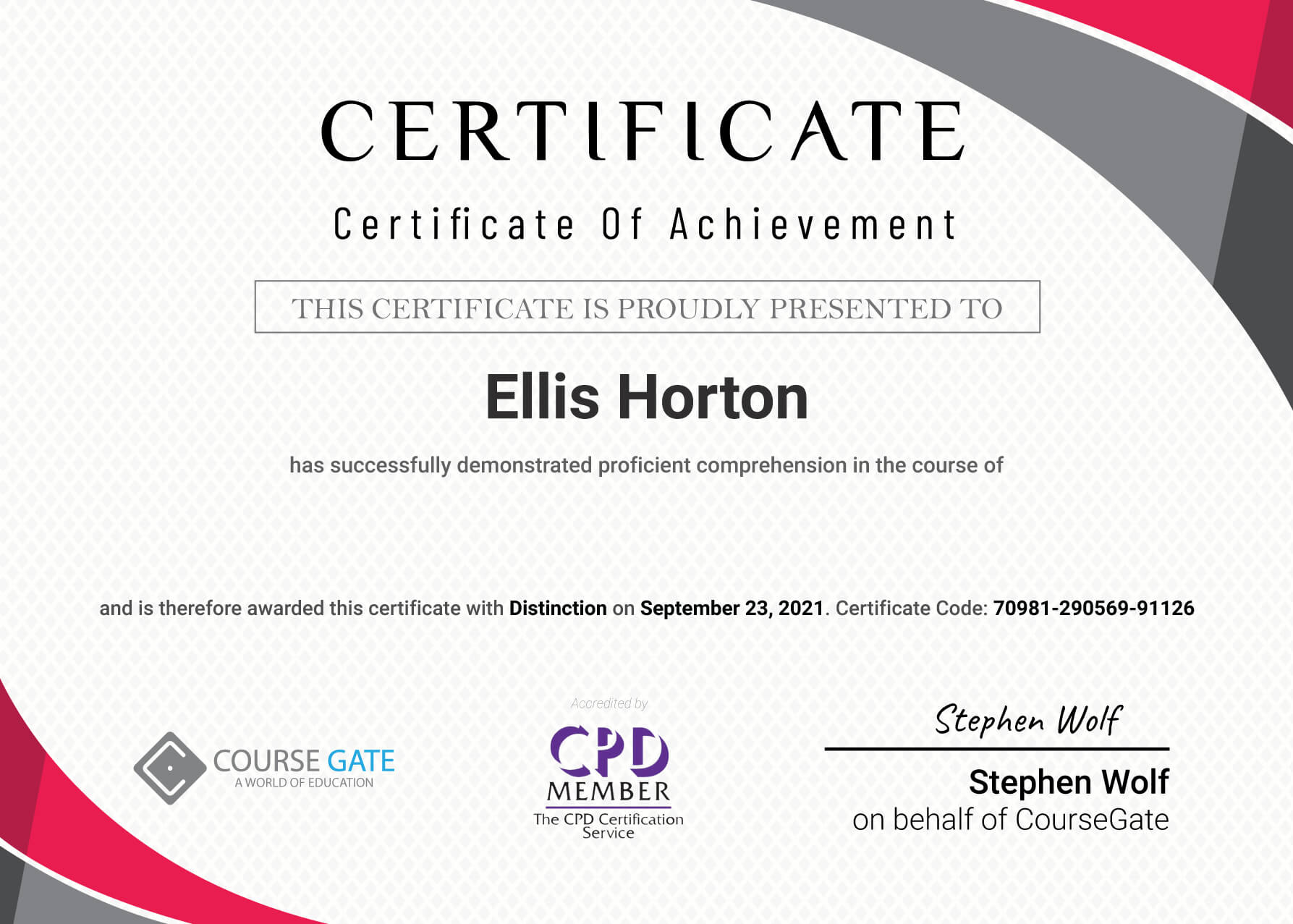 Health and Social Care Level 3