Become a successful interior designer and learn how to make any room come to life with the
Interior Design Course Level 5
. 
This online interior design course is ideal for beginners and those who are studying interior design. You will start by exploring basic interior design principles and the different design elements. You will also delve deeper into sustainable design and designing eco-friendly living spaces. Throughout the course, you will learn about what goes into a design project and the process from start to completion.
At the end of the course, you will receive practical advice for setting up your own business, focusing on strategy and implementation, which will help you to create a well-informed business plan. This training program is particularly ideal for those who have an art and design background.
Learning Objectives
Gain a good comprehension of the modern

interior design

industry.

Be able to

design

and apply decorative works of art.

Get a detailed introduction to the

interior design

profession.

Develop thorough knowledge and understanding of all fundamental

interior design

principles and elements.

Get a sweeping overview of each component project stage.

Learn to visualise and model

interior

spaces.

Develop your skills in modelling

interior

spaces.

Boost your confidence to plan and execute challenging

interior design

projects.

Enhance professional skills for building solid client-designer relationships.

Understand the key skills required to transform inspiration into actual results.

Improve your versatility as a designer and prepare for your

interior designing

career.

Leave this course equipped with relevant information on the business side to

interior design.
Who is this Course for?
This endorsed
Interior Design Course
is suitable for learners of all levels, whether beginners or industry professionals. It offers practical guidance for those who are new to this field, as well as advice for setting up your own interior design business. There are no entry requirements, and on successful completion, a certificate of achievement will open doors to many career opportunities in this industry. This course is ideal for those who have a creative mind and eye for detail, as well as a genuine passion for interiors and home decor.
Entry Requirement:
This course is available to all learners, of all academic backgrounds.

A good understanding of the English language, numeracy and ICT are required to attend this course.
Endorsement
This course has been endorsed by the Quality Licence Scheme for its high-quality, non-regulated provision and training programmes. This course is not regulated by Ofqual and is not an accredited qualification. Your training provider will be able to advise you on any further recognition, for example progression routes into further and/or higher education. For further information please visit the Learner FAQs on the Quality Licence Scheme website.
Certificate of Achievement
Endorsed Certificate of Achievement
At the successful completion of the course, the learners can order an endorsed certificate of achievement by paying the fee of £108. There is an additional £10 delivery charge for international students.
Certificate of Completion from Course Gate
At the successful completion of the course, you can obtain your CPD certificate from us. You can order the PDF certificate for £9 and the hard copy for £15. Also, you can order both PDF and hardcopy certificates for £22.
Career path
Interior design course will help learners to secure a position in the following roles:
Interior designer

Interior architect

Exhibition designer

Set designer
Course Curriculum
Interior Design
Module 01: Introduction to Interior Design
Module 01: Basics of Interior Design

01:15:00

Assessment Module 01
Module 01 Final Quiz Exam – Interior Design Course Level 5

00:10:00

Module 02: Design Principles
Module 02: Principles of Interior Design

01:03:00

Assessment Module 02
Module 02 Final Quiz Exam – Interior Design Course Level 5

00:10:00

Module 03: Project Overview
Module 03: Outline of a Project

01:30:00

Assessment Module 03
Module 03 Final Quiz Exam – Interior Design Course Level 5

00:10:00

Module 04: Design Elements
Module 04: Design Elements

01:06:00

Assessment Module 04
Module 04 Final Quiz Exam – Interior Design Course Level 5

00:10:00

Module 05: Design Elements Practical Components
Module 05: Design Elements – Practical Components

01:36:00

Assessment Module 05
Module 05 Final Quiz Exam – Interior Design Course Level 5

00:10:00

Module 06: Room by Room Design
Module 06: Designing Individual Rooms

01:09:00

Assessment Module 06
Module 06 Final Quiz Exam – Interior Design Course Level 5

00:10:00

Module 07: Popular Interior Designs
Module 07: Fashionable Interior Designs

01:06:00

Assessment Module 07
Module 07 Final Quiz Exam – Interior Design Course Level 5

00:10:00

Module 08: Sustainable Design
Module 08: Eco-friendly Designs

00:57:00

Assessment Module 08
Module 08 Final Quiz Exam – Interior Design Course Level 5

00:10:00

Module 09: Presenting Your Ideas
Module 09: How to Present Your Ideas

01:00:00

Assessment Module 09
Module 09 Final Quiz Exam – Interior Design Course Level 5

00:10:00

Module 10: Managing Interior Design Business
Module 10: How to Successfully Manage an Interior Design Business

01:15:00

Assessment Module 10
Module 10 Final Quiz Exam – Interior Design Course Level 5

00:10:00

Order Your Certificate
Order Your Certificate QLS

00:00:00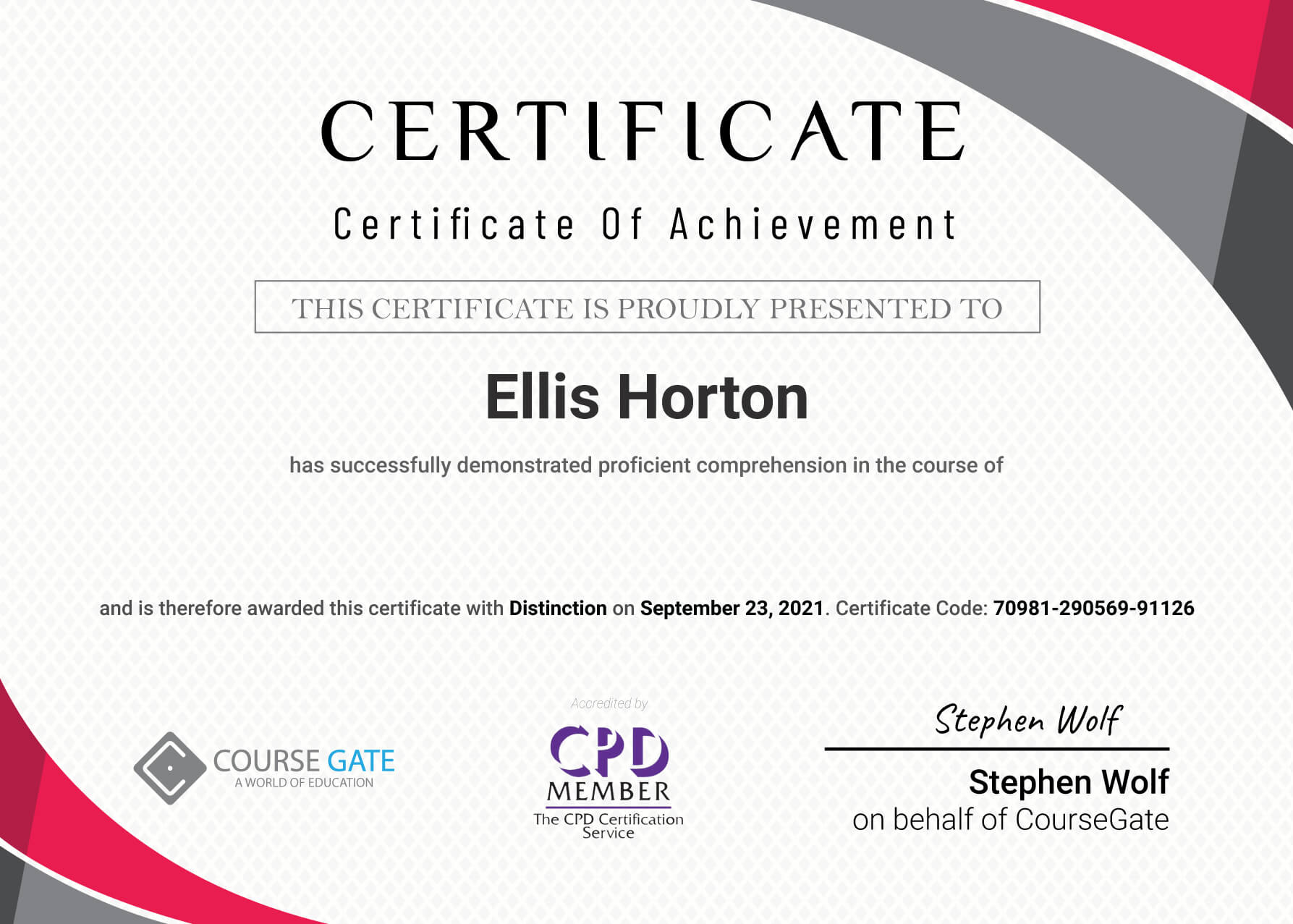 Interior Design Course Level 5
Course Reviews
5 stars

3

4 stars

0

3 stars

0

2 stars

0

1 stars

0