Description
Learn how to help those who require occupational assistance to improve their working lives with the Occupational Therapy Assistant Course.
In this course you will learn; how to build confidence for those with speech problems, with further knowledge in helping fix how to support, build on and develop the day-to-day working lives of those who need occupational support.
The Occupational Therapy (OT) Assistant Course covers; strategies for using OT therapy with further learning on physiology and human anatomy to help those with disabilities lead the best working lives they can.
Please note that this occupational therapy course does not entitle you to join the HCPC register or recognised OT therapist. This Occupational Therapy course will not make you an OT therapist but you will come across all the basic guidelines of occupational therapy to boost and shine your knowledge in this particular field of Occupational Therapy.
Learning Goals of the Occupational Therapy Assistant Course:
Discover what Occupational Therapy Is

Understand basic physiology and anatomy of the human body

Learn creative skills for management and confidence building

Understand ways to help those dealing with depression

Learn how to develop a career as an Occupational Therapist

Learn the theory of the human need for occupation

Understand Laslo's 'Hierarchy of Needs'

Discover various career paths.
Who is this Course for?
Occupational Therapy Assistant Course is perfect for anyone trying to learn potential professional skills.
As there is no experience and qualification required for this course, it is available for all students from any academic background.
Entry Requirement:
This course is available to all learners and of all academic backgrounds.

Learners should be aged 16 or over to undertake the qualification.

Good understanding of English language, numeracy and ICT are required to attend this course.
CPD Certificate from Course Gate
At the successful completion of the course, you can obtain your CPD certificate from us. You can order the PDF certificate for £9 and the hard copy for £15. Also, you can order both PDF and hardcopy certificates for £22.
Career path
This course opens a new door for you to enter the relevant job market and also gives you the opportunity to acquire extensive knowledge along with required skills to become successful. You will be able to add our qualifications to your CV/resume which will help you to stand out in the competitive job industry.
Chloe Gilroy
Really helpful and informative course that gives great insight into Occupation Therapy
John Morgan
It taught me a lot. Far more than I anticipated. very in depth but very worth while
Course Curriculum
Introduction to Occupational Therapy
About the Course & Instructor

FREE

00:06:00

What is Occupational Therapy?

00:06:00

Knowledge & Skills for Occupational Therapy

00:09:00

Working with Adults

00:10:00

Working with Children

00:06:00

(Basic) Anatomy & Physiology
The Structure & the Functions

00:08:00

The Blood & the Immune System

00:07:00

What is 'Brain Injury'?

00:07:00

Developmental Disorders & Conditions

00:07:00

Physical Disabilities

00:07:00

Creative & Management Skills
The Use of Creative Activities

00:08:00

Management & Leadership Skills

00:06:00

Building Confidence & Self-Esteem

00:05:00

Dealing with Depression

00:08:00

Career Growth in Occupational Therapy
Professional Development

00:05:00

Personal & Academic Development

00:06:00

Alternative Career Options

00:09:00

Individual (Client's) Development
A Theory of Human Need for Occupation

00:07:00

Occupations for Health & Wellbeing

00:04:00

Coping Strategies (stress)

00:10:00

Maslow's Hierarchy of Needs

00:05:00

Thank You & Good Bye!

00:04:00

Certificate and Transcript
Order Your Certificates or Transcripts

00:00:00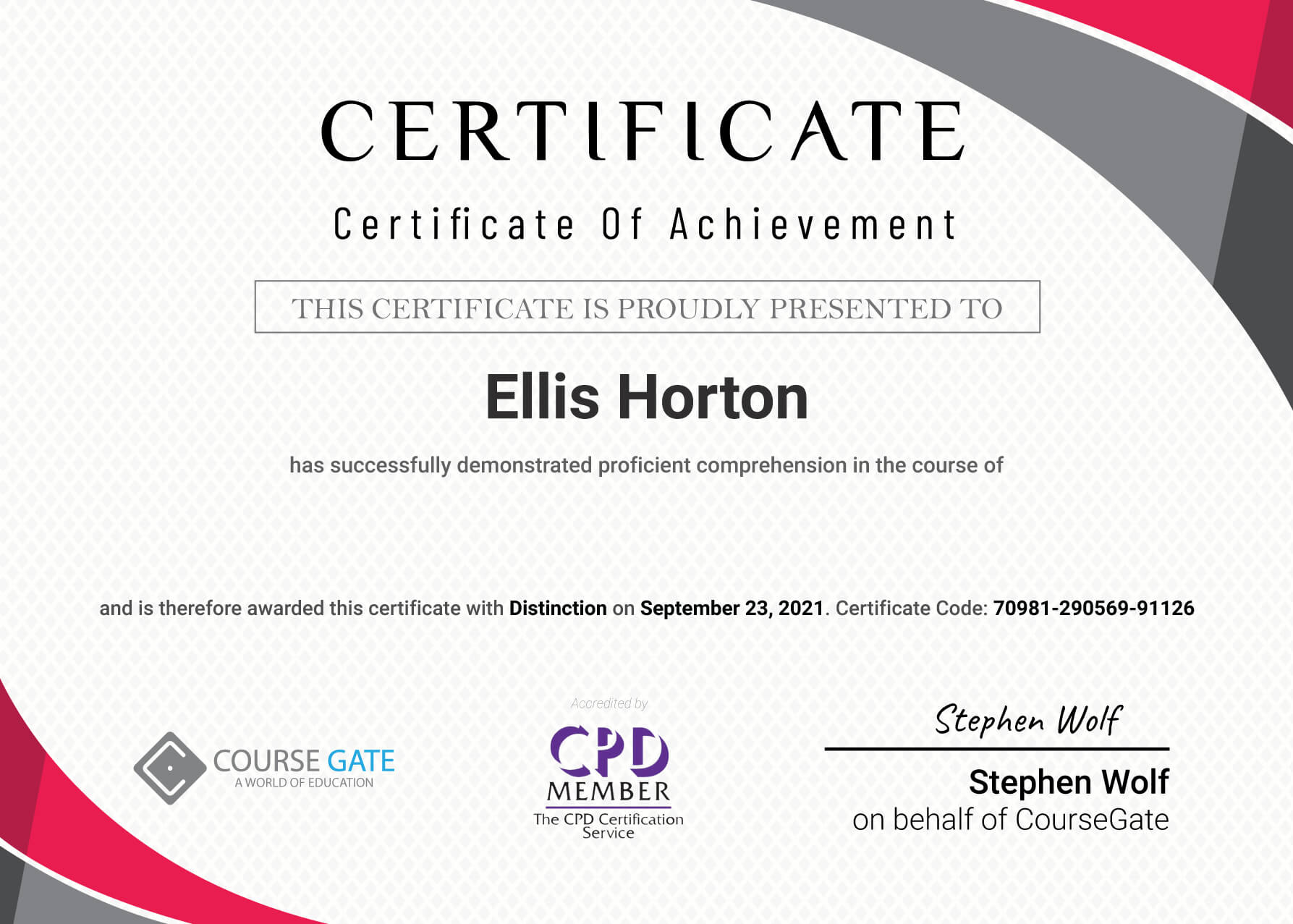 Occupational Therapy Assistant Course
Course Reviews
5 stars

0

4 stars

0

3 stars

0

2 stars

0

1 stars

0
No Reviews found for this course.