Become a fully qualified proofreader or editor and master the English language with the Proofreading & Editing Course Level 5 Diploma. This diploma course is endorsed by ABC Awards – a regulated organisation that ensures professional, reputable certification for further education.
In this training course, you will develop your proofreading and editing skills to ensure high-quality content every time. Whether you want to improve your essay writing or kickstart a career in book publishing, this distance learning program offers practical exercises and knowledge. You will learn the fundamentals of fact-checking, how to perfect your spelling and grammar, techniques for editing, and much more.  
Do you know the difference between editors and proofreaders? This course will develop your understanding of these roles and their core responsibilities. You will learn how to proofread on paper and on-screen and will learn strategies for scanning documents quickly without missing vital errors. All that and much more is discussed in this best-selling masterclass.
Learning Objectives
A thorough understanding of the

editing

process

Understand what is expected of

professional proofreaders and copy editors

The basics of

proofreading and copy editing

Personal attributes of a

professional proofreader and copy editor

Learn to correct printed documents and webpages

Understand the differences between

proofreading and copy editing

Know what a style guide and style sheets are and create an individual style

Grasp the idea of marking up the text on paper, and learn methods and techniques for on-screen proofreading

Identify common grammar errors, including different elements of a book or manuscript

Gain the skills to be a proficient

copy editor and proofreader

Perform proofreading for the translation of legal documents

Know how to start your business and become a self-employed

editor and proofreader

Successfully offer proofreading and copy-editing services and seize a great way to earn good money
Who is this Course for?
This advanced Proofreading & Editing Course Level 5 Diploma  is ideal for those who already possess an excellent knowledge of the English language and whose career involves writing marketing content or copy for an online audience. The course will be particularly beneficial for blog owners, freelance writers, aspiring editors, journalists and digital marketers who want to build their skill set for career advancement. This online training course can be studied in your own time and at your own convenience, offering a flexible alternative to traditional classroom learning.
Entry Requirement:
This course is available to all learners, of all academic backgrounds.

Learners should be aged 16 or over to undertake the qualification.

Good understanding of English language, numeracy and ICT are required to attend this course.
Accreditation
At the end of this course successful learners will receive a Certificate of Achievement from ABC Awards and Certa Awards and a Learner Unit Summary (which lists the components the learner has completed as part of the course).
The course has been endorsed under the ABC Awards and Certa Awards Quality Licence Scheme.  This means that Course Gate has undergone an external quality check to ensure that the organisation and the courses it offers, meet defined quality criteria. The completion of this course alone does not lead to a regulated qualification* but may be used as evidence of knowledge and skills gained. The Learner Unit Summary may be used as evidence towards Recognition of Prior Learning if you wish to progress your studies in this subject. To this end the learning outcomes of the course have been benchmarked at Level 5 against level descriptors published by Ofqual, to indicate the depth of study and level of demand/complexity involved in successful completion by the learner.
The course itself has been designed by Course Gate to meet specific learners' and/or employers' requirements which cannot be satisfied through current regulated qualifications.   ABC Awards/Certa endorsement involves robust and rigorous quality audits by external auditors to ensure quality is continually met.  A review of courses is carried out as part of the endorsement process.
ABC Awards and Certa Awards have long-established reputations for providing high quality vocational qualifications across a wide range of industries. ABC Awards and Certa Awards combine over 180 years of expertise combined with a responsive, flexible and innovative approach to the needs of our customers.
Renowned for excellent customer service, and quality standards, ABC Awards and Certa Awards also offer regulated qualifications for all ages and abilities post-14; all are developed with the support of relevant stakeholders to ensure that they meet the needs and standards of employers across the UK.
Certification
Endorsed Certificate of Achievement
At the successful completion of the course, the learners can order an endorsed certificate by paying the accreditation fee of £108. There is an additional £10 postal charge for international students.
Certificate of Completion from Course Gate
At the successful completion of the course, the learners may order the Certificate of Completion from Course Gate (soft copy) by paying only £2. For the Printed hard copy of the certificate, the learners have to pay £9.
Career path
This accredited diploma course in proofreading and editing provides learners with the fundamental skills they need for career advancement in this field. Related career opportunities and job roles include:
Proofreader

Copy editor

Digital Content Writer

Copywriter

Blogger

Journalist
Course Curriculum
Module 1: Proofreading Basics
Proofreading Basics

00:30:00

Assessment Module 1
Module 01 Final Quiz Exam – Proofreading & Editing

00:10:00

Module 2: Applying the Style Guide
Applying the Style Guide

00:20:00

Assessment Module 2
Module 02 Final Quiz Exam – Proofreading & Editing

00:10:00

Module 3: Spelling and Grammar
Spelling and Grammar

00:15:00

Assessment Module 3
Module 03 Final Quiz Exam – Proofreading & Editing

00:10:00

Module 4: Proofreading on Paper
Proofreading on Paper

00:10:00

Assessment Module 4
Module 04 Final Quiz Exam – Proofreading & Editing

00:10:00

Module 5: Proofreading On-Screen
Proofreading On-screen

00:40:00

Assessment Module 5
Module 05 Final Quiz Exam – Proofreading & Editing

00:10:00

Module 6: Copy-Editing Basics
Copy-editing Basics

01:00:00

Assessment Module 6
Module 06 Final Quiz Exam – Proofreading & Editing

00:10:00

Module 7: Copy-Editing – The Use of Language
Copy-editing – the Use of Language

01:00:00

Assessment Module 7
Module 07 Final Quiz Exam – Proofreading & Editing

00:10:00

Module 8: Copy-Editing – Checking Accuracy and Facts
Copy-editing – Checking Accuracy and Facts

00:30:00

Assessment Module 8
Module 08 Final Quiz Exam – Proofreading & Editing

00:10:00

Module 9: Copy-Editing – The Beginning and The End
Copy-editing – the Beginning and the End

00:20:00

Assessment Module 9
Module 09 Final Quiz Exam – Proofreading & Editing

00:10:00

Module 10: Copy-Editing – Legal Checks
Copy-editing – Legal Checks

00:30:00

Assessment Module 10
Module 10 Final Quiz Exam – Proofreading & Editing

00:10:00

Module 11: Finding Work and Developing Your Career
Finding Work and Developing Your Career

00:20:00

Assessment Module 11
Module 11 Final Quiz Exam – Proofreading & Editing

00:10:00

Certificate and Transcript
Order Your Certificates or Transcripts

00:00:00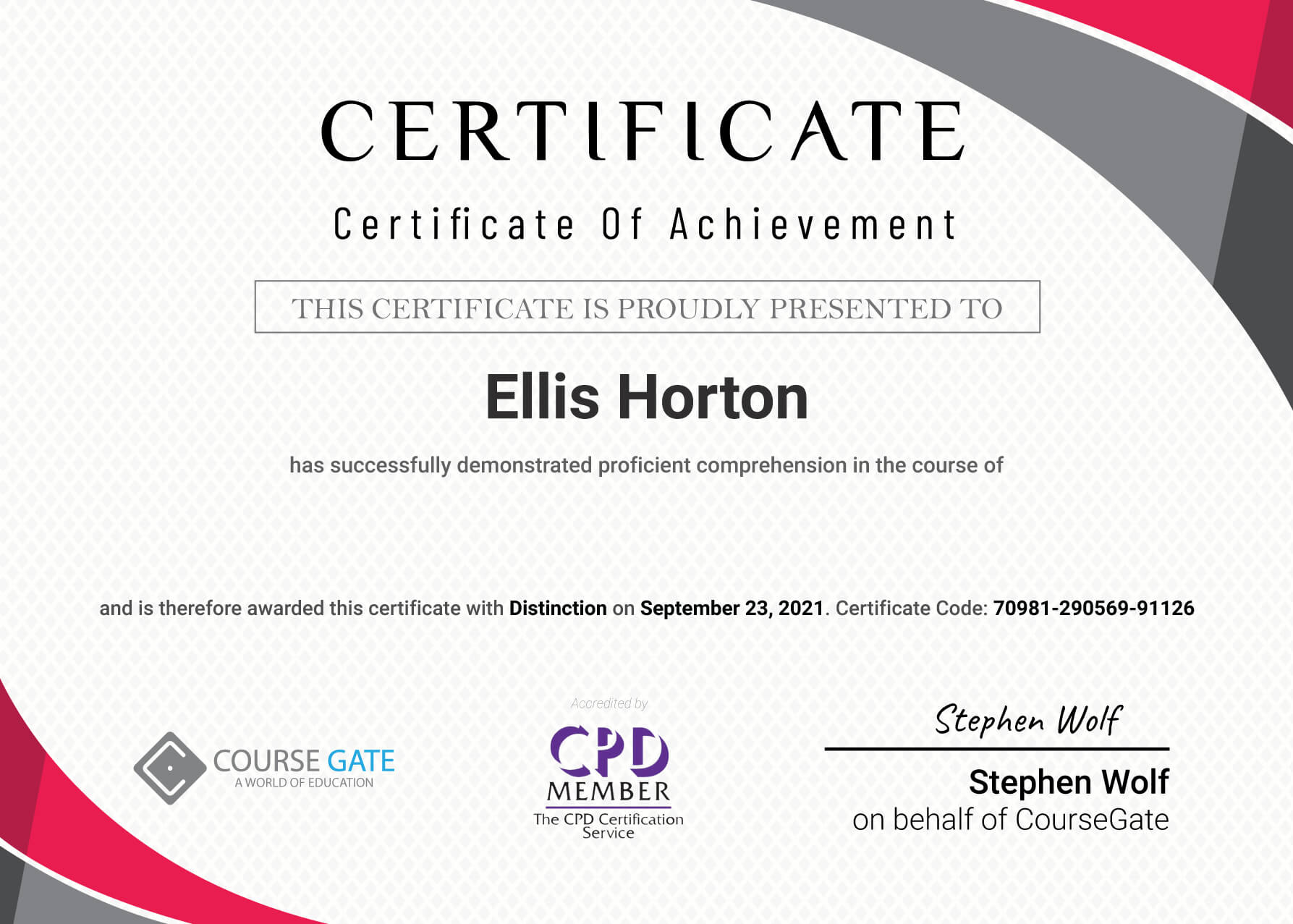 Proofreading & Editing Course Level 5 Diploma