Course Description
In traffic marshalling, a small error can lead to lethal accidents. Therefore, it is vital that the traffic marshals are well-trained and possess the ability to control the vehicles smoothly. The Traffic Marshall Course Online is built to help learners attain the skills and knowledge to carry out the responsibilities of a traffic marshal. In this course, you will get the opportunity to build a solid foundation and understanding of vehicle marshalling.
This course is designed to provide you with quality training in traffic marshalling. In this course, you will be introduced to the basic principles of vehicle marshalling. It will teach you the essential skills for traffic marshall qualification. You will pick up valuable information on temporary traffic control from the informative modules. This comprehensive course will help you understand the techniques of traffic risk assessment. Through this online course, you will receive expertise in vehicle signalling. 
Module one of this course mainly focuses on the roles & responsibilities of a traffic banksman. Here, you will also get to learn about teamwork and the significance of communication. The second module of this course will help you decode the traffic flow principles. It will teach you how you can implement flawless traffic management strategies for the best result. 
The third module will increase your knowledge of handling temporary traffic control. Module Four will increase your skill in conducting a traffic risk assessment. After completing this module, you will be able to identify and mitigate risks on the road for passersby.
In module five, you will get to learn all the aspects of traffic signalling to give proper direction to the vehicles to prevent any accidents. It's tough to guide cars on construction sites. So, in module six, you will get insights on reversing vehicles. You can show any car to drive in reverse without harming pedestrians. 
This course gives an excellent finish to the Health and Safety module. The key learning of the module is to build health & safety awareness and the ability to handle emergencies. It will ensure that you are well aware of the safety measures required for traffic marshals. 
This course will turn you into a proficient traffic marshal in no time. Enrol today and prepare for a promising career. 
Please note: This course only gives you theoretical knowledge to excel in this field. This course doesn't entitle you to practise as a professional in this specific field.
Learning Outcome
Have an in-depth idea about the role of traffic marshal in ensuring safety in construction and road work sites

Gain expertise in traffic marshall qualification for smooth traffic flow

Acquire the skills to design and execute temporary traffic control zones to provide safe routes

Learn risk assessment related to traffic to mitigate potential risks

Increase proficiency in vehicle signalling

Clear idea about health and safety awareness to ensure emergency response
Requirements
Basic academic knowledge

Smartphone/PC/Laptop

Fast internet connection
Why should I take this course?
Grow opportunities for yourself in the relevant job sector

Make your resume powerful with the skill of the course

CPD certification 

24/7 dedicated support

Top-notch course materials

Moderate price of the course

Gain professional skills in traffic management
Career path
Traffic Marshal, banksman

Construction Site Supervisor

Traffic Management Coordinator

Highway Maintenance Worker

Safety Officer

Traffic Control Technician
Frequently Asked Question
What is a Traffic Marshall?
A Traffic Marshall is a professional who takes responsibility for traffic in a specific area.
What does a Traffic marshall do?
Traffic Marshalls ensure smooth movement and prevent accidents. It's part of the job to provide traffic management to operate the vehicle correctly.
When is Traffic Marshall used?
Traffic marshals are generally used to control traffic in public events, roadways, and construction sites.
How much do Traffic Marshall get paid?
With an average salary of £28,766 in the UK, the Traffic Marshal is a very rewarding and well-paying job.
How to become a Traffic Marshall?
If you want to become a traffic marshall, doing a Traffic Marshall Course can build a solid foundation for pursuing a career in this field.
Why you should take this traffic marshall course online?
This course is ideal for individuals who want to land a job in the Traffic Marshall position. This course will make you specialised and capable of handling tasks related to traffic marshall.
In this high-end training, you will learn all the basics of Traffic Marshall to traffic management. Moreover, you will learn the traffic risk assessment and the basic principles.
You will gather clear ideas on temporary traffic control from the series of modules and also learn about vehicle signalling in the Traffic Marshall Online Course.
At the end of the course, you will be aware of taking health and safety measures to prevent accidents.
Enrol in this course if you want to kickstart your career as a Traffic Marshall.
Course Curriculum
Module 01: Introduction to Traffic Marshalling
Introduction to Traffic Marshalling

00:14:00

Module 02: Traffic Management
Traffic Management

00:21:00

Module 03: Temporary Traffic Control
Temporary Traffic Control

00:30:00

Module 04: Traffic Risk Assessment
Traffic Risk Assessment

00:26:00

Module 05: Vehicle Signaling
Vehicle Signaling

00:17:00

Module 06: Reversing Vehicles
Reversing Vehicles

00:22:00

Module 07: Health and Safety
Health and Safety

00:26:00

Course Certification
Order Your Certificates or Transcripts

00:00:00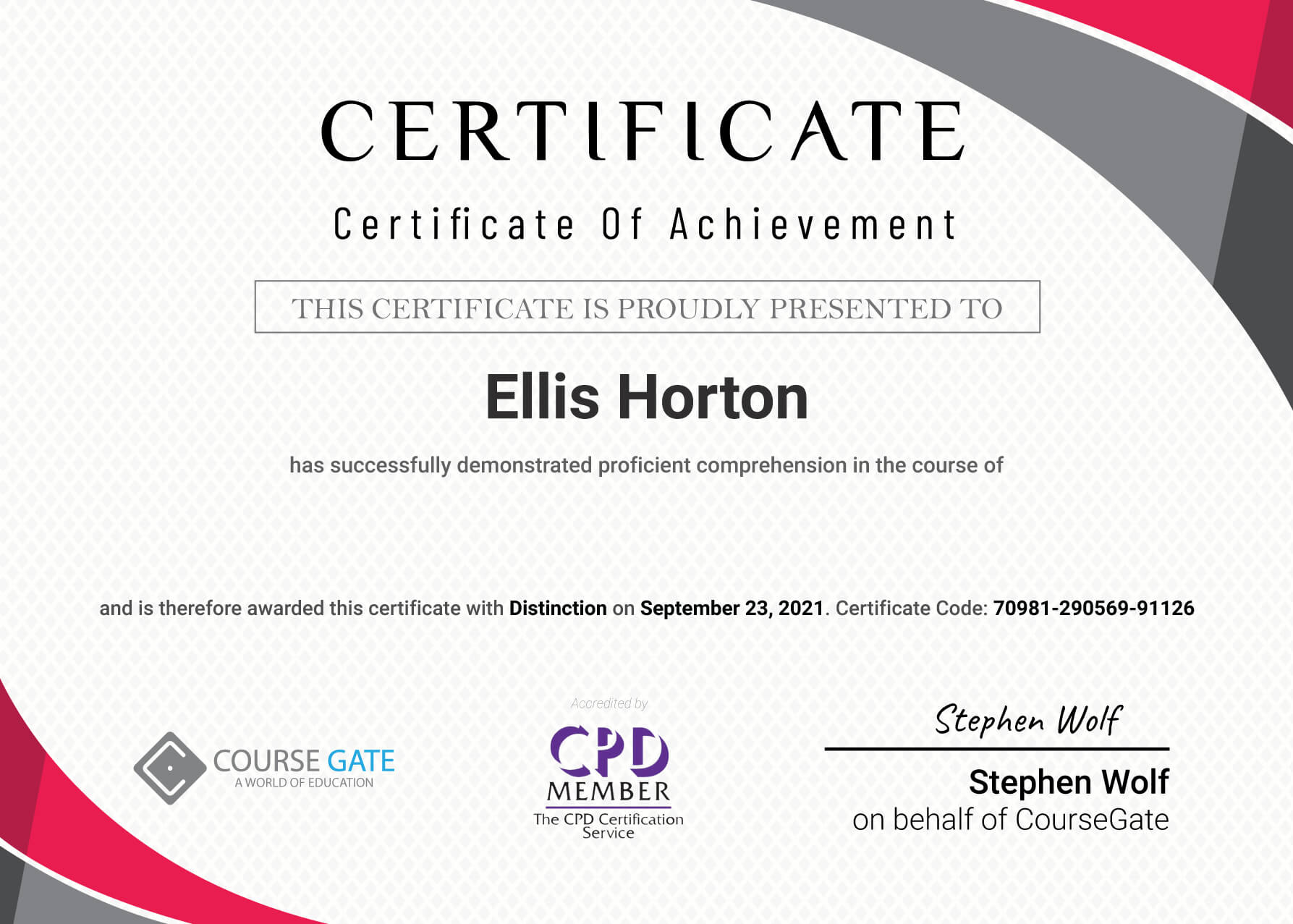 Traffic Marshall Course Online