Boost your everyday administrative skills and manage everyday office tasks faster and more efficiently with the Admin, Secretarial & PA Diploma. 
This admin secretarial and pa courses provides a solution by offering a structured curriculum that covers essential competencies required in administrative, secretarial, and personal assistant roles. This course is ideal for beginners who are new to this field and want to fast track their professional development with a Certificate of Achievement. Throughout the admin secretarial and pa courses, you will develop your understanding of fundamental office procedures and best practices and will develop essential organisational, communication, and time management skills. 
You will learn the techniques and rules of effective business writing, how to prioritise your workload, deliver killer presentations, and look and sound the part to land your dream job. Besides, you will receive step-by-step guidance on how to use leading Microsoft Office software, Excel, Word, and PowerPoint, to be able to master everyday office tasks.
Learning Objectives
Exceptional organisational skills and conducting yourself in the most professional manner

Professional time management and prioritisation skills

Excellent written and verbal communication skills

An understanding of how to

handl

e

sensitive matters with care and wisdom

The confidence needed to supervise significant and ambitious tasks

Improved efficiency and attention to detail

The ability to remain calm under pressure and manage conflict

Knowledge of

fundamental secretarial functions in an office setting

The opportunity to take your career to a higher level

Simple yet effective stress management techniques to get through difficult days

Professional techniques for

interact

ing

with people of different levels in various business situations
Who is this Course for?
This accredited course is ideal for those looking to secure an office PA, secretarial or administrative role, as well as professionals in this field who are seeking promotion and want to test their knowledge. Our modules are designed for distance learning, providing a flexible alternative to a traditional classroom. With plenty of competition in this field, this diploma course will propel your career to new heights and provide you with the practical skills to ensure you stand out from the crowd. There are no entry requirements, and learners of all academic backgrounds can benefit from the specialist training this course provides
Entry Requirement:
This course is available to all learners, of all academic backgrounds.

Learners should be aged 16 or over to undertake the course.

Good understanding of English language, numeracy and ICT are required to attend this course.
Endorsement
This course has been endorsed by the Quality Licence Scheme for its high-quality, non-regulated provision and training programmes. This course is not regulated by Ofqual and is not an accredited qualification. Your training provider will be able to advise you on any further recognition, for example progression routes into further and/or higher education. For further information please visit the Learner FAQs on the Quality Licence Scheme website.
Certificate of Achievement
Endorsed Certificate of Achievement
At the successful completion of the course, the learners can order an endorsed certificate of achievement by paying the fee of £108. There is an additional £10 delivery charge for international students.
Certificate of Completion from Course Gate
At the successful completion of the course, you can obtain your CPD certificate from us. You can order the PDF certificate for £9 and the hard copy for £15. Also, you can order both PDF and hardcopy certificates for £22.
Career path
On successful completion, you will have the opportunity to explore a wide range of professional roles, including:
Personal Assistant (PA)

Personal Executive Assistant

Receptionist

Office Assistant

Secretary

Support Secretary

Data Entry Clerk

Administrative Assistant

Office Manager

Personal Concierge

Executive Assistant
Course Curriculum
Module 1: Personal Assistant
Module 01: Personal Assistant

00:35:00

Assessment Module 1
Module 01 Final Quiz Exam – Admin, Secretarial & PA

00:10:00

Module 2: Admin Support
Module 02: Admin Support

00:50:00

Assessment Module 2
Module 02 Final Quiz Exam – Admin, Secretarial & PA

00:10:00

Module 3: Administrative Management
Module 03: Administrative Management

00:30:00

Assessment Module 3
Module 03 Final Quiz Exam – Admin, Secretarial & PA

00:10:00

Module 4: Organisational Skills
Module 04: Organisational Skills

01:00:00

Assessment Module 4
Module 04 Final Quiz Exam – Admin, Secretarial & PA

00:10:00

Module 5: Telephone Etiquette
Module 05: Telephone Etiquette

01:00:00

Assessment Module 5
Module 05 Final Quiz Exam – Admin, Secretarial & PA

00:10:00

Module 6: Business Writing
Module 06: Business Writing

01:00:00

Assessment Module 6
Module 06 Final Quiz Exam – Admin, Secretarial & PA

00:10:00

Module 7: Time Management
Module 07: Time Management

00:35:00

Assessment Module 7
Module 07 Final Quiz Exam – Admin, Secretarial & PA

00:10:00

Module 8: Body Language and Effective Communication
Module 08: Body Language and Effective Communication

00:45:00

Assessment Module 8
Module 08 Final Quiz Exam – Admin, Secretarial & PA

00:10:00

Module 9: Meeting Management
Module 09: Meeting Management

01:30:00

Assessment Module 9
Module 09 Final Quiz Exam – Admin, Secretarial & PA

00:10:00

Module 10: Microsoft Excel
Navigate the Excel User Interface

00:28:00

Use Excel Commands

00:10:00

Create and Save a Basic Workbook

00:19:00

Enter Cell Data

00:12:00

Use Excel Help

00:05:00

Create Worksheet Formulas

00:15:00

Insert Functions

00:17:00

Reuse Formulas and Functions

00:17:00

Insert, Delete, and Adjust Cells, Columns, and Rows

00:10:00

Search for and Replace Data

00:09:00

Use Proofing and Research Tools

00:07:00

Apply Text Formats

00:17:00

Apply Number Format

00:08:00

Align Cell Contents

00:09:00

Apply Styles and Themes

00:12:00

Apply Basic Conditional Formatting

00:11:00

Create and Use Templates

00:07:00

Preview and Print a Workbook

00:10:00

Set Up the Page Layout

00:08:00

Configure Headers and Footers

00:07:00

Manage Worksheets

00:05:00

Manage Workbook and Worksheet Views

00:07:00

Manage Workbook Properties

00:05:00

Assessment Module 10
Module 10 Final Quiz Exam – Admin, Secretarial & PA

00:10:00

Order Your Certificate
Order Your Certificate QLS

00:00:00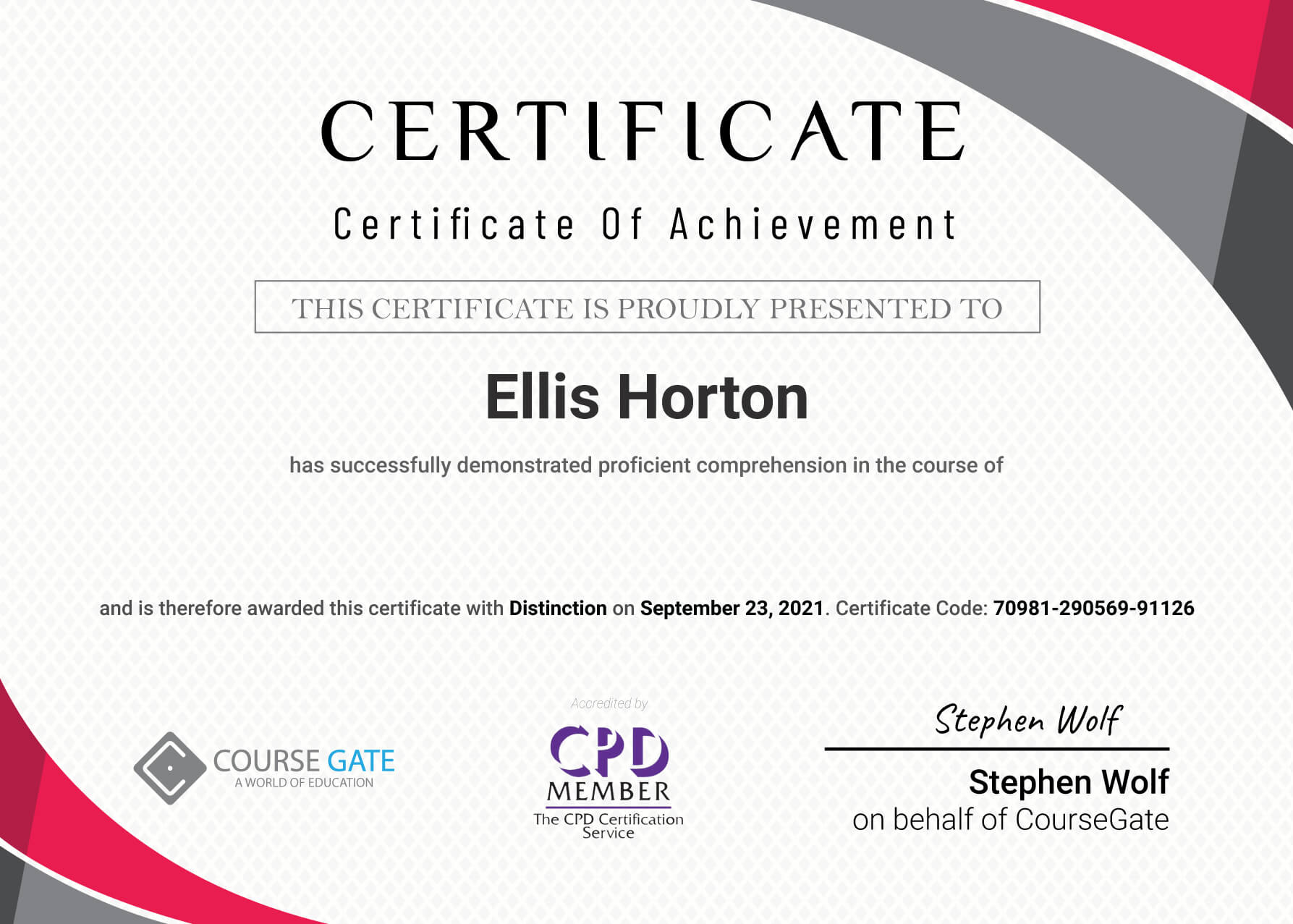 Admin, Secretarial & PA Diploma