Overview:
Learn how to protect your company from money launderers by taking this Anti-Money Laundering (AML) Training Level 5 Course. This course will give you real insights into AML and how it works.
The Anti-Money Laundering (AML) Training Level 5 Course will provide you with a comprehensive introduction to money laundering directives. From the valuable lectures, you'll determine the responsibilities of a money laundering officer and learn about the risk-based approaches to AML. In addition, you'll learn about suspicious transactions in money laundering. Upon successful completion, you'll better understand how to build a successful AML compliance program and save your business from criminals and severe reputational damages
Please note: Our Anti-Money Laundering (AML) Training Level 5 course only gives you the theoretical knowledge to excel in this field. This course doesn't entitle you to practise as a professional in this specific field.
Learning Objectives
Understand the concept of money laundering

Learn to create your AML compliance program

Explore what are the offences under the Proceeds of Crime Act 2002

Enrich your knowledge of the anti-money laundering laws

Get to know what type of transactions should be reported as suspicious.

Understand the importance of record-keeping in AML
Who is this Course for?
This Anti-Money Laundering (AML) Training Level 5 Course is ideal for aspiring professionals who wish to gain the relevant skills and knowledge to fast track their careers. It is for those who have little or no knowledge of AML or those who are new to the field and want to test their skills and knowledge. There are no entry requirements for this course. However, an eye for detail and a creative mind is essential.
Entry Requirement
This course is available to all learners of all academic backgrounds.

Good understanding of English language, numeracy, and ICT are required to attend this course.
CPD Certificate from Course Gate 
At the successful completion of the course, you can obtain your CPD certificate from us. You can order the PDF certificate for £4.99 and the hard copy for £9.99. Also, you can order both PDF and hardcopy certificates for £12.99.
Career Path
On successful completion of the Anti-Money Laundering (AML) Training Level 5 Course, learners can progress to a more advanced program from our course list. Career opportunities in this field include freelancing or working in-house, within a range of professional settings, with the opportunity to earn a high salary. Related professions in this industry include:
Fraud Investigator

Journalism

Police Detective

Private Investigator

Financial Analyst

Risk Analyst
Course Curriculum
Module 01: Introduction to Money Laundering
Introduction to Money Laundering

00:16:00

Module 02: Proceeds of Crime Act 2002
Proceeds of Crime Act 2002

00:18:00

Module 03: Development of Anti-Money Laundering Regulation
Development of Anti-Money Laundering Regulations

00:24:00

Module 04: Responsibility of the Money Laundering Reporting Office
Responsibility of the Money Laundering Reporting Officer

00:19:00

Module 05: Risk-based Approach
Risk-based Approach

00:22:00

Module 06: Customer Due Diligence
Customer Due Diligence

00:22:00

Module 07: Record Keeping
Record Keeping

00:14:00

Module 08: Suspicious Conduct and Transactions
Suspicious Conduct and Transactions

00:20:00

Module 09: Awareness and Training
Awareness and Training

00:18:00

Certificate and Transcript
Order Your Certificates or Transcripts

00:00:00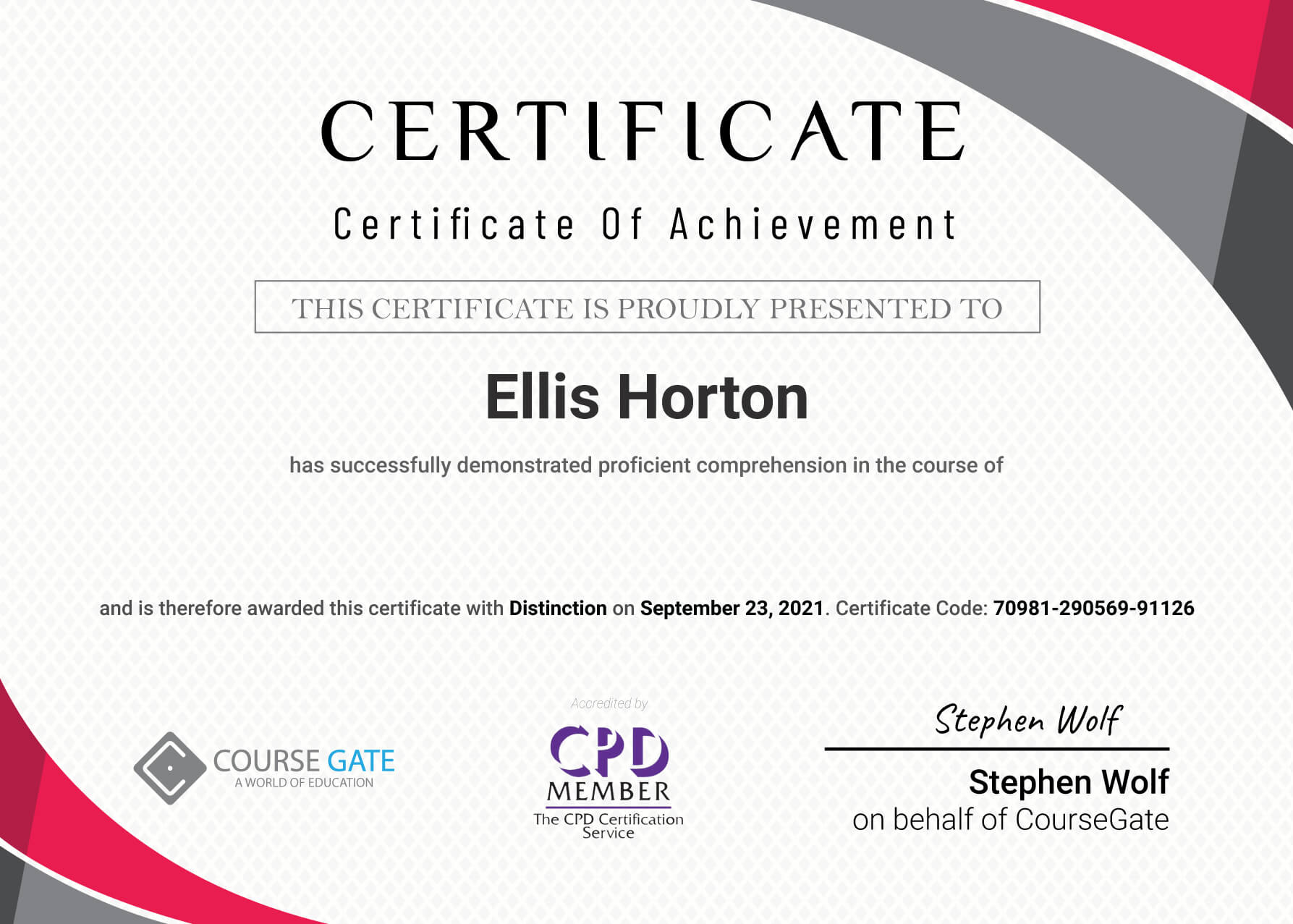 Anti-Money Laundering (AML) Training Level 5