Take steps to become a clinical child psychologist and learn about the mental, social and emotional development of children in this Child Psychology – Level 5 course. 
Develop your understanding of childhood development and child and adolescent psychology through real-world practical exercises and case studies. This child psychology course explores early childhood psychological development theories in-depth and can be studied part-time or full-time.
You will also gain insight into how genetics play a role in mental and physical development, as well as how various learning disabilities and behavioural disorders impair a child's cognitive skills.
Learning Objectives of our Child Psychology Course
Gain a thorough understanding of the modern

child psychology

profession

Develop your understanding of behaviour and theories that explain the complexities of child interactions

Obtain a comprehensive knowledge of attachment theory and its importance

Discover various factors that can positively and negatively influence the development

Learn to deal with a range of common emotional and developmental issues

Gain advanced knowledge of childhood communication and language development

Boost your confidence to identify and work with problems in infancy, childhood and adolescence

Get a deeper understanding of moral and ethical development in children

Sharpen your skills and talents to be put to use in a real-life working environment
Who is this Child Psychology Course for?
Our Child Psychology Diploma Level 5 is ideal for those who currently work in this field and have prior experience in a related role. Those who have been newly promoted and wish to develop their practical knowledge will also find this course extremely useful for their career progression.
This advanced diploma provides expert industry information that can be studied at your convenience and in your own time, to work around your day-to-day schedule. On successful completion, you will receive an endorsed certificate of achievement,  as proof of your new skills.
Entry Requirement:
This course is available to all learners, of all academic backgrounds.

A good understanding of the English language, numeracy and ICT.
Endorsement
This course is Quality Licence Scheme endorsed. So you'll not need to worry about high-quality, non-regulated provision and training programmes. This course is not regulated by Ofqual and is not an accredited qualification. Your training provider will be able to advise you on any further recognition, for example, progression routes into further and/or higher education. For further information please visit the Learner FAQs on the Quality Licence Scheme website.
Certificate of Achievement
Endorsed Certificate of Achievement
At the successful completion of the course, the learners can order an endorsed certificate of achievement by paying the fee of £108. There is an additional £10 postal charge for international students.
Certificate of Completion from Course Gate
At the successful completion of the course, you can obtain your CPD certificate from us. You can order the PDF certificate for £9 and the hard copy for £15. Also, you can order both PDF and hardcopy certificates for £22.
Career path
There are many career paths to take in the field of child psychology, including, but not limited to the following roles:
Behavioural Development Specialist

Caseworker

Clinical Psychologist

Educational Psychologist

Cognitive Behaviourist

Child Counsellor

Child & Adolescent Psychotherapist

Crisis Intervention Specialist

Occupational Therapist

Program Director

Child Psychologist
Pauline Paquet
This course was really useful for me as a teacher and I learned a lot from it.
Course Curriculum
Module 01: Basics of Child Psychology
What is Child Psychology?

00:20:00

Defining Children and Childhood

00:30:00

Assessment Module 01
Module 01 Final Quiz Exam – Child Psychology

00:10:00

Module 02: Child Development Theories
Personality (Psychosocial) Development Theories

00:20:00

Growth & Development Theories

00:15:00

Cognitive (Intellectual) Development Theories

00:30:00

Social Learning Theories

00:30:00

Moral Reasoning Theories

00:30:00

Assessment Module 02
Module 02 Final Quiz Exam – Child Psychology

00:10:00

Module 03: Factors That Influence Development
Genetic Influences in Development

00:30:00

Influence of Attachment

00:20:00

Influence of Gender

00:30:00

Nutrition and Child Development

00:45:00

Assessment Module 03
Module 03 Final Quiz Exam – Child Psychology

00:10:00

Module 04: Different Types of Child Development
Physical Development

00:20:00

Cognitive Development

00:30:00

Social and Emotional Development

00:30:00

Moral and Ethical Development

00:15:00

Assessment Module 04
Module 04 Final Quiz Exam – Child Psychology

00:10:00

Module 05: Communication and Language Development
Promoting Communication Development

00:20:00

The Development of Language

00:10:00

Assessment Module 05
Module 05 Final Quiz Exam – Child Psychology

00:10:00

Module 06: Difficulties, Disabilities and Disorders
Difficulties in language development

00:05:00

Learning Disability

00:20:00

Behavioural Disorders

00:10:00

Phases of Grief

00:10:00

Assessment Module 06
Module 06 Final Quiz Exam – Child Psychology

00:10:00

Module 07: Caring Children With Special Needs
Caring for Children with Feeding  and Communication Differences

00:10:00

Caring for Children with Mobility Differences

00:05:00

Caring for The Child with Special Social and Emotional Needs

00:10:00

How to Care for Children with Complex Needs?

00:10:00

Assessment Module 07
Module 07 Final Quiz Exam – Child Psychology

00:10:00

Module 08: Understanding the Role of a Child Psychologist
High Intelligence & School Psychology

00:05:00

Roles and Responsibilities of an Educational Psychologist

00:05:00

Assessment Module 08
Module 08 Final Quiz Exam – Child Psychology

00:10:00

Module 09: Self Esteem & Confidence
Why self-esteem matters and How to Nurture it?

00:05:00

Confidence

00:05:00

Assessment Module 09
Module 09 Final Quiz Exam – Child Psychology

00:10:00

Module 10: Child Psychology - Applied
What is 'Child Psychology'?

00:08:00

The Role of Child Psychologist

00:06:00

Where do Child Psychologists Work

00:07:00

Assessment Module 10
Module 10 Final Quiz Exam – Child Psychology

00:10:00

Module 11: Child Psychology - Theoretical Approach
Why do we need to learn theories?

00:08:00

Developmental Theories: What we are born with

00:09:00

Development Environment

00:09:00

Assessment Module 11
Module 11 Final Quiz Exam – Child Psychology

00:10:00

Module 12: Environmental & Socio-Cultural and Family & Schooling Factors in Development
'Attachment' factor in newborns

00:09:00

Socio-Cultural Factors in Child's Development

00:08:00

Assessment Module 12
Module 12 Final Quiz Exam – Child Psychology

00:10:00

Module 13: Cognitive and Emotional Development
Language & Cognitive Development

00:07:00

Emotions & Feelings

00:06:00

Socialising with others

00:04:00

Thank You and Good Bye!

00:02:00

Assessment Module 13
Module 13 Final Quiz Exam – Child Psychology

00:10:00

Module 14: Babies from Birth to One Year
About the Course and your Tutor

FREE

00:02:00

The Importance of Bonding

00:08:00

The Social and Emotional development: from birth to 1 yr

00:06:00

The Innate Reflexes of Newborn Babies

00:07:00

The Benefits of Testing at 'Milestones'

00:07:00

Assessment Module 14
Module 14 Final Quiz Exam – Child Psychology

00:10:00

Module 15: Stages and Sequences of Social and Emotional Development
The Importance of Social and Emotional Development

00:06:00

The Ages and Stages that Children go through

00:12:00

The Main theories in Developmental Psychology

00:07:00

The Importance of Positive Role Models

00:07:00

The Barriers to Achieving the 'Milestones'

00:07:00

The Importance of Unconditional Love

00:06:00

Assessment Module 15
Module 15 Final Quiz Exam – Child Psychology

00:10:00

Module 16: Language and Linguistic Skills Development
Forms of communication

00:05:00

What is 'Pre-linguistic' form of communication

00:05:00

The Active and the Passive Communication

00:06:00

The Importance of Opportunities in Development of the Skills

00:05:00

The Importance of Body Language

00:06:00

Assessment Module 16
Module 16 Final Quiz Exam – Child Psychology

00:10:00

Resources
Resources – Child Psychology Diploma Level 5

00:00:00

Recommended Readings
Recommended Readings – Child Psychology Diploma Level 5

6 days, 6 hours

Order Your Certificate
Order Your Certificate QLS

00:00:00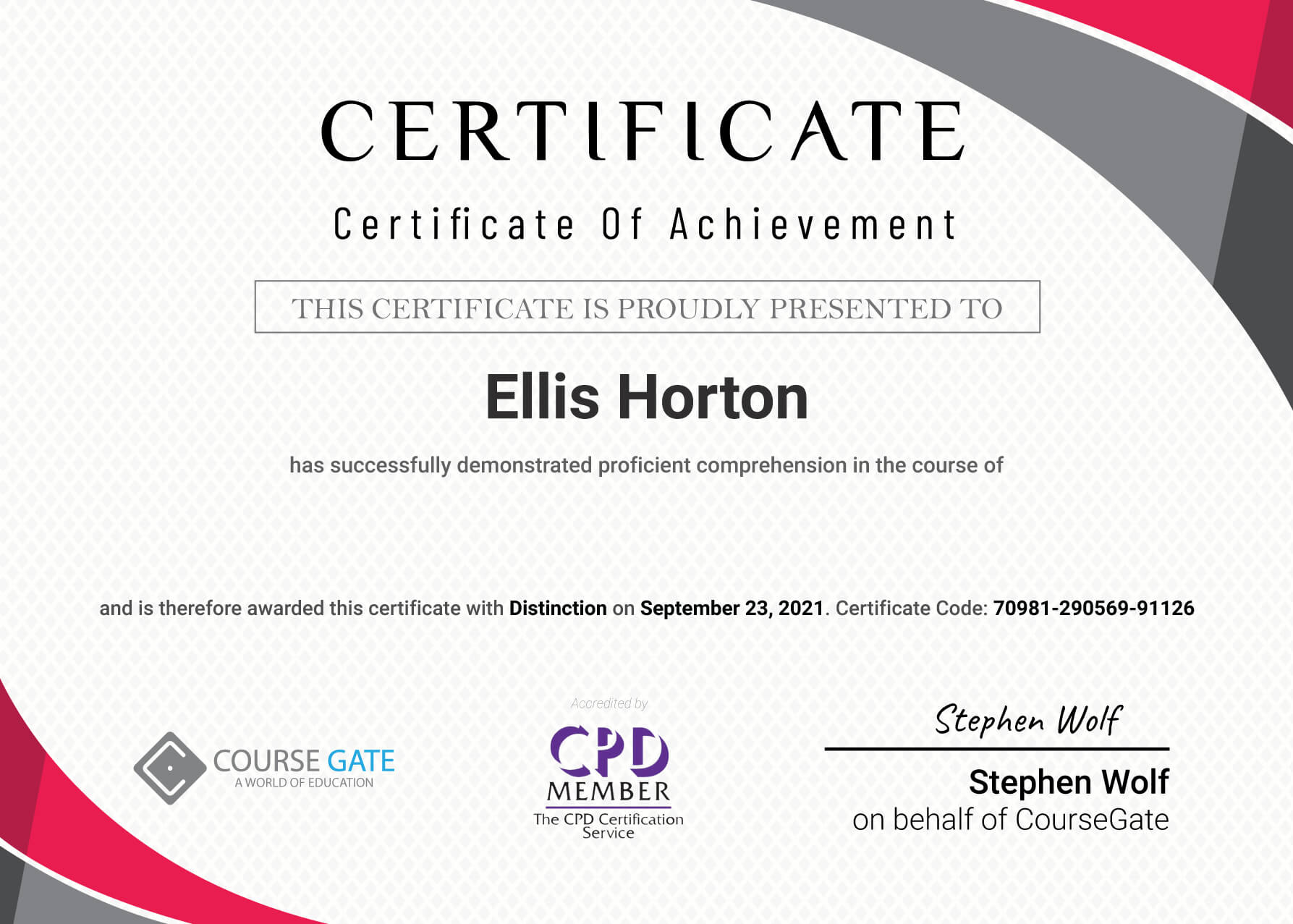 Child Psychology Course Level 5 Diploma
Course Reviews
5 stars

1

4 stars

1

3 stars

0

2 stars

1

1 stars

0