Overview
The Complete English Language Course course is designed to help you master the English language online in the fastest and most effective way. Gain a recognised qualification and improve your confidence in writing English, with step-by-step video guidance and practical exercises.
In this English grammar course for adults, you will learn the importance of using the correct spelling, gain a comprehensive understanding of English sentence structure, understand the correct use of punctuation, and familiarise with complex verb phrases in an easy to grasp manner.
Whether you want to improve your written English, or are a non-native English speaker looking to gain valuable transferable skills, this qualification will provide you with valuable practical knowledge that will help you to open doors for you in your chosen professional field.
Who is this Course for?
This Complete English Language Course course is suitable for anyone who want to gain extensive knowledge, potential experience and professional skills in the related field.
Entry Requirement:
This course is available to all learners, of all academic backgrounds.

Learners should be aged 16 or over to undertake the qualification.

Good understanding of English language, numeracy and ICT are required to attend this course.
Method of Assessment:
This course does not involve any MCQ test. Students need to answer assignment questions to complete the course, the answers will be in the form of written work in pdf or word. Students can write the answers in their own time. Once the answers are submitted, the instructor will check and assess the work.
CPD Certificate from Course Gate 
At the successful completion of the course, you can obtain your CPD certificate from us. You can order the PDF certificate for £9 and the hard copy for £15. Also, you can order both PDF and hardcopy certificates for £22.
Certification
After successfully completing the course, you will be able to obtain the certificates. You can claim a PDF certificate by paying a little processing fee of £2. There is an additional fee to obtain a hardcopy certificate which is £9.
Course Curriculum
Module: 01
English Language

00:30:00

Learning English

00:15:00

Punctuation in English

00:30:00

Capitalisation

00:15:00

Sentence Structure

00:15:00

Spelling

00:30:00

Module: 02
Verbs

00:30:00

Verb tenses and aspects

00:45:00

The future

00:30:00

Be, have and do

00:45:00

Modal verbs

00:45:00

English Writing

00:15:00

Tips to Improve in English

00:30:00

Certificate and Transcript
Order Your Certificates or Transcripts

00:00:00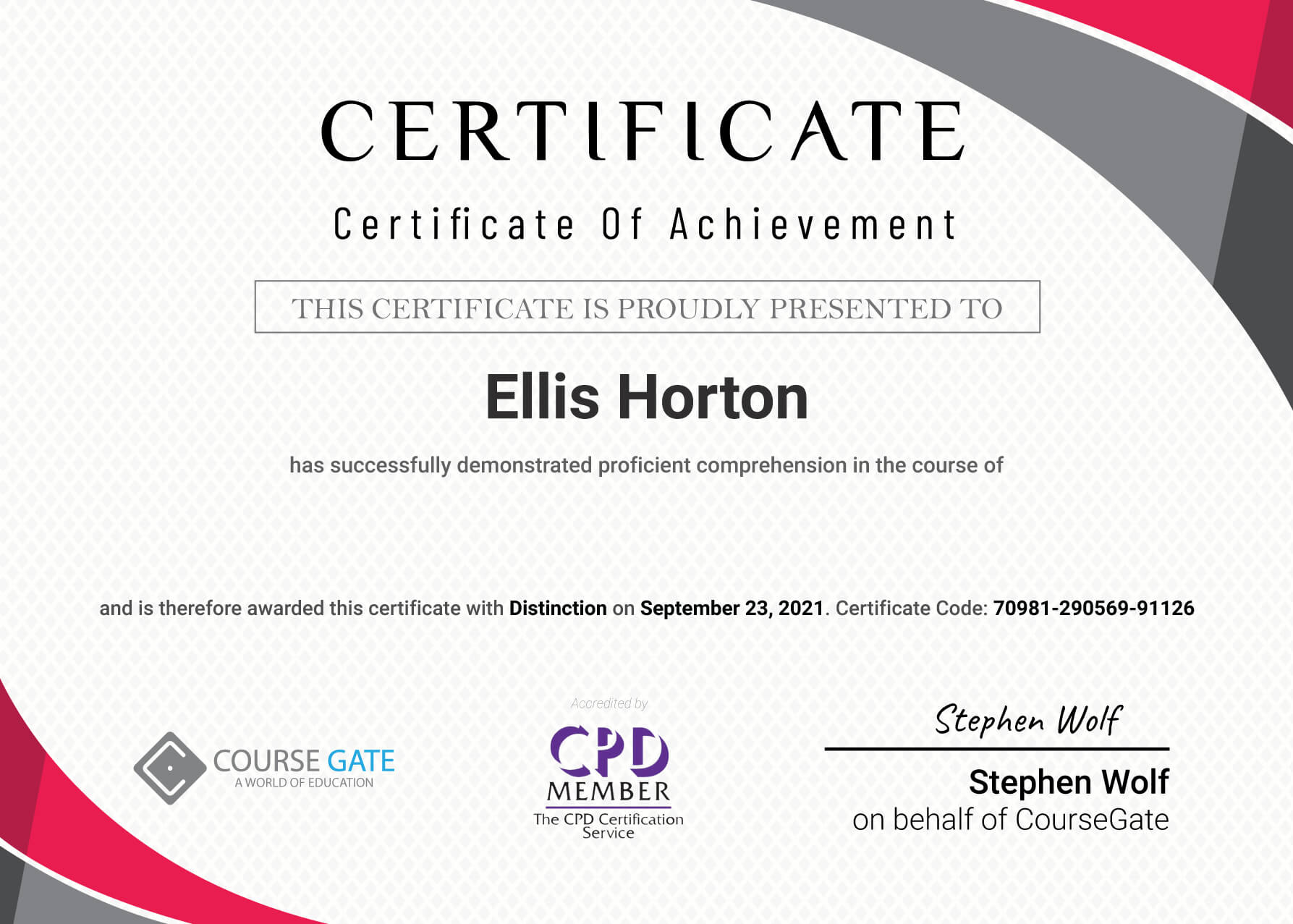 Complete English Language Course
Course Reviews
5 stars

0

4 stars

0

3 stars

0

2 stars

0

1 stars

0
No Reviews found for this course.