Overview:
Maintaining a proper diet and eating nutritious food is the secret to a fit and healthy body. Understand the basic concept of diet and nutrition through the Diet and Nutrition Diploma course. This course will provide you with tips and tricks to maintain a healthy body.
Get a Certificate of Achievement and fast track your career in the comfort of your own home with this Diet and Nutrition Diploma. 
This course introduces the fundamentals of food and nutrition and the importance of a balanced diet for leading a healthy lifestyle. You will learn how to incorporate healthy eating habits into your everyday life, and explore the effects of health and nutrition on the human body. 
Throughout this course, you will develop your understanding of carbohydrates, fats, and proteins to help you make better food choices. Weight management, food labelling, child nutrition, and the benefits of healthy dieting and detoxification is also discussed in depth. On successful completion, you will have the practical knowledge to implement a healthy diet plan and kickstart your health journey.
Learning Objectives
Have a firm understanding of the basics of human

nutrition.

Get introduced to inner health and outer beauty and know their power.

Gain the ability to maintain the primary responsibilities of the professional

nutritionist.

Have a deeper understanding of the digestive system that impacts overall human health and wellbeing.

Develop your confidence to help and advise those with common eating disorders

Understand dietary balance and its value to human health.

Learn the right ways of offering help and support to people with varying dietary requirements.

Understand how diet can affect the ageing process both internally and externally.

Explore interesting concepts regarding weight loss, weight management, looking healthy and beautiful.

Learn about women's dietary necessities and how it changes throughout life.

Gain a thorough understanding of the close connection between diet and disease.

Discover how dietary balance affects the immune system.
Why study Diet and Nutrition?
Being a nutritionist is one of the world's most relevant, fulfilling and fascinating modern professions. At present, qualified nutritionists are in greater demand than ever before and started working towards rewarding and well-paid careers.
Nutrition is fundamental to good health and a sound mind. Having a thorough knowledge of nutrition will help you to gain extensive knowledge on this subject matter.
Enrol today and take your initial steps towards the most incredibly lucrative, rewarding and satisfying career in diet and nutrition! If you want to know more about our diet and nutrition course, contact our customer executives today!
Who is this course for?
This endorsed diet and nutrition course is suitable for anyone who wants to fast track their career in the health and nutrition industry. This training program is also ideal for individuals who wish to improve their dietary habits and expand their knowledge of nutrition and healthy eating. On completion, you will receive an internationally-recognised certificate which will help to kickstart your personal or professional fitness journey, whether you desire to become a nutritionist, personal trainer, or start your own business.
Requirements
Our Diet and Nutrition Diploma is open to all from all academic backgrounds and there is no specific requirements to attend this course. It is compatible and accessible from any device including Windows, Mac, Android, iOS, Tablets etc.
Endorsement
This course has been endorsed by the Quality Licence Scheme for its high-quality, non-regulated provision and training programmes. This course is not regulated by Ofqual and is not an accredited qualification. Your training provider will be able to advise you on any further recognition, for example progression routes into further and/or higher education. For further information please visit the Learner FAQs on the Quality Licence Scheme website.
Certificate of Achievement
Endorsed Certificate of Achievement
At the successful completion of the course, the learners can order an endorsed certificate of achievement by paying the fee of £108. There is an additional £10 postal charge for international students.
Certificate of Completion from Course Gate
At the successful completion of the course, you can obtain your CPD certificate from us. You can order the PDF certificate for £4.99 and the hard copy for £9.99. Also, you can order both PDF and hardcopy certificates for £12.99.
Career path
On successful completion, you will be able to explore many opportunities within the field of diet and nutrition. Related job roles include:
Public health nutritionist

Dietician

Community nutritionist

Health and wellbeing coach

Consultant nutritionist

Nutrition and dietetics researcher

Nutrition consultant

Research nutritionist

Therapeutic nutritionist
Course Curriculum
Diet and Nutrition Diploma - Updated Version
Module 01: Introduction to Nutrition

00:15:00

Module 02: Nutrients for Life – Nutrients for Life Macronutrients

00:19:00

Module 03: Nutrients for Life – Micronutrients

00:19:00

Module 04: Nutrition Requirements from Pregnancy to Teenage

00:19:00

Module 05: Nutrition Requirements for Adults and Various Groups

00:19:00

Module 06: Healthy Dieting

00:19:00

Module 07: Eating Disorders

00:21:00

Module 08: Diet and Nutrition Related Diseases

00:20:00

Module 09: Use of Nutrition in Different Illnesses/Diseases

00:23:00

Module 10: Weight Control Management

00:16:00

Module 11: Weight Loss Management

00:19:00

Module 12: Basics of Ketogenic Diet

00:25:00

Module 13: The Role of Nutritionist

00:21:00

Mock Exam
Mock Exam – Diet and Nutrition Diploma

00:20:00

Final Exam
Final Exam – Diet and Nutrition Diploma

00:20:00

Diet and Nutrition Diploma - Old Version
Module 1: Basics of Food and Nutrition
Basics of Food and Nutrition

00:15:00

Assessment Module 01
Module 01 Final Quiz Exam – Diet and Nutrition

00:10:00

Module 2: Macronutrients: Classification & Functions of Carbohydrates
Macronutrients: Carbohydrates

00:20:00

Assessment Module 02
Module 02 Final Quiz Exam – Diet and Nutrition

00:10:00

Module 3: Macronutrients: Classification & Functions of Lipids and Proteins
Macronutrients: Lipids and Proteins

00:25:00

Assessment Module 03
Module 03 Final Quiz Exam – Diet and Nutrition

00:10:00

Module 4: Micronutrients I & II
Micronutrients I

00:10:00

Micronutrients II

00:20:00

Assessment Module 04
Module 04 Final Quiz Exam – Diet and Nutrition

00:10:00

Module 5: Digestion and Absorption
Digestion and Absorption

00:15:00

Assessment Module 05
Module 05 Final Quiz Exam – Diet and Nutrition

00:10:00

Module 6: Detoxification
Detoxification

00:25:00

Assessment Module 06
Module 06 Final Quiz Exam – Diet and Nutrition

00:10:00

Module 7: Healthy & Balanced Diet and Food Labelling
Balanced Diet

00:10:00

Food labelling

00:10:00

Assessment Module 07
Module 07 Final Quiz Exam – Diet and Nutrition

00:10:00

Module 8: Average Requirements for Energy and Nutrients
Nutrition Requirements

00:15:00

Assessment Module 08
Module 08 Final Quiz Exam – Diet and Nutrition

00:10:00

Module 9: Food Intolerances and Allergies
Food Intolerances and Allergies

00:15:00

Assessment Module 09
Module 09 Final Quiz Exam – Diet and Nutrition

00:10:00

Module 10: Health Conditions: Heart Disease, Cancer & Diabetes
Health Conditions: Diabetes

00:15:00

Health Conditions: Heart disease

00:15:00

Health Conditions: Cancer

00:10:00

Assessment Module 10
Module 10 Final Quiz Exam – Diet and Nutrition

00:10:00

Module 11: Maintaining a Healthy Weight and Eating Problems & Treatments
Healthy Weight

00:15:00

Eating Problems

00:15:00

Assessment Module 11
Module 11 Final Quiz Exam – Diet and Nutrition

00:10:00

Module 12: Women's Health Care & Common Concerns During Pregnancy
Women's Health

00:10:00

Common Concerns during Pregnancy

00:20:00

Assessment Module 12
Module 12 Final Quiz Exam – Diet and Nutrition

00:10:00

Module 13: Nutrition for the Baby & Special Foods
Nutrition for the Baby

00:15:00

Some Special Foods

00:05:00

Assessment Module 13
Module 13 Final Quiz Exam – Diet and Nutrition

00:10:00

Recommended Reading
Recommended Reading – Diet and Nutrition Diploma

Unlimited

Order Your Certificate
Order Your Certificate QLS

00:00:00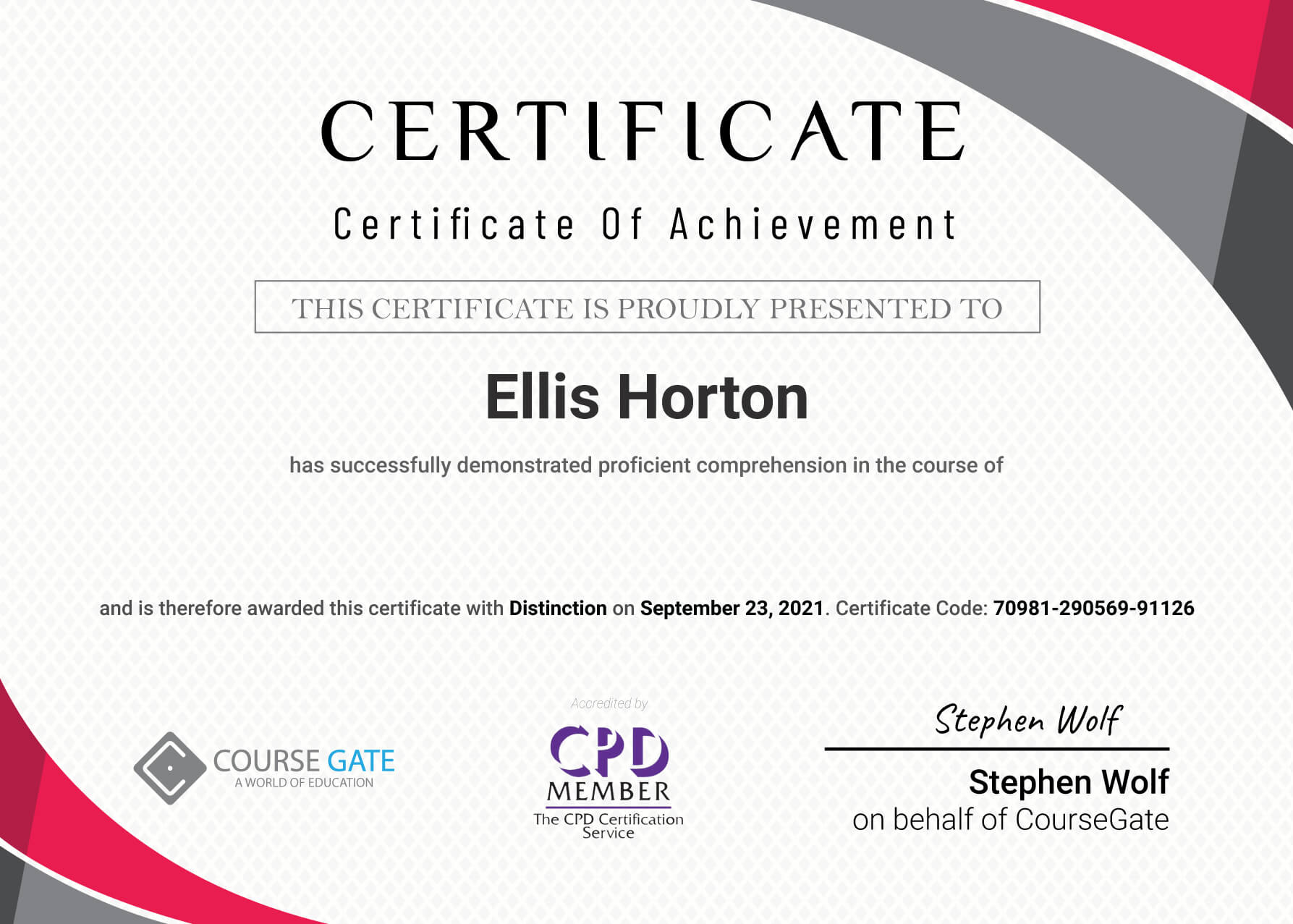 Diet and Nutrition Diploma
Course Reviews
5 stars

10

4 stars

1

3 stars

0

2 stars

1

1 stars

0