Overview:
Furniture restoration is an essential skill to possess. You can repair furniture to give it a brand new look and save money in the process. Learn how to transform your old furniture into a completely new look by taking this Furniture Restoration Training course. 
In this Furniture Restoration Training course, you will get to know some of the astounding advantages of furniture restoration. First, our in-depth training will introduce you to the best furniture restoration tools and techniques. Next, it will help you build your expertise in wood furniture restoration, upholstery restoration, and restoring antique furniture. On top of that, the course will also take you through several restoration projects to enhance your furniture restoration aptitude. Finally, you'll pick up excellent career information for furniture restorers. 
Please note: Our Furniture Restoration Training course only gives you the theoretical knowledge to excel in this field. This course doesn't entitle you to practise as a professional in this specific field.
Learning Objectives
Enrich your knowledge of furniture restoration

Familiarise yourself with the tools and techniques for furniture restoration

Know how to bring wooden furniture back to life

Enrich your understanding of upholstery restoration

Learn how to conserve modern and antique furniture pieces

Know about the furniture safety rules

Understand how to get into furniture restoration in the UK
Who is this Course for?
This Furniture Restoration Training course is ideal for aspiring professionals who wish to gain the relevant skills and knowledge to fast track their careers. It is for those who have little or no knowledge of furniture restoration or those who are new to the field and want to test their skills and knowledge. There are no entry requirements for this course. However, an eye for detail and a creative mind is essential.
Entry Requirement
This course is available to all learners of all academic backgrounds.

A good understanding of the English language, numeracy, and ICT are required to attend this course.
CPD Certificate from Course Gate 
At the successful completion of the course, you can obtain your CPD certificate from us. You can order the PDF certificate for £4.99 and the hard copy for £9.99. Also, you can order both PDF and hardcopy certificates for £12.99.
Career Path
Upon successfully completing the Furniture Restoration Training course, learners can progress to a more advanced program from our course list. Career opportunities in this field include freelancing or working in-house, within a range of professional settings, with the opportunity to earn a high salary. Related professions in this industry include:
Furniture restorer

Residential Carpenter

Commercial Carpenter

Upholsterer

Furniture maker

Floor installer

Construction helper and labourers

Masonry worker

Maintenance and repair worker
Course Curriculum
Module 01: Introduction to Furniture Restoration
Introduction to Furniture Restoration

00:13:00

Module 02: How to Get Started
How to Get Started with Furniture Restoration

00:15:00

Module 03: Woods in Furniture Restoration
Woods in Furniture Restoration

00:28:00

Module 04: Upholstery Restoration
How to Update Upholstery

00:20:00

Module 05: Restoring Antiques Furniture
Restoring Antique Furniture

00:19:00

Module 06: DIY: Restoration Projects
DIY Restoration Projects

00:22:00

Module 07: Safety Precautions in DIY Projects
Safety Precautions in DIY Projects

00:27:00

Module 08: Career Information for Furniture Restorer in the UK
Career Information for Furniture Restorers in the UK

00:15:00

Certificate and Transcript
Order Your Certificates or Transcripts

00:00:00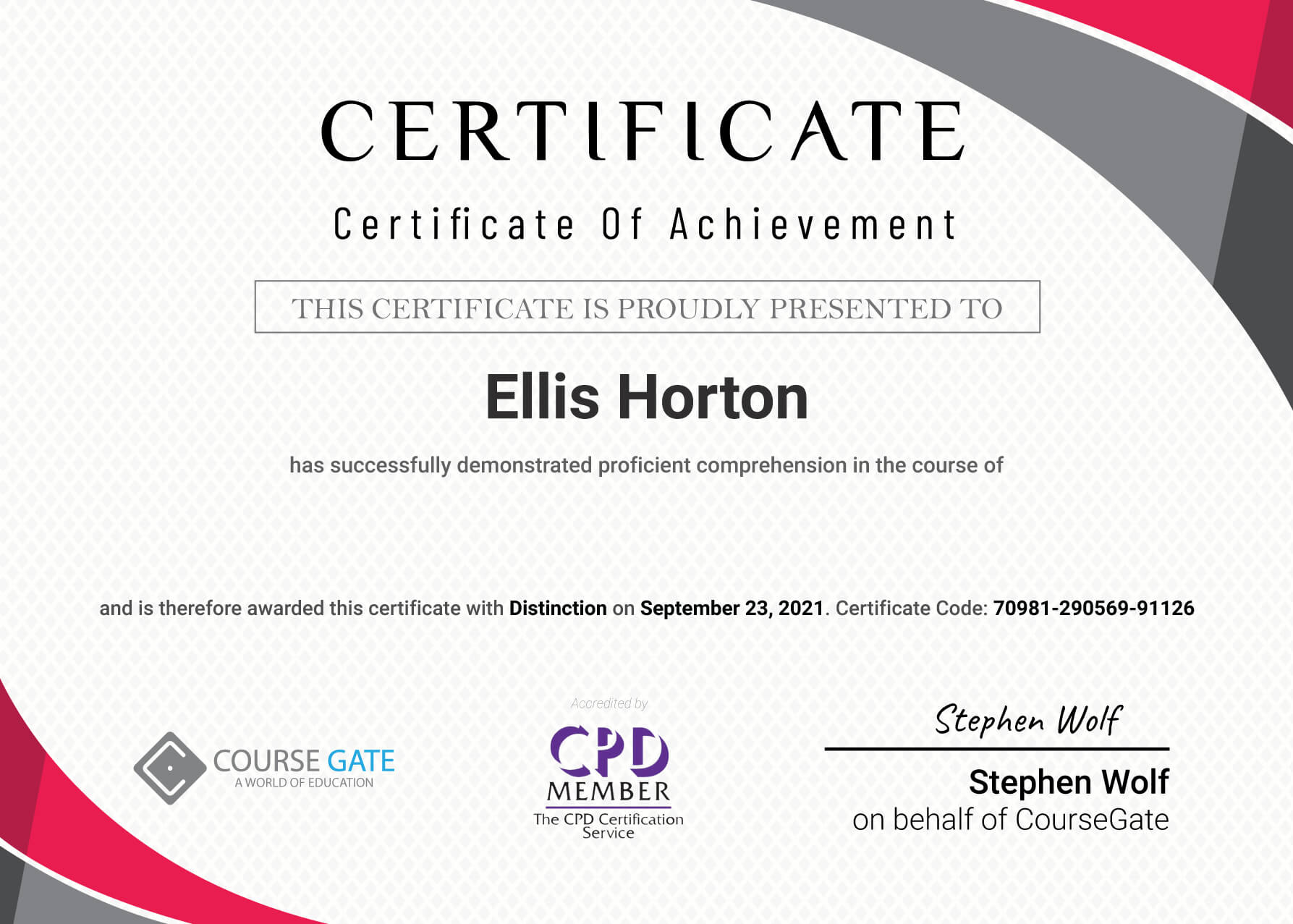 Furniture Restoration Training