Overview
This Health Care Management is designed to equip you with underpinning knowledge, understanding and skills for success in employment in the Healthcare sector at a management level. Topics include such as nutrition, fitness, yoga, caregiving and more. You will acquire care management skills in the Healthcare sector. You will learn the anatomy and physiology behind health and social care and how to care for children, young people and the elderly. You'll also learn about public health, global health, healthcare policy, healthcare informatics, and other health and wellness issues.
This course will give you valuable insight and specific skills into this huge sector of global business, particularly in Health and Healthcare. After completing this course, you will be able to progress straight into employment in care homes.
Who is this course for?
Health Care Management is suitable for anyone who wants to gain extensive knowledge, potential experience, and professional skills in the related field. This course is CPD accredited so you don't have to worry about the quality.
Entry Requirement:
This course is available to all learners, of all academic backgrounds.
Good understanding of English language, numeracy and ICT are required to attend this course.
CPD Certificate from Course Gate 
At the successful completion of the course, you can obtain your CPD certificate from us. You can order the PDF certificate for £9 and the hard copy for £15. Also, you can order both PDF and hardcopy certificates for £22.
Career path
This course opens a new door for you to enter the relevant job market and also gives you the opportunity to acquire extensive knowledge along with required skills to become successful. You will be able to add our qualification to your CV/resume which will help you to stand out in the competitive job industry.
Course Curriculum
Health Care Management - Updated Version
Module 1: Working in Different Healthcare Settings

00:15:00

Module 2: Understanding Legal, Professional Standards of Practice and Ethical Aspects of Health Care Part – 1

00:50:00

Module 3: Understanding Legal, Professional Standards of Practice and Ethical Aspects of Health Care Part – 2

00:48:00

Module 4: Maintaining Medical Records

00:22:00

Module 5: Confidentiality in a Medical Environment

00:17:00

Module 6: Health and Safety Responsibilities

00:51:00

Module 7: Hygiene in Nursing

00:30:00

Module 8: Infection Control

00:57:00

Module 9: Mobility and Immobility Issues of Patients in Nursing

00:15:00

Module 10: Rights and Responsibilities as a Health and Social Care Worker

00:39:00

Module 11: Role as A Caregiver and Healthcare Professional

00:23:00

Module 12: Providing Care or Treatment to People Who Lack Capacity

00:11:00

Module 13: Managing Service Delivery in Health and Social Care

00:11:00

Module 14: Medical Jargon and Terminology

00:28:00

Module 15: Effects of Covid-19 on Human Life

00:19:00

Module 16: Preventions and Social Measures to Be Taken

00:28:00

Module 17: Information Technology in Health Care

00:16:00

Module 18: Artificial Intelligence, Data Science and Technological Solutions against Covid-19

00:19:00

Certificate and Transcript
Order Your Certificates or Transcripts

00:00:00

Health Care Management - Old version
Health Care Management
Introduction to Health Care Management

00:20:00

Management: Definition, Functions, And Competencies

00:15:00

Management Positions: The Control in The Organizational Heirarchy

00:30:00

Role of The Health Care Manager
Establishing and Maintaining Organizational Culture

00:20:00

Ensuring High Performance

00:15:00

Leadership Development and Succession Planning

00:30:00

Innovation, Change Management and Health Care Policy

00:30:00

The UK Health Systems
Introduction to the UK Health Systems

00:20:00

Changes Since Devolution

00:45:00

Lessons and Opportunities

01:00:00

Elderly Care
Dealing And Caring Elderly

00:05:00

Going To A Better Place

00:10:00

Listening To Your Parents Even Now

00:10:00

Way To Improve Quality Of Life For Your Senior

00:10:00

Watching Your Step: Avoiding And Dealing With Falls Whilst Caring For The Elderly

00:05:00

Caring For The Elderly- A Stressful Job

00:05:00

4 Most Common Ailments Affecting The Elderly

00:10:00

Top Outdoor Elderly Activities

00:10:00

Safeguarding The Health Of The Elderly

00:10:00

The Caregiver's Enemy No.1

00:10:00

Child Health Care
INTRODUCTION TO CHILD HEALTH

00:15:00

CARE OF THE NEW BORN

00:30:00

CONGENITAL ABNORMALITIES

01:00:00

NORMAL GROWTH AND DEVELOPMENT

00:15:00

CONTROL OF DIARRHEA DISEASE

00:30:00

VACCINE PREVENTABLE DISEASES

00:15:00

COMMON GENETIC PROBLEMS OF CHILDREN

00:15:00

Mock Exam
Mock Exam- Health Care Management

00:30:00

Final Exam
Final Exam- Health Care Management

00:30:00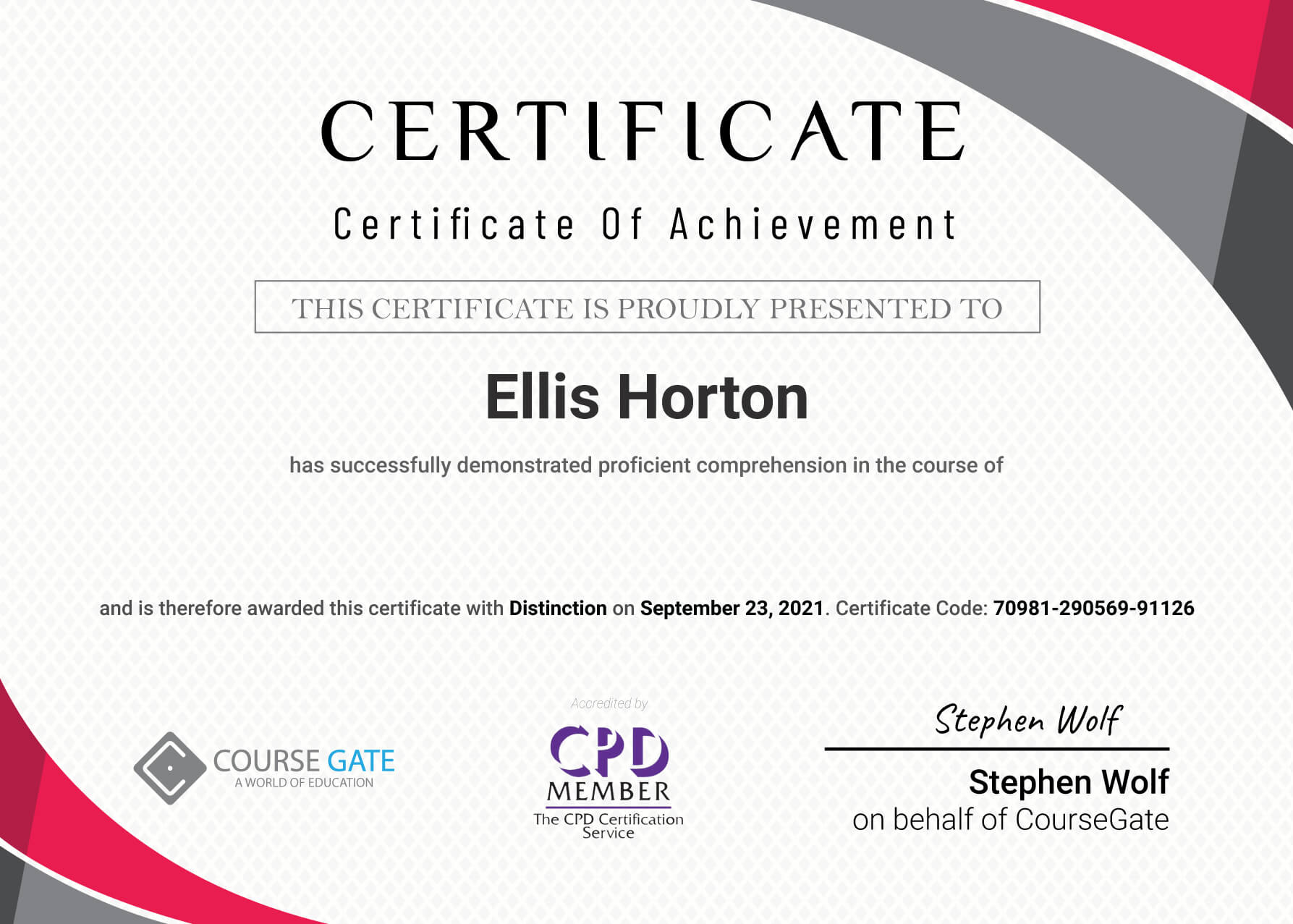 Course Reviews
5 stars

1

4 stars

0

3 stars

0

2 stars

0

1 stars

0