Course Description
Does the biology behind the human body spark interest in your mind? Do you want to build a career that revolves around this fascinating subject? Our comprehensive human biology online course will help you gain solid knowledge of the human body to prepare yourself for the versatile job market with rewarding careers in healthcare, research, and education sectors.
This comprehensive course covers a wide variety of topics, starting from cells to the reproductive system. In the first part of the course, you will learn about the chemistry of cells, cell structure, and cell division. The Diploma will provide a clear understanding of metabolism and tissues. Skin is a big part of the body and the largest organ. Therefore, this training will familiarise you with skin structure, function, and its impact for temperature regulation & protection. The skeletal system is the core part of human anatomy. Thus, this course discusses bone structure, bone types and functions. Moreover, you will also explore different muscles and their specific roles.
This accredited online human biology course will help you to build a strong understanding of the nervous system. This course will help you to gain expertise in multiple nervous systems like spinal cord & spinal nerves, eyes, ears, heating, memory, and the autonomic nervous system. Blood is the lifeline of human physiology. Therefore, this online training will introduce you to the blood circulation system to better understand the body. At the end of the period, you will study the immune, digestive, urinary, and male & female reproductive systems.
Join the course now to start a journey in the healthcare sector and related fields.
Learning Outcome of Human Biology Online Course
In-depth understanding of the fundamentals of human biology

Able to identify & explain multiple tissues as well their functions

Acquire the skills to analyse the structure & function of major organs of the body

Gain a clear idea about the blood circulation system.

Solid knowledge about the nervous system of the body

Profound understanding of the cardiovascular system, male & female reproductive system, immune system, digestive system
Requirements
Basic academic knowledge

Smooth internet connection

Smartphone/Laptop/PC

Passionate about the complexities of the human body
Why should I take this Course?
24/7 dedicated support

Unlock opportunities for yourself in the relevant job sector

Increase the weight of your resume

Top-notch course materials

Premium course at a moderate price range

Gain solid skills in human biology degrees
Career path
Medical Doctor

Biomedical Researcher

Clinical Laboratory Technician

Healthcare Educator

Pharmaceutical Scientist

Public Health Specialist
Frequently Asked Question
Can I study human biology online?
Absolutely! In this era of e-learning, lots of institutions are offering online courses, which also include human biology. The best part of learning the system online is boosting your knowledge from the comfort of your home. Enrolling in institutions that provide reputed certifications, like CPD, Focus Awards, etc., is best.
What is human biology as a course?
Human Biology course, the name speaks for itself. This course covers a wide range of topics like human anatomy, reproduction system, blood circulatory system, multiple nervous systems, human tissues, immune system, major organs, and much more. After completing this course, you can explain how the human body works.
Is human biology a good course?
Undoubtedly, human biology is a good course because this course provides the students with a strong base on the science behind the human body. The course learners will learn in-depth about the human body and its functions. Besides, the students will also learn the factors that can impact human health. Knowledge of the subject is crucial, especially if you want to pursue a career in fields such as medicine, public health, nursing, and research.
Course Curriculum
Diploma in Human Biology
Module 01: The Chemistry of Cells

00:29:00

Module 02: Cells

00:18:00

Module 03: Cell Division

00:21:00

Module 04: Replication and Metabolism

00:10:00

Module 05: Human Tissues

00:27:00

Module 06: Skin

00:18:00

Module 07:Human Skeletal System

00:23:00

Module 08: The Muscular System

00:19:00

Module 09: Skeletal Muscle Fibre

00:24:00

Module 10: Nervous System

00:33:00

Module 11: The Brain

00:25:00

Module 12: Nervous System—Spinal Cord and Spinal Nerves

00:17:00

Module 13: Nervous System – Autonomic Nervous System and Cranial Nerves

00:23:00

Module 14: Nervous System—The Eyes

00:17:00

Module 15: Nervous System—The Ears, Hearing, and Equilibrium

00:16:00

Module 16: Nervous System—Memory

00:21:00

Module 17: Sensory Systems

00:21:00

Module 18: Cardiovascular System

00:27:00

Module 19: Blood

00:29:00

Module 20: Lymphatics

00:22:00

Module 21: Immune System

00:28:00

Module 22: Digestive System

00:24:00

Module 23: Respiratory System

00:00:00

Module 24: Urinary System

00:18:00

Module 25: Male Reproductive System

00:34:00

Module 26: Female Reproductive System

00:33:00

Certificate and Transcript
Order Your Certificates or Transcripts

00:00:00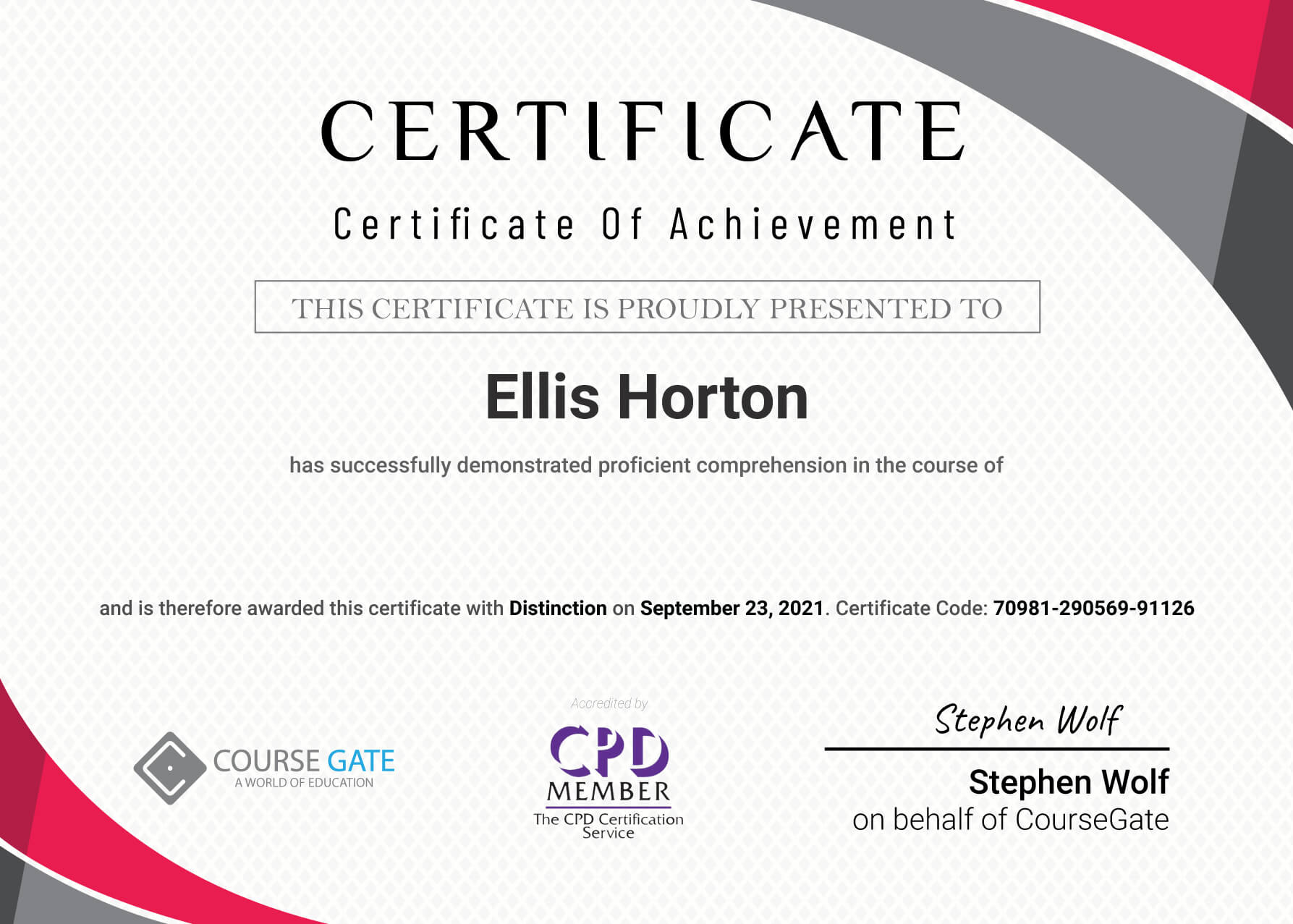 Course Reviews
5 stars

0

4 stars

0

3 stars

0

2 stars

0

1 stars

0
No Reviews found for this course.