Overview:
If you are an animal lover and looking for a career working with them, you're in the right place. Gain the skills to understand animal actions and take every necessary step for their well-being with our Level 5 Animal Care and Psychology course.
This Level 5 Animal Care and Psychology course will provide you with a comprehensive understanding of animal psychology. It will explain the concept of animal health and welfare in great depth. You will learn how to keep animals clean and healthy and acquire knowledge of pet first aid. In addition, you'll discover how to satisfy the nutritional needs of animals. The course will also take you through understanding animal behaviour to gain deep insights into the animal world. Enrol right now!
Please note: Our Level 5 Animal Care and Psychology course only gives you the theoretical knowledge to excel in this field. This course doesn't entitle you to practise as a professional in this specific field.
Who is this Course for?
This Level 5 Animal Care and Psychology course is ideal for aspiring professionals who wish to gain the relevant skills and knowledge to fast track their careers. It is for those who have little or no knowledge of animal care and psychology or those who are new to the field and want to test their skills and knowledge. There are no entry requirements for this course. However, an eye for detail and a creative mind is essential.
Entry Requirement:
This course is available to all learners of all academic backgrounds.

A good understanding of the English language, numeracy and ICT are required to attend this course.
CPD Certificate from Course Gate 
At the successful completion of the course, you can obtain your CPD certificate from us. You can order the PDF certificate for £4.99 and the hard copy for £9.99. Also, you can order both PDF and hardcopy certificates for £12.99.
Career Path
Upon successfully completing the Level 5 Animal Care and Psychology course, learners can progress to a more advanced program from our course list. Career opportunities in this field include freelancing or working in-house, within a range of professional settings, with the opportunity to earn a high salary. Related professions in this industry include:
Veterinarian 

RSPCA official

Pet shop owner

Zoo or animal sanctuary staff

Wildlife specialist
Course Curriculum
Module 01: Introduction to the Care and Animal Welfare of All Species
Introduction to the Care and Animal Welfare of All Species

00:27:00

Module 02: Basic Animal Health & Nutrition
Basic Animal Health & Nutrition

00:46:00

Module 03: Hygiene and First Aid for Animal
Hygiene and First Aid for Animal

00:47:00

Module 04: Getting to Know the Dogs & Puppies
Getting to Know the Dogs & Puppies

00:23:00

Module 05: Getting to Know the Kittens and Cats
Getting to Know the Kittens and Cats

00:30:00

Module 06: Learning about Horses
Learning about Horses

00:24:00

Module 07: Learning about Birds
Learning about Birds

00:22:00

Module 08: Specific Information on Rabbits & Guinea-Pigs
Specific Information on Rabbits & Guinea-Pigs

00:20:00

Module 09: Specific Information on Ornamental Fish
Specific Information on Ornamental Fish

00:29:00

Module 10: Specific Information on Reptiles
Specific Information on Reptiles

00:24:00

Module 11: Animal Psychology
Animal Psychology

00:34:00

Certificate and Transcript
Order Your Certificates or Transcripts

00:00:00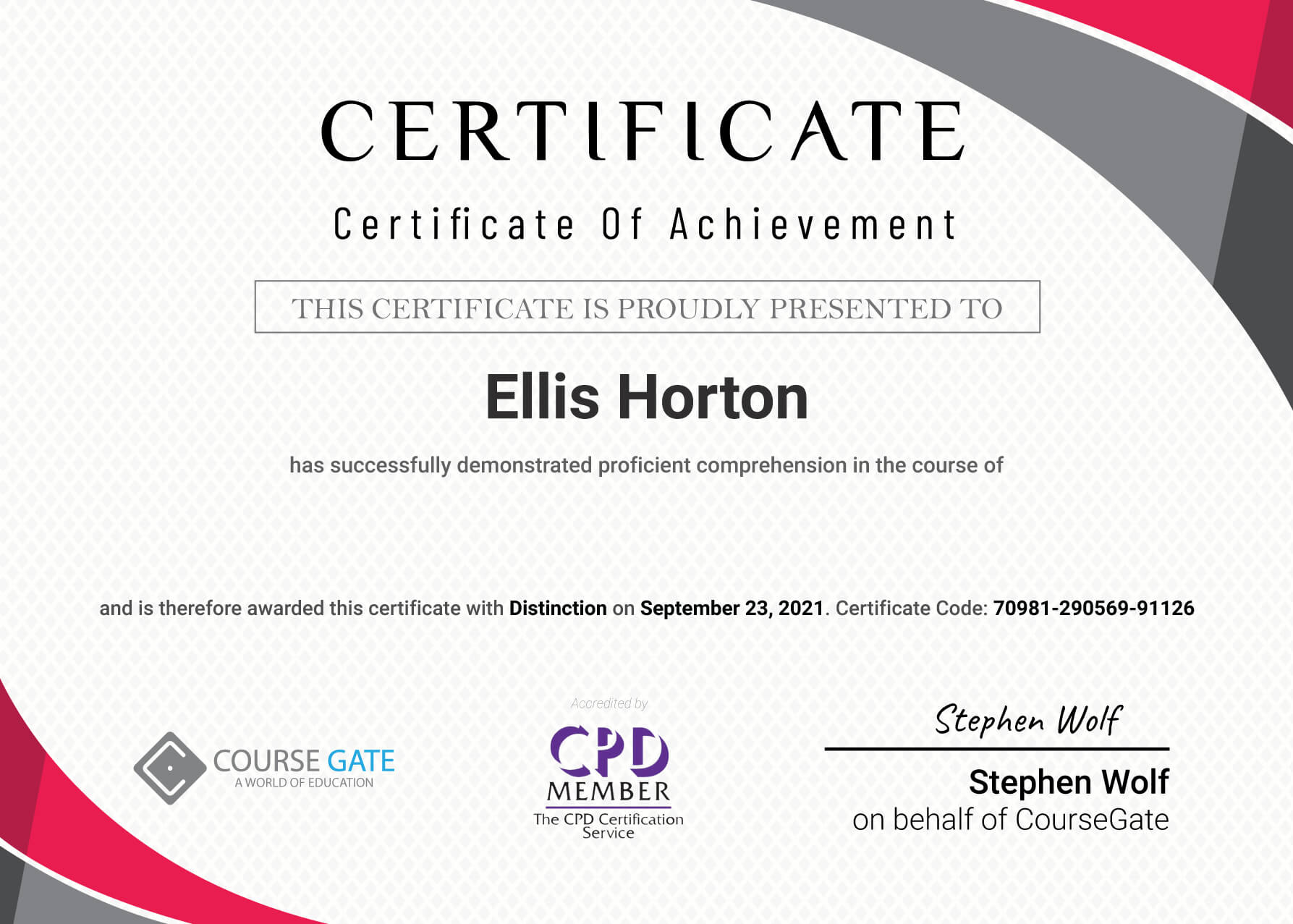 Level 5 Animal Care and Psychology