In this course, you will receive practical training in all areas of medical secretarial work, covering fundamental topics such as medical coding and billing, record management, medical audio transcriptions, and medical terminology. You will learn valuable transferable and professional skills, and explore the law and legislation behind medical administrative work.
The course is ideal for those who are new to the medical sector and are looking to take their first steps towards a career as a medical secretary.
Learning Objective:
The role of a medical secretary, skills and responsibilities

Demonstrate an in-depth understanding of human anatomy

Understand the basics of first aid and know what to do in the case of a medical emergency

Gain a solid understanding of key medical terminology and their definitions

Learn the fundamental criteria for medical record management

Understand the procedures and process for medical insurance billing and coding 

Know how to conduct medical research and understand the law and ethics regarding medical research

Get step-by-step training on how to create a medical audio transcription

Develop your communication, time-management, organisation and administrative skills
Who is This Course for?
This endorsed training course is ideal for professionals who are looking to kickstart a career in the medical industry in an administrative role. Our online courses are specially designed for distance learning, offering flexible, virtual classroom modules that you can study on a part-time or full-time basis.
Entry Requirement:
This course is available to all learners, of all academic backgrounds.
Learners should be aged 16 or over to undertake the course.
Good understanding of English language, numeracy and ICT are required to attend this course.
Certification
Certificate of Completion from Course Gate
At the successful completion of the course, the learners may order the Certificate of Completion from Course Gate (soft copy) by paying only £2. For the Printed hard copy of the certificate, the learners have to pay £9. There is an additional £10 delivery charge for international students.
Career Path:
The Medical Secretary Diploma course provides a stepping stone towards a successful career as a medical secretary, with the opportunity to work in a private practice or with the NHS. Through our specialist training, junior medical secretaries can gain the skills and knowledge to work their way up to a senior-level role.
Course Curriculum
Medical Secretary Level 1
Module 1: Medical Secretary and Their Duties
Medical Secretary Introduction

00:05:00

Receptionist Training for Medical Secretary

00:10:00

Assessment Module 1
Module 01 Final Quiz Exam – Medical Secretary Diploma

00:10:00

Module 2: Communication
Communication Skills

00:15:00

Assessment Module 2
Module 02 Final Quiz Exam – Medical Secretary Diploma

00:10:00

Medical Secretary Level 2
Module 3: Audio Transcription & Volunteer Training
Medical Audio Transcription

00:05:00

Medical Volunteer Training

00:05:00

Assessment Module 3
Module 03 Final Quiz Exam – Medical Secretary Diploma

00:10:00

Module 4: First Aid and Human Anatomy
First Aid Training

00:05:00

Human Anatomy and Physiology

00:05:00

Assessment Module 4
Module 04 Final Quiz Exam – Medical Secretary Diploma

00:10:00

Module 5: Medical Terminology
Medical Terminology

00:05:00

Assessment Module 5
Module 05 Final Quiz Exam – Medical Secretary Diploma

00:10:00

Medical Secretary Level 3
Module 6: Management of Medical Records
Management of Medical Records

00:10:00

Assessment Module 6
Module 06 Final Quiz Exam – Medical Secretary Diploma

00:10:00

Module 7: Medical Insurance, Billing and Coding
Medical Insurance, Billing and Coding

00:15:00

Assessment Module 7
Module 07 Final Quiz Exam – Medical Secretary Diploma

00:10:00

Module 8: Research, Laws and Ethics
Medical Research

00:05:00

Medical Law and Ethics

00:10:00

Assessment Module 8
Module 08 Final Quiz Exam – Medical Secretary Diploma

00:10:00

Certificate and Transcript
Order Your Certificates or Transcripts

00:00:00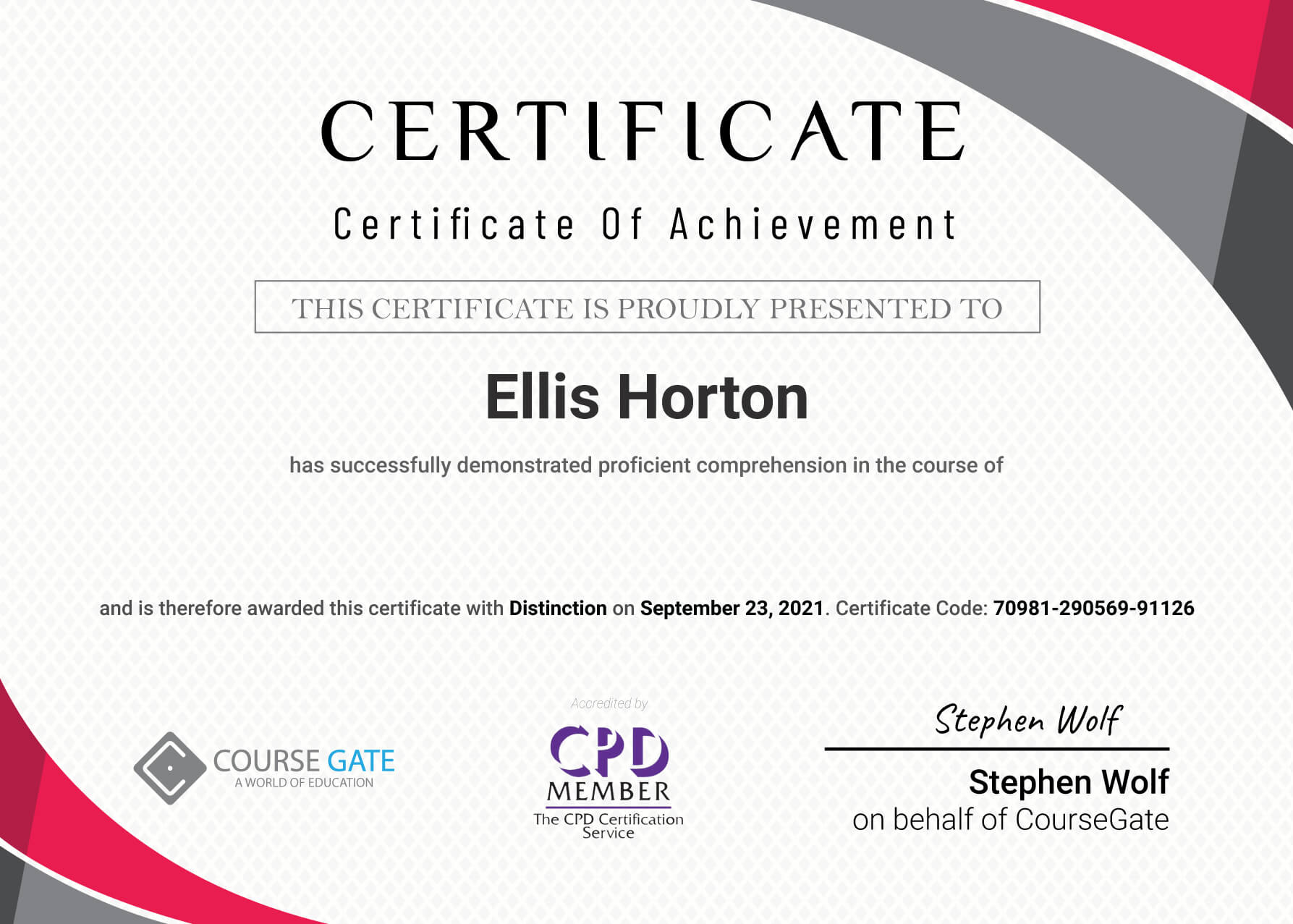 Medical Secretary Diploma