Course Description 
Beautifying nails are the latest trend, and women are ready to pay a reasonable amount to get their nails done. With the right skills and tools, anyone can be a part of this profitable sector. But, do you want to take this opportunity and put your creativity to work? The Nail Technician course will show you how.
We have designed this course to equip you with a wide range of nail decoration techniques. It is the complete guide to learn how to use varnishes, gems and glitters. In addition, you will get advanced cleaning and filling skills. The easy to follow modules will teach you the techniques of applying for overlays and nail extension. Besides the basic skills, you will be able to improve your communication skills and understand how to advise your clients.
No matter your academic background, you can enrol in this course. The skills acquired from the course will give you the proficiency to work in salons or perhaps open your own nail parlour. So if you want to make nails on your canvas, don't sit back; enrol today!
Nail Technicians require skills like-
decorating nails with different varnishes, gems or glitters
cleaning and filing nails
applying for overlays or extensions
paint designs onto nails using an airbrush or a stencil etc.
And this Nail Technician Course includes all of these. Besides these basic skills, you will learn how to communicate with clients and check for any skin problem or nail disease before treatment. You will also need to advise clients about quality nail products and how they should look after their hands and feet.
Who is the course for?
This complete diploma course is developed for-
Nail technicians and nail artists who want to update themselves and explore new skills
Those who want to become a nail technician with a CPD accredited course
Who are searching online to learn more about manicure & pedicure
People who want to learn more and take care of their nails themselves
Entry Requirement:
There is no prerequisite to enrol in the course and anyone regardless of the academic background can take it. You just have to be aged 16 or above.
Course content is compatible and accessible from any devices including windows, mac, android, iOS etc. So you can access and complete the course using any laptop, desktop, tablet or mobile phone.
CPD Certificate from Course Gate 
At the successful completion of the course, you can obtain your CPD certificate from us. You can order the PDF certificate for £9 and the hard copy for £15. Also, you can order both PDF and hardcopy certificates for £22.
Career path
This Nail Technician online course will open a new door for you to enter the relevant job market and also gives you the opportunity to acquire extensive knowledge along with the required skills to become successful. You will be able to add our qualification to your CV/resume which will help you to stand out in the competitive job industry.
Robyn Lazaga
understanding and learning the course very well this really helped a lot. Had more knowledge and experience through the course. thank you! 🙂
Justine Wood
I really enjoyed this course and I think it has given me all the tools to get started. Really enjoyed it and gave 5 stars.
Danielle Bryan
Excellent course! very detailed and informative. Easy to use! I absolutely loved it.
Zara Barry
I have learned so many new techniques from this course. I can't wait to apply them on my clients.
Charlie Fleming
Every nail technician should take this course. It a great course to boost up your skills.
Course Curriculum
Nail Technology
Introduction to Nail Technology

00:30:00

The Nail Salon Basics

00:30:00

The Anatomy of the Skin

00:30:00

The Anatomy of the Nail

00:15:00

Nail Diseases & Disorders

00:15:00

Manicure Process
The Manicuring Process

00:05:00

Manicure Tools and Equipment

00:15:00

How to Do Nail Art

00:15:00

Create a Marble Nail Effect Using Water

00:05:00

Ombre Nails

00:02:00

Pedicure Process
The Process of Performing a Pedicure

00:05:00

Scrub Pedicure

00:15:00

Hydration Pedicure

00:15:00

Aromatherapy Pedicure

00:01:00

Gel Manicures and Pedicures

00:10:00

Acrylic Nail Application
Acrylic Nail/Tip Application Process

00:05:00

Acrylic Powders

00:15:00

Professional Nail Tips

00:05:00

Nail Care Products

00:05:00

Trouble shooting acrylic nails

00:05:00

Your Skills

00:10:00

Health, Hygiene and Safety
Client Consultation and Aftercare

00:15:00

Infection Control and Hygiene

00:15:00

Health, Hygiene & Safety

00:20:00

Salon Safety

00:15:00

Nail Technician Business
How to Create a Successful Nail Technician Business

00:10:00

Business Plan

00:30:00

Clients

00:20:00

Marketing

00:10:00

How to Start a Nail Salon Business

00:10:00

Nail Salon Professionalism

00:10:00

Ways to Increase Your Profit

00:10:00

Mock Exam
Mock Exam- Nail Technician Diploma

00:20:00

Final Exam
Final Exam- Nail Technician Diploma

00:20:00

Certificate and Transcript
Order Your Certificates or Transcripts

00:00:00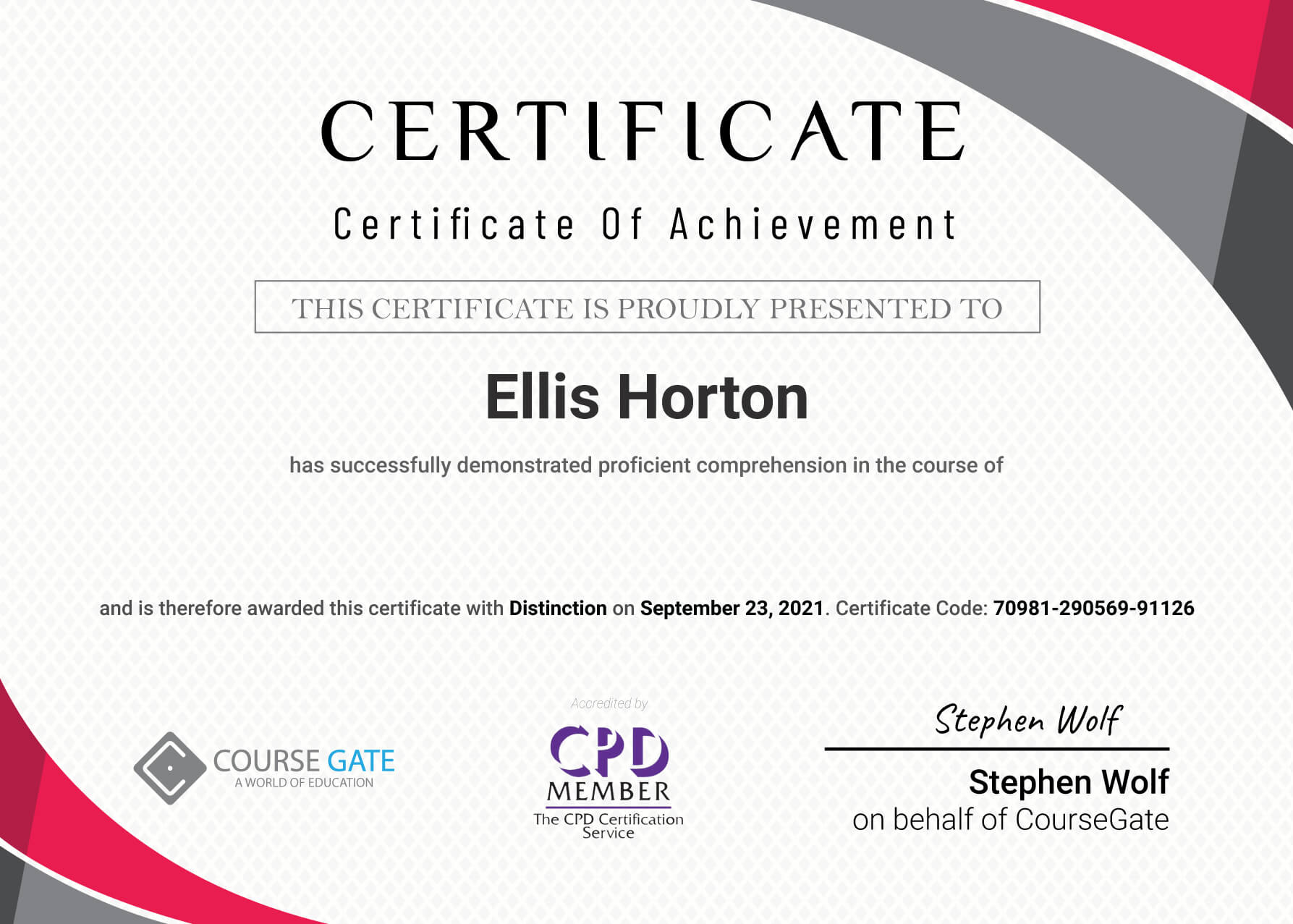 Course Reviews
5 stars

18

4 stars

9

3 stars

0

2 stars

0

1 stars

0