Overview
Becoming old, aged people act more like children. In that time, they suffer from different diseases. So, they need proper care, and psychological support for their better health. Learn how to take care of them exponentially during their old age through our Old Age Psychology course. The lucid contents guide you further to learn all you need in your quest.
Going through the course, you will learn how to deal with old people, understand their psychology, and care them with a soft hand. Besides, as the old people suffer from different types of diseases such as Alzheimer, dementia and many more, the course guides you how to distinguish these diseases to take proper care. Furthermore, understanding their psychology, you will be able to make a firm bond with them bringing back and holding their eternal smile.
Who is this course for?
Old Age Psychology is suitable for anyone who wants to gain extensive knowledge, potential experience, and professional skills in the related field. This course is CPD accredited so you don't have to worry about the quality.
Requirements
Our Old Age Psychology is open to all from all academic backgrounds and there is no specific requirements to attend this course. It is compatible and accessible from any device including Windows, Mac, Android, iOS, Tablets etc.
CPD Certificate from Course Gate 
At the successful completion of the course, you can obtain your CPD certificate from us. You can order the PDF certificate for £9 and the hard copy for £15. Also, you can order both PDF and hardcopy certificates for £22.
Career path
This course opens a new door for you to enter the relevant job market and also gives you the opportunity to acquire extensive knowledge along with required skills to become successful. You will be able to add our qualification to your CV/resume which will help you to stand out in the competitive job industry.
Course Curriculum
About Your Course
About your tutor

FREE

00:02:00

About your course

00:03:00

Introduction to Psychology of Older Age
What is 'Developmental Psychology'?

00:05:00

What is 'Gerontology'?

00:09:00

What we consider as 'old age'

00:09:00

What is 'ageing' and how it happens

00:08:00

Psychology of Older Age
Common stereotypes of older people

00:08:00

How stereotyping affects older people

00:08:00

Life stages and Theories

00:11:00

What do we look forward to in our older age?

00:06:00

Mental Health and Old Age
Memory-related issues

00:12:00

Learning disabilities

00:08:00

Alzheimer's disease and Dementia

00:09:00

Chronic illness and Disabilities

00:08:00

Substance abuse (addictions)

00:06:00

The Quality of Life
What is 'Quality of Life'?

00:05:00

Loneliness factors in the elderly population

00:07:00

Coping with grief and bereavement

00:07:00

'Mild' and 'severe' depression

00:07:00

Fear of dying ('death anxiety')

00:09:00

Improving Health and Wellbeing
The effects of exercising

00:09:00

Is it worth eating 'healthy' in older age?

00:09:00

What else affects 'health' and 'wellbeing'?

00:08:00

Caring for older people

00:06:00

Thank You & Good Bye!

00:02:00

Certificate and Transcript
Order Your Certificates or Transcripts

00:00:00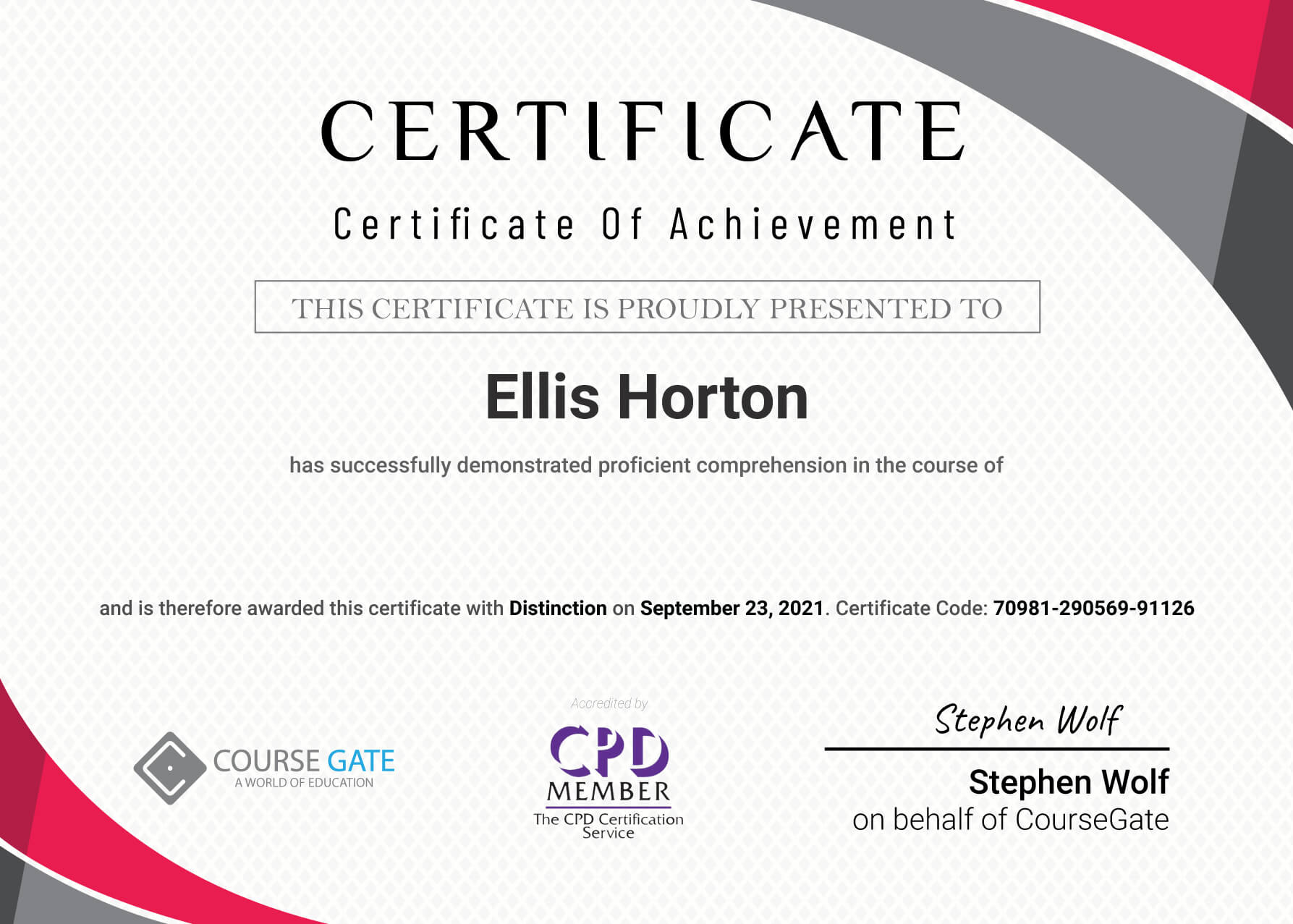 Course Reviews
5 stars

1

4 stars

0

3 stars

0

2 stars

0

1 stars

0