Course Overview
Make the important day memorable with the Party Planner and Event Management course.
The position and work of an event manager and party planner are different from other casual jobs. The work includes both creativity and basic knowledge of the fields. The course provides a step-by-step guide for managing any event.  The course covers both the planning phase and managing phase of any event. You will learn about budgeting, scheduling, site selection, acquiring necessary permits, coordinating transportation and parking, arranging for speakers or entertainers, arranging decor, event security, catering, and other essential steps of planning and managing any event. Finally, the course helps you to understand the psychology of the event and illustrates the concepts through several types of party examples such as birthday party, funeral, home party, etc.
Upon completion, you will be bold enough to arrange any program including any party, baby shower, wedding event, or official program.
Learning Objectives
Learn the fundamental skills you require to be an expert
Explore different techniques used by professionals
Find out the relevant job skills & knowledge to excel in this profession
Get a clear understanding of the job market and current demand
Update your skills and fill any knowledge gap to compete in the relevant industry
CPD accreditation for proof of acquired skills and knowledge
Who is this Course for?
Whether you are a beginner or an existing practitioner, our CPD accredited Party Planner and Event Management is perfect for you to gain extensive knowledge about different aspects of the relevant industry to hone your skill further.
It is also great for working professionals who have acquired practical experience but require theoretical knowledge with a credential to support their skill, as we offer CPD accredited certification to boost up your resume and promotion prospects.
Entry Requirement
Anyone interested in learning more about this subject should take this Party Planner and Event Management. This course will help you grasp the basic concepts as well as develop a thorough understanding of the subject.
The course is open to students from any academic background, as there is no prerequisites to enrol on this course. The course materials are accessible from an internet enabled device at anytime of the day.
CPD Certificate from Course Gate
At the successful completion of the course, you can obtain your CPD certificate from us. You can order the PDF certificate for £9 and the hard copy for £15. Also, you can order both PDF and hardcopy certificates for £22.
Career path
The Party Planner and Event Management will help you to enhance your knowledge and skill in this sector. After accomplishing this course, you will enrich and improve yourself and brighten up your career in the relevant job market.
Course Curriculum
Introduction to events management and party planning
Introduction

00:01:00

Events Management

00:11:00

Party Type Ideas

00:13:00

Theming, Types, Tips
Theming an event

00:07:00

The Psychology

00:08:00

Childrens parties

00:06:00

Qualities needed

00:06:00

Shoestring Budgets

00:04:00

Home Party Tips

00:07:00

Conclusion
Conclusion

00:05:00

Recommended Materials
Workbook – Party Planner and Event Management

00:00:00

Certificate and Transcript
Order Your Certificates or Transcripts

00:00:00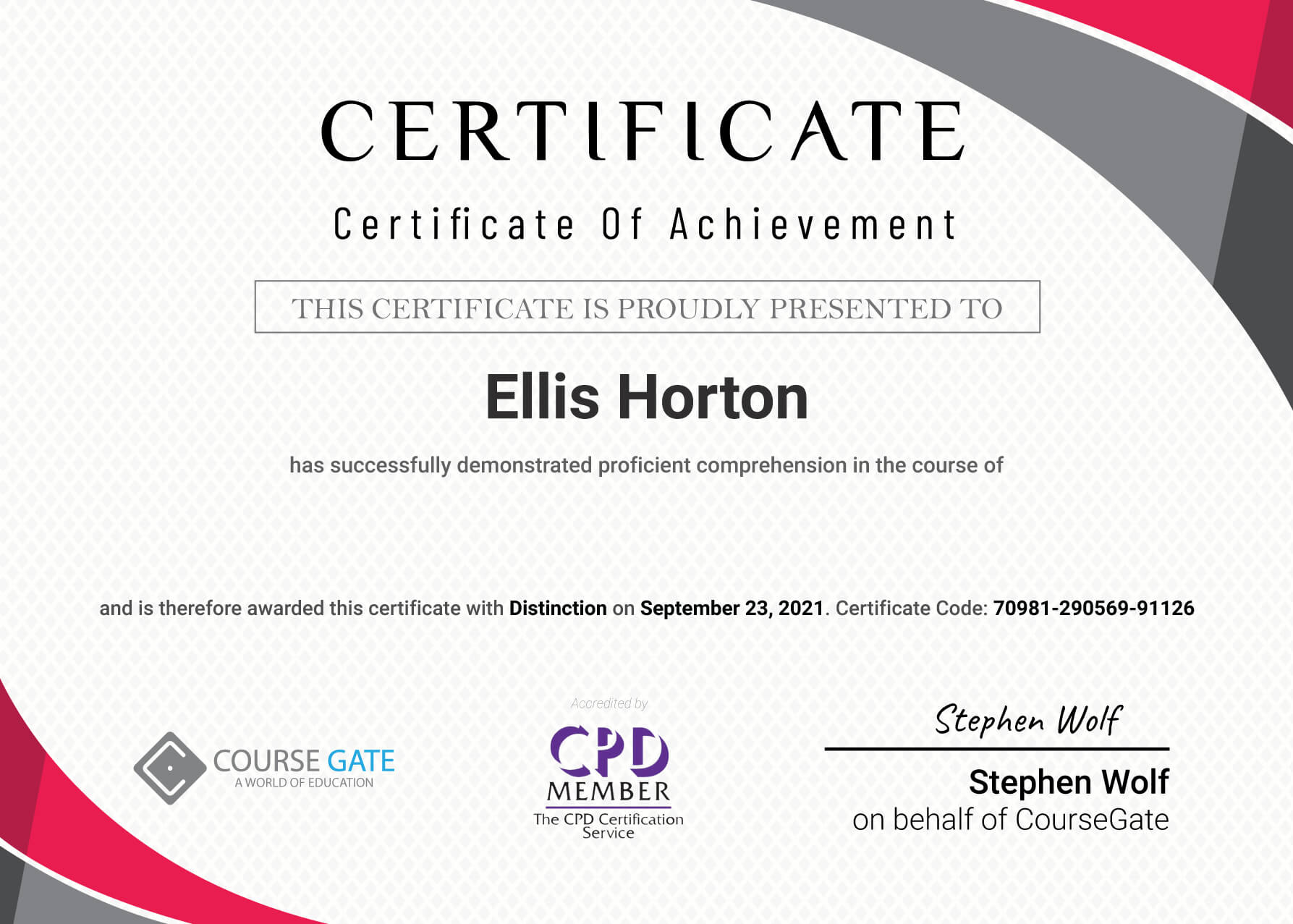 Party Planner and Event Management
Course Reviews
5 stars

0

4 stars

0

3 stars

0

2 stars

0

1 stars

0
No Reviews found for this course.