This complete training program covers all the fundamental areas of safeguarding, from the different types of abuse to recognising when an individual is high risk, to understanding when to report your safeguarding concerns. Our experienced instructor will also help you to develop a person-centred approach when caring for vulnerable individuals.
By the end of the course, you will have a solid understanding of safeguarding policies, practices and laws, knowing how to respond to disclosure, as well as understanding when and how to make a referral.
Learning Objective:
Demonstrate understanding of safeguarding laws, policies, principles and practices

Be able to identify the different types of abuse: physical, emotional, sexual, and neglect

Recognise when a child or is at risk and understand how to report your safeguarding concerns

Understand how to maintain child protection records and what should be included in these records

Learn about your legal requirements for safeguarding and familiarise with key safeguarding legislation

Know the rules for disclosing information and how to respond to a disclosure

Earn an endorsed certificate to ensure your professional competence in safeguarding children and young people

Develop a person-centred approach in child protection and adult safeguarding

Understand what happens after a referral has been made to appropriate services
Who is This Course for?
This endorsed child safeguarding training course is ideal for professionals who work with children, young people and adults. Our online courses are specially designed for distance learning, offering flexible virtual classroom modules that you can study at your own convenience. This course has no entry requirements and can be studied on a full-time or part-time basis.
Entry Requirement:
This course is available to all learners, of all academic backgrounds.
Learners should be aged 16 or over to undertake the course.
Good understanding of English language, numeracy and ICT are required to attend this course.
Endorsement
This course has been endorsed by the Quality Licence Scheme for its high-quality, non-regulated provision and training programmes. This course is not regulated by Ofqual and is not an accredited qualification. Your training provider will be able to advise you on any further recognition, for example progression routes into further and/or higher education. For further information please visit the Learner FAQs on the Quality Licence Scheme website.
Certificate of Achievement
Endorsed Certificate of Achievement
At the successful completion of the course, the learners can order an endorsed certificate of achievement by paying the fee of £78. There is an additional £10 postal charge for international students.
Certificate of Completion from Course Gate
At the successful completion of the course, you can obtain your CPD certificate from us. You can order the PDF certificate for £9 and the hard copy for £15. Also, you can order both PDF and hardcopy certificates for £22.
Career Path
This comprehensive course is essential for those who want to gain a more in-depth understanding of how to protect and safeguard the welfare of children and vulnerable adults, to ensure they are working in compliance with safeguarding legislation, policies and laws. This course applies to those in the following professions:
Teaching

Nursing

Social Care

Foster Care

Mental Health Care
Course Curriculum
Safeguarding Children and Vulnerable Adults Level 1
Safeguarding Children
Module 01: Introduction to Safeguarding Children
Module 01: Introduction to Safeguarding Children

00:21:00

Assessment Module 1
Module 01 Final Quiz Exam – Safeguarding Children and Vulnerable Adult

00:10:00

Module 02: Laws and Guidance
Module 02: Laws and Guidance

00:41:00

Assessment Module 2
Module 02 Final Quiz Exam – Safeguarding Children and Vulnerable Adult

00:10:00

Module 03: Child Abuse
Module 03 : Child Abuse

00:48:00

Assessment Module 3
Module 03 Final Quiz Exam – Safeguarding Children and Vulnerable Adult

00:10:00

Module 04: Sexual Abuse
Module 04: Sexual Abuse

00:39:00

Assessment Module 4
Module 04 Final Quiz Exam – Safeguarding Children and Vulnerable Adult

00:10:00

Safeguarding Children and Vulnerable Adults Level 2
Module 05: Risks and Risk Assessment
Module 05 : Risks and Risk Assessment

00:16:00

Assessment Module 5
Module 05 Final Quiz Exam – Safeguarding Children and Vulnerable Adult

00:10:00

Module 06: Responding to Disclosure and Reporting
Module 06 : Responding to Disclosure and Reporting

00:32:00

Assessment Module 6
Module 06 Final Quiz Exam – Safeguarding Children and Vulnerable Adult

00:10:00

Module 07: Things to Do after Referral
Module 07 : Things To Do After Referral

00:22:00

Assessment Module 7
Module 07 Final Quiz Exam – Safeguarding Children and Vulnerable Adult

00:10:00

Module 08: Record Keeping
Module 08 : Record Keeping

00:17:00

Assessment Module 8
Module 08 Final Quiz Exam – Safeguarding Children and Vulnerable Adult

00:10:00

Safeguarding Children and Vulnerable Adults Level 3
Safeguarding Vulnerable Adults
Module 09: An Introduction to Safeguarding Vulnerable Adults
Module 09: An Introduction to Safeguarding Vulnerable Adults

00:15:00

Assessment Module 9
Module 09 Final Quiz Exam – Safeguarding Children and Vulnerable Adult

00:10:00

Module 10: Safeguarding Legislations
Module 10: Safeguarding Legislations

00:25:00

Assessment Module 10
Module 10 Final Quiz Exam – Safeguarding Children and Vulnerable Adult

00:10:00

Module 11: Understanding Abuse and Neglect
Module 11: Understanding Abuse and Neglect

00:25:00

Assessment Module 11
Module 11 Final Quiz Exam – Safeguarding Children and Vulnerable Adult

00:10:00

Module 12: Safeguarding Vulnerable Adults: Policy, Roles and Responsibilities
Module 12: Safeguarding Vulnerable Adults: Policy, Roles and Responsibilities

00:23:00

Assessment Module 12
Module 12 Final Quiz Exam – Safeguarding Children and Vulnerable Adult

00:10:00

Module 13: Understanding the Importance of Communication in Care
Module 13: Understanding the Importance of Communication in Care

00:20:00

Assessment Module 13
Module 13 Final Quiz Exam – Safeguarding Children and Vulnerable Adult

00:10:00

Module 14: Sharing Information and Responding To a Disclosure
Module 14: Sharing Information and Responding To a Disclosure

00:20:00

Assessment Module 14
Module 14 Final Quiz Exam – Safeguarding Children and Vulnerable Adult

00:10:00

Module 15: Reporting Your Concern
Module 15: Reporting Your Concern

00:17:00

Assessment Module 15
Module 15 Final Quiz Exam – Safeguarding Children and Vulnerable Adult

00:10:00

Order Your Certificate
Order Your Certificate QLS

00:00:00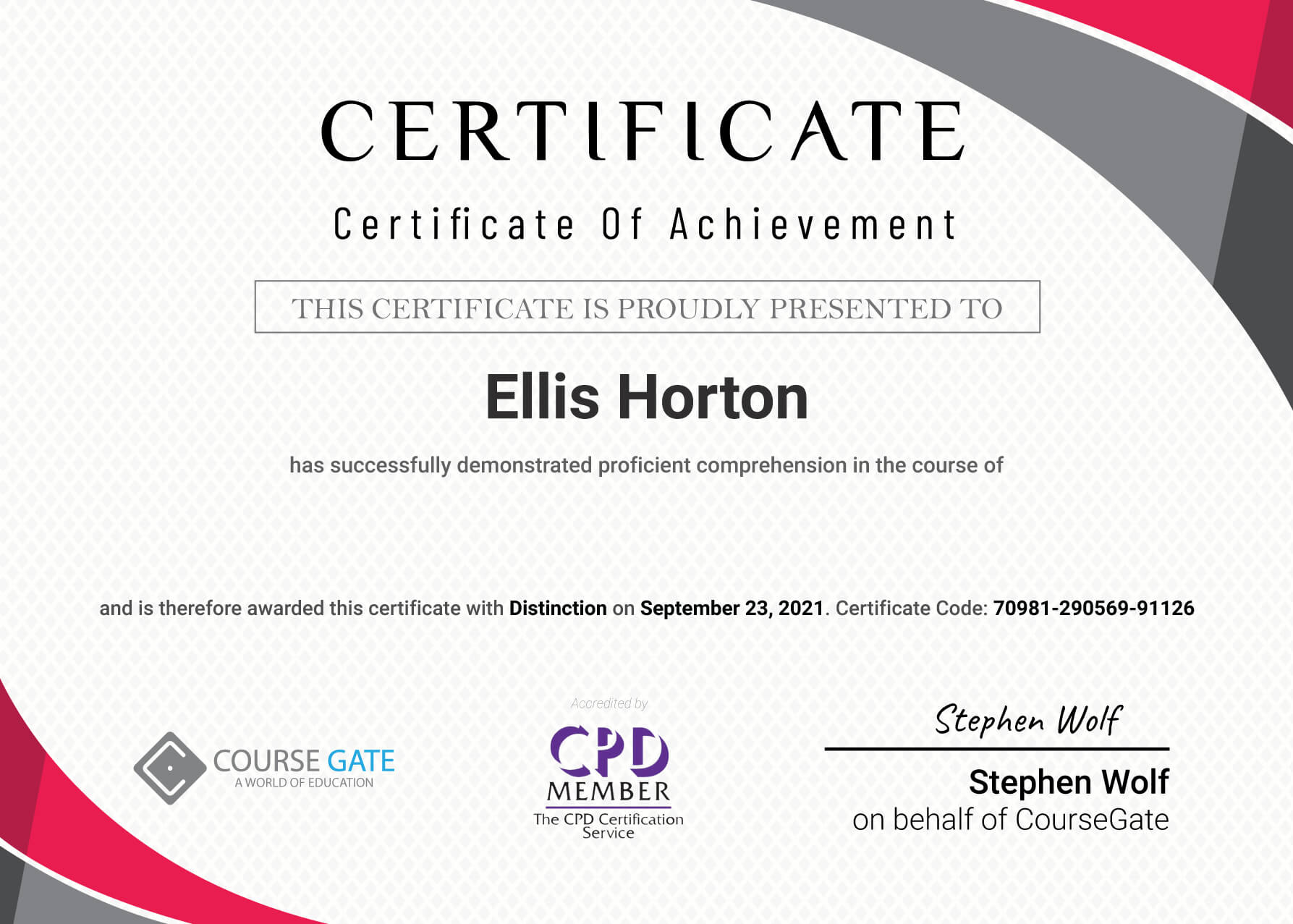 Safeguarding Children and Vulnerable Adults