Overview
Compared to adults, children are more exposed to danger and risk. That is why individuals working as safeguarding officers are required to have a proper grasp of child safeguarding principles. If you aspire to work with children, develop your competence in child protection through the Safeguarding Officer Training Level 3 course.
The Safeguarding Officer Training Level 3 course will teach you the fundamentals of child safeguarding. The course will educate you on the laws and guidance of preserving. In addition, you will receive detailed lessons on how to respond to child abuse. Through the easy-to-follow modules, you will attain the essential skills and ability for evaluating risks. You will also acquire the competence to keep the records properly. 
This comprehensive Safeguarding Officer Training Level 3 course is the perfect place to build your expertise in safeguarding. Take this course today and develop the skills to ensure a safe environment for children. 
Please note: Our Safeguarding Officer Training Level 3 course only gives you theoretical knowledge to excel in this field. This course doesn't authorise you to practise as a professional in this specific field.
Learning Objectives
Learn the basic principles of safeguarding

Familiarise yourself with the laws and guidance of safeguarding

Enrich your knowledge of child abuse

Understand how to identify abuse and take action accordingly 

Develop the ability to conduct risk assessments

Know the process of record-keeping  
Who is this Course for?
This Safeguarding Officer Training Level 3 course is ideal for aspiring safeguarding officers or those who wish to gain the relevant skills and knowledge to fast track their careers. It is for those who have little or no knowledge of the principles of safeguarding children or those who are new to the field and want to test their skills and knowledge. There are no entry requirements for this course; however, an eye for detail and a creative mind is essential.
Entry Requirement
This course is available to all learners of all academic backgrounds.

A good understanding of the English language, numeracy, and ICT are required to attend this course.
CPD Certificate from Course Gate 
At the successful completion of the Safeguarding Officer Training Level 3 course, you can obtain your CPD certificate from us. You can order the PDF certificate for £4.99 and the hard copy for £9.99. Also, you can order both PDF and hardcopy certificates for £12.99.
Career Path
Upon successfully completing the Safeguarding Officer Training Level 3 course, learners can progress to a more advanced program from our course list. Career opportunities in this field include freelancing or working in-house, within a range of professional settings, with the opportunity to earn a high salary. Related professions in this industry include:
Safeguarding officer 

Childcare worker 

Social worker 
Course Curriculum
Module 01: Introduction to Safeguarding
Introduction to Safeguarding

00:21:00

Module 02: Laws and Guidance
Laws and Guidance

00:43:00

Module 03: Child Abuse
Child Abuse

00:49:00

Module 04: Child Sexual Exploitation
Child Sexual Exploitation

00:38:00

Module 05: Responding to Disclosure and Reporting
Responding to Disclosure and Reporting

00:25:00

Module 06: Risks and Risk Assessment
Risks and Risk Assessment

00:16:00

Module 07: Things to Do after Referral
Things to Do after Referral

00:24:00

Module 08: Record Keeping
Record Keeping

00:18:00

Certificate and Transcript
Order Your Certificates or Transcripts

00:00:00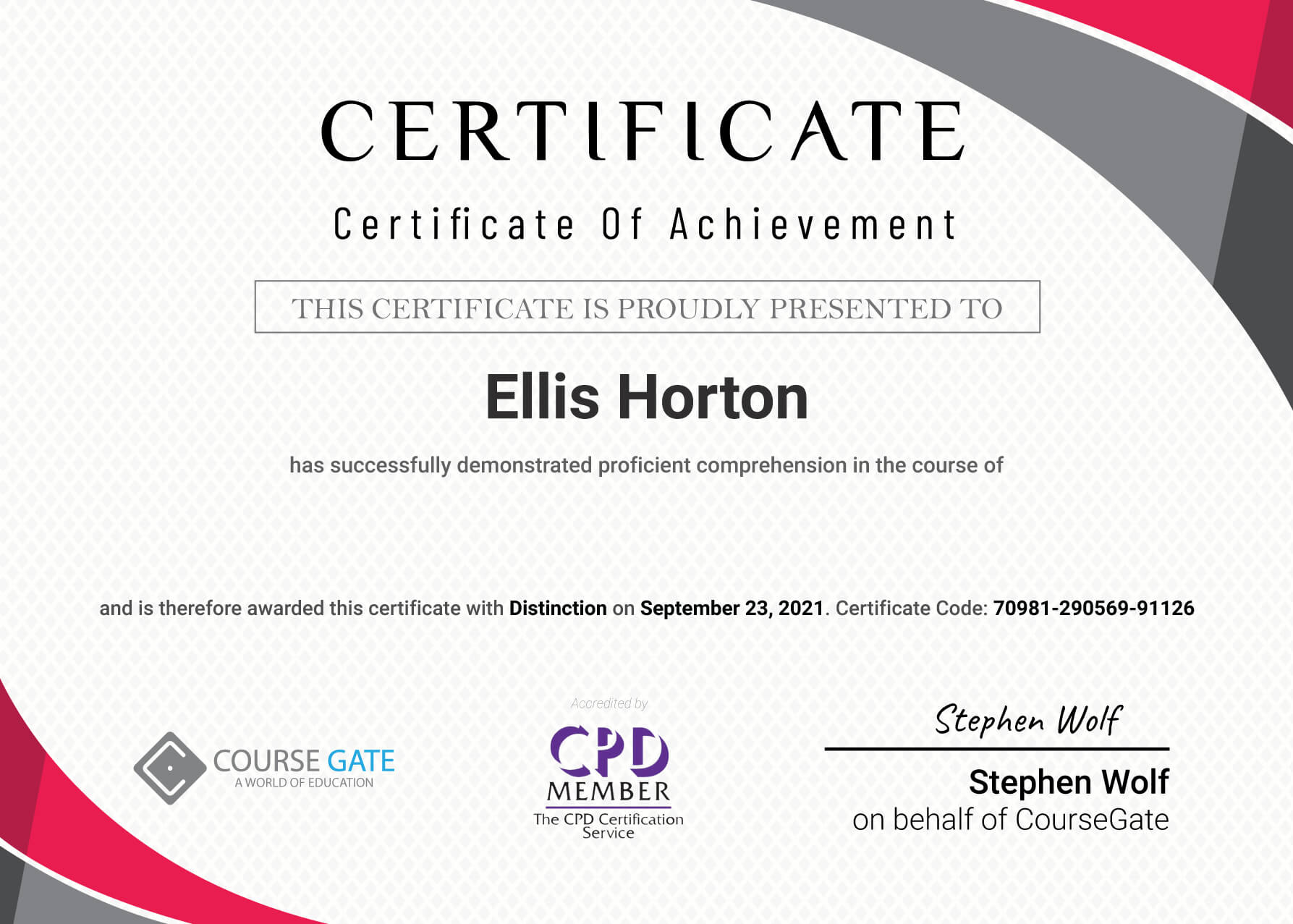 Safeguarding Officer Training Level 3