Overview:
Vulnerable adults need extra attention and care. However, without proper training, it is pretty challenging to provide quality care to adults. The Safeguarding Vulnerable Adults – Level 5 course is designed to give this sector's current and future professionals a clear idea about the principles, policies, and duties related to safeguarding adults.
Through the Safeguarding Vulnerable Adults – Level 5 course, you will get a theoretical and practical understanding of safeguarding vulnerable adults. Here, you will learn about the principles of safeguarding and develop a clear understanding of protecting legislation. In addition, this course will introduce you to the policy and responsibilities you have to fulfil as a caregiver. From this course, you will also learn the importance of communication and develop the skills for reporting.
This comprehensive Safeguarding Vulnerable Adults – Level 5 course is the perfect place to build your expertise in this area. If you wish to pursue a career in the related fields, this course is ideal for you. Join now!
Please note: Our Safeguarding Vulnerable Adults – Level 5 course only gives you the theoretical knowledge to excel in this field. This course doesn't entitle you to practise as a professional in this specific field.
Learning Objectives
Familiarise yourself with the basic principles of safeguarding vulnerable adults

Enrich your knowledge of safeguarding legislation

Understand the policy regarding safeguarding adults

Learn about the significance of communication in care

Develop the essential expertise for reporting properly  
Who is this Course for?
Whether you are a beginner or an existing practitioner, our CPD accredited Safeguarding Vulnerable Adults – Level 5 course is perfect for you to gain extensive knowledge about different aspects of the relevant industry to hone your skill further.
It is also great for working professionals who have acquired practical experience but require theoretical knowledge with a credential to support their skill, as we offer CPD accredited certification to boost up your resume and promotion prospects.
Entry Requirement
Anyone interested in learning more about this subject should take this Safeguarding Vulnerable Adults – Level 5 course. This course will help you grasp the basic concepts as well as develop a thorough understanding of the subject.
The course is open to students from any academic background, as there is no prerequisites to enrol on this course. The course materials are accessible from an internet enabled device at anytime of the day.
CPD Certificate from Course Gate
At the successful completion of the course, you can obtain your CPD certificate from us. You can order the PDF certificate for £4.99 and the hard copy for £9.99. Also, you can order both PDF and hardcopy certificates for £12.99.
Career path
Upon successfully completing the Safeguarding Vulnerable Adults – Level 5 course, learners can progress to a more advanced program from our course list. Career opportunities in this field include freelancing or working in-house, within a range of professional settings, with the opportunity to earn a high salary. Related professions in this industry include:
NHS staff

Nurses

Caregivers

Health Care Workers

Social Welfare Workers
Course Curriculum
Module 01: An Introduction to Safeguarding of Vulnerable Adults
An Introduction to Safeguarding of Vulnerable Adults

00:15:00

Module 02: Safeguarding Legislations
Safeguarding Legislations

00:25:00

Module 03: Understanding Abuse and Neglect
Understanding Abuse and Neglect

00:25:00

Module 04: Safeguarding Vulnerable AdultsPolicy, Roles and Responsibilities
Safeguarding Vulnerable AdultsPolicy, Roles and Responsibilities

00:23:00

Module 05: Understanding the Importance of Communication in Care
Understanding the Importance of Communication in Care

00:20:00

Module 06: Sharing Information and Responding To a Disclosure
Sharing Information and Responding To a Disclosure

00:20:00

Module 07: Reporting Your Concern
Reporting Your Concern

00:17:00

Certificate and Transcript
Order Your Certificates or Transcripts

00:00:00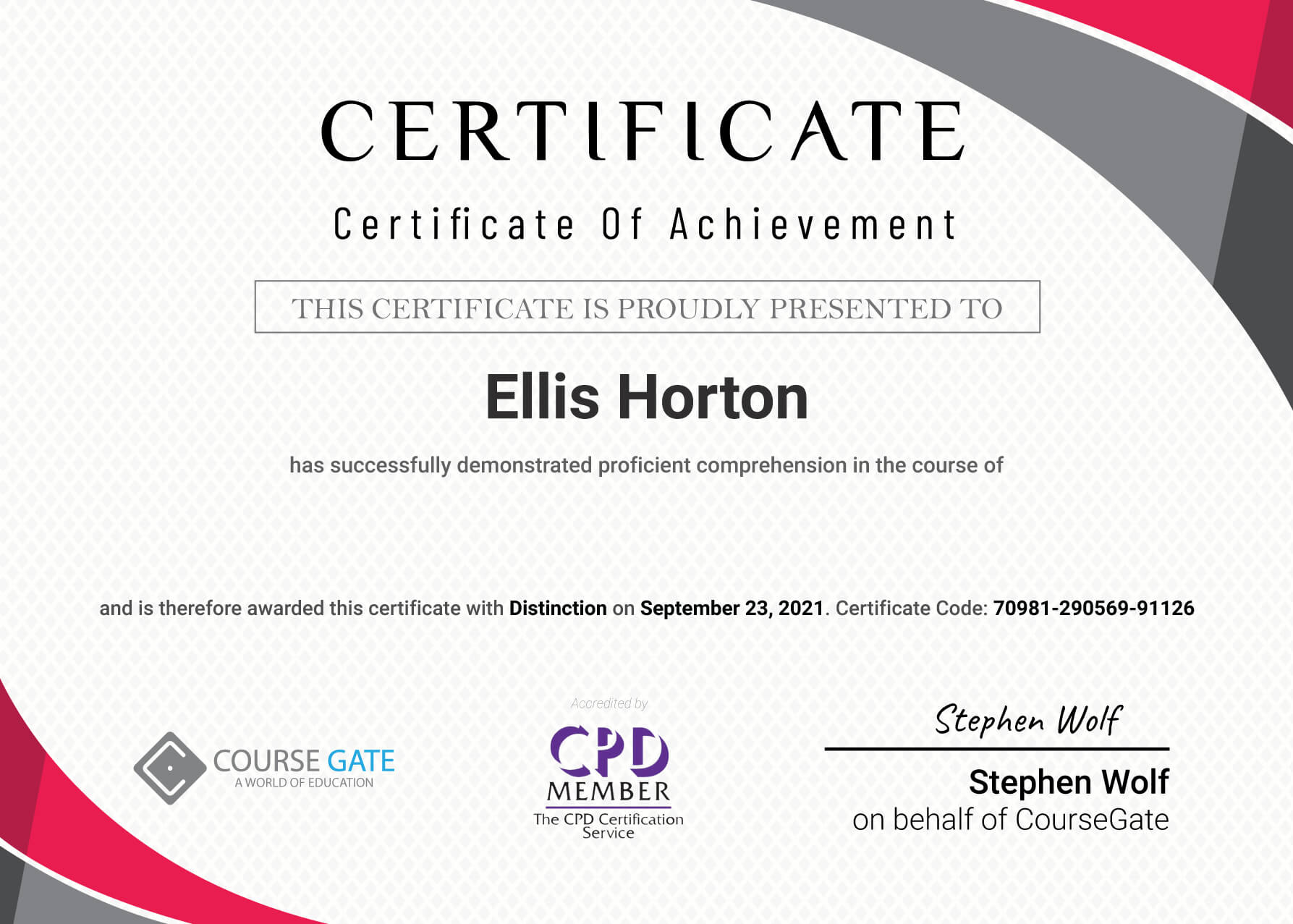 Safeguarding Vulnerable Adults - Level 5