Overview
School nurses work at every level of education, from Pre-school through high school and college. One of the primary duties of a school nurse is to take care of students who became sick or injured during the schooling hour.
School nursing is challenging and rewarding, but it's never dull or sedate. Boost your career as a School Nursing expert or other relevant job sectors with our School Nursing Certificate course prepared by qualified professionals.
This School Nursing Certificate course is divided into several easy-to-digest, manageable sections. We feel it will help you grasp each concept– from the basic to advanced course components.
After completing the School Nursing Certificate course, you will build up accurate knowledge and skills with proper confidence to enrich yourself and brighten up your career in the relevant job market.
Please note: This course only gives you the theoretical knowledge to excel in this field. Our School Nursing Certificate course doesn't entitle you to practise as a professional in this specific field.
Learning Objectives
Learn about the skills and requirements required to work as a certified school nurse.

Understanding the importance and role of school nurses in the educational system.

Develop your knowledge of how to conduct a child health assessment.

A thorough understanding of health education, including various health-promoting activities.

Discover how to effectively encourage healthy living, including exploring adolescent sexuality and mental health issues.

Understand how to raise awareness about a variety of health issues, such as drug usage, school violence, and child abuse, among others.

Become qualified to work closely with schools and families to promote the health and wellbeing of children and young people.
Who is this Course for?
Our CPD accredited School Nursing Certificate course is perfect for anyone trying to learn potential professional skills. As there is no experience and qualification required for this School Nursing course, it is available for all students from any academic background.
Entry Requirement:
This course is available to all learners, of all academic backgrounds.

Good understanding of English language, numeracy and ICT are required to attend this course.
CPD Certificate from Course Gate 
At the successful completion of the course, you can obtain your CPD certificate from us. You can order the PDF certificate for £9 and the hard copy for £15. Also, you can order both PDF and hardcopy certificates for £22.
Career path
After completing this course, you will be able to enrich yourself and brighten up your career in the relevant job market.
Course Curriculum
Module 1: Introduction to Nursing
Introduction to Nursing

00:17:00

Module 2: Understanding the Growth and Development of Children
Understanding the Growth and Development of Children

00:29:00

Module 3: Introduction to Nursery Nurse
Introduction to Nursery Nurse

00:18:00

Module 4: Observation and Assessment of Children in the Early Years Setting
Observation and Assessment of Children in the Early Years Setting

00:23:00

Module 5: Curriculum and Developing Early Learning
Curriculum and Developing Early Learning

00:30:00

Module 6: Play and Learning in Children's Education
Play and Learning in Children's Education

00:31:00

Module 7: Working with Children Having Special Needs
Working with Children Having Special Needs

00:29:00

Module 8: Promoting Equality, Diversity and Inclusive Practice in Early Years of Learning
Promoting Equality, Diversity and Inclusive Practice in Early Years of Learning

00:30:00

Module 9: Health and Safety of Children in the Early Years
Health and Safety of Children in the Early Years

00:38:00

Module 10: Safeguarding, Protection and Welfare of Young Children
Safeguarding, Protection and Welfare of Young Children

00:29:00

Module 11: Hygiene in Nursing
Hygiene in Nursing

00:30:00

Module 12: Working in Partnership with Parents and Carers
Working in Partnership with Parents and Carers

00:22:00

Certificate and Transcript
Order Your Certificates or Transcripts

00:00:00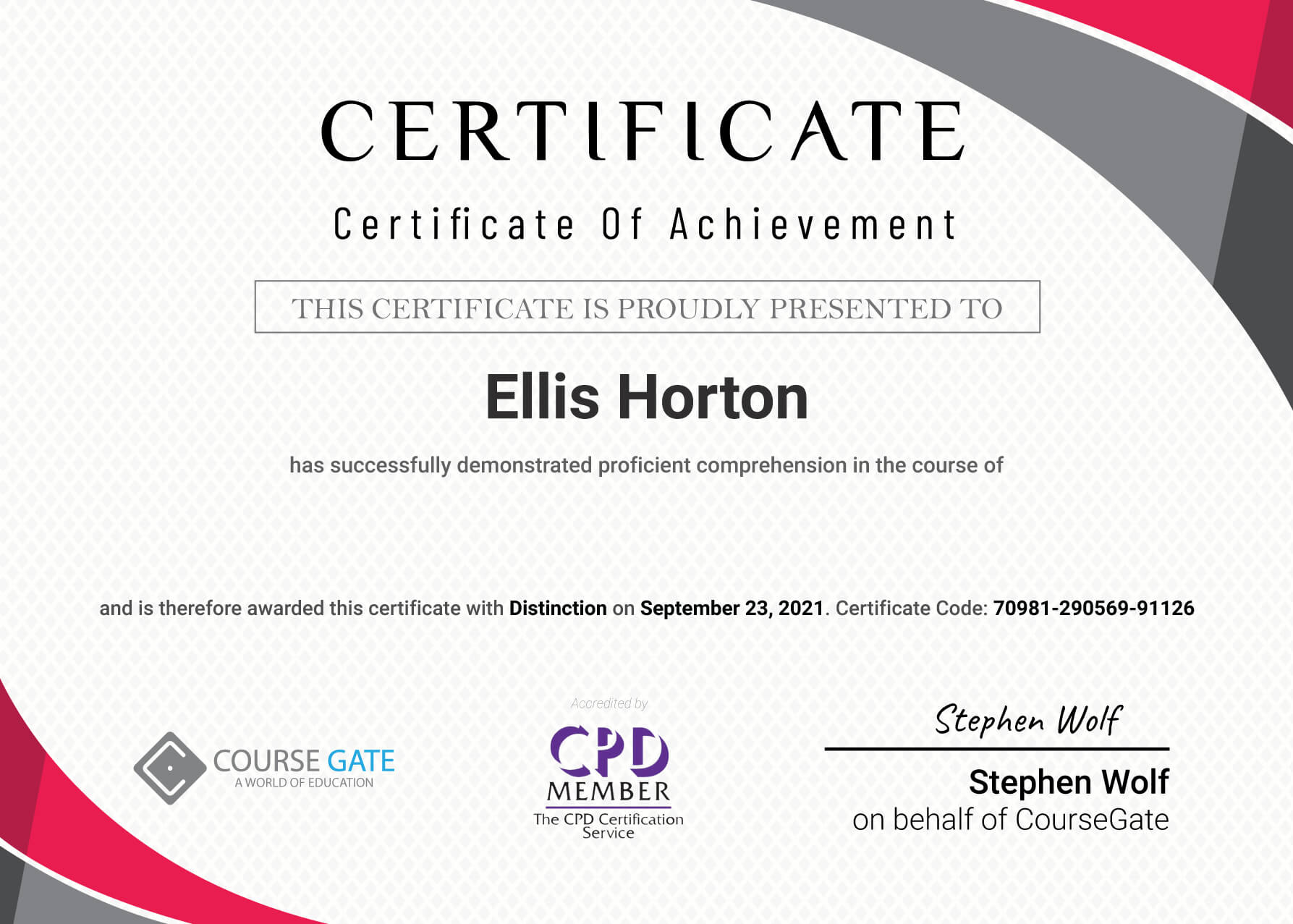 School Nursing Certificate
Course Reviews
5 stars

4

4 stars

3

3 stars

0

2 stars

0

1 stars

0