Overview:
A considerable proportion of children all around the world require special education. As a result, there is a growing demand for SEN teaching assistants. This SEN Teaching Assistant Diploma course will guide you in your journey towards a rewarding SEN teaching assistant career. 
The SEN Teaching Assistant Diploma course will teach you to provide excellent SEN support to children with special education needs. In addition, it will explain what constitutes high-quality teaching for SEN learners. The course will thoroughly introduce you to the various SEN teaching methodologies. You will learn how to support children with social, mental, and emotional disabilities and assist them in their professional and personal development. Enrol now!
Please note: Our SEN Teaching Assistant Diploma course only gives you the theoretical knowledge to excel in this field. This course doesn't entitle you to practise as a professional in this specific field.
Learning Objectives
Find a thorough overview of special education needs

Know how to provide SEN support to children

Familiarise yourself with the various SEN teaching methodologies

Gain the skills to engage children in learning

Know how to assess, plan and monitor children's progress  

Learn how to communicate with SEN pupils effectively

Know how to support mental health in the classroom

Learn how to provide additional support to children with physical difficulties
Who is this Course for?
This SEN Teaching Assistant Diploma course is ideal for aspiring professionals who wish to gain the relevant skills and knowledge to fast track their careers. It is for those who have little or no knowledge of SEN teaching assistant responsibilities or those who are new to the field and want to test their skills and knowledge. There are no entry requirements for this course. However, an eye for detail and a creative mind is essential.
Entry Requirement
This course is available to all learners of all academic backgrounds.

A good understanding of the English language, numeracy, and ICT are required to attend this course.
CPD Certificate from Course Gate 
At the successful completion of the course, you can obtain your CPD certificate from us. You can order the PDF certificate for £9 and the hard copy for £15. Also, you can order both PDF and hardcopy certificates for £22.
Career Path
On successfully completing the SEN Teaching Assistant Diploma course, learners can progress to a more advanced program from our course list. Career opportunities in this field include freelancing or working in-house, within a range of professional settings, with the opportunity to earn a high salary. Related professions in this industry include:
SEN Teacher, Primary

SEN Teacher, Secondary

SEN Teaching Assistant

Behaviour Mentor

Learning Support Assistant
Course Curriculum
Module 01: Special Education Needs (SEN) An Overview
Special Education Needs (SEN) An Overview

00:08:00

Module 02: SEN Support
SEN Support

00:12:00

Module 03: High Quality Teaching for Pupils with SEN
High Quality Teaching for Pupils with SEN

00:09:00

Module 04: SEN Teaching Methodologies
SEN Teaching Methodologies

00:20:00

Module 05: Communication and Interaction
Communication and Interaction

00:16:00

Module 06: Cognition and Learning
Cognition and Learning

00:20:00

Module 07: Social, Emotional and Mental Health Difficulties
Social, Emotional and Mental Health Difficulties

00:11:00

Module 08: Sensory or Physical Needs
Sensory or Physical Needs

00:15:00

Module 09: Working in Partnership
Working in Partnership

00:09:00

Mock Exam
Mock Exam – SEN Teaching Assistant Diploma

00:20:00

Final Exam
Final Exam – SEN Teaching Assistant Diploma

00:20:00

Certificate and Transcript
Order Your Certificates or Transcripts

00:00:00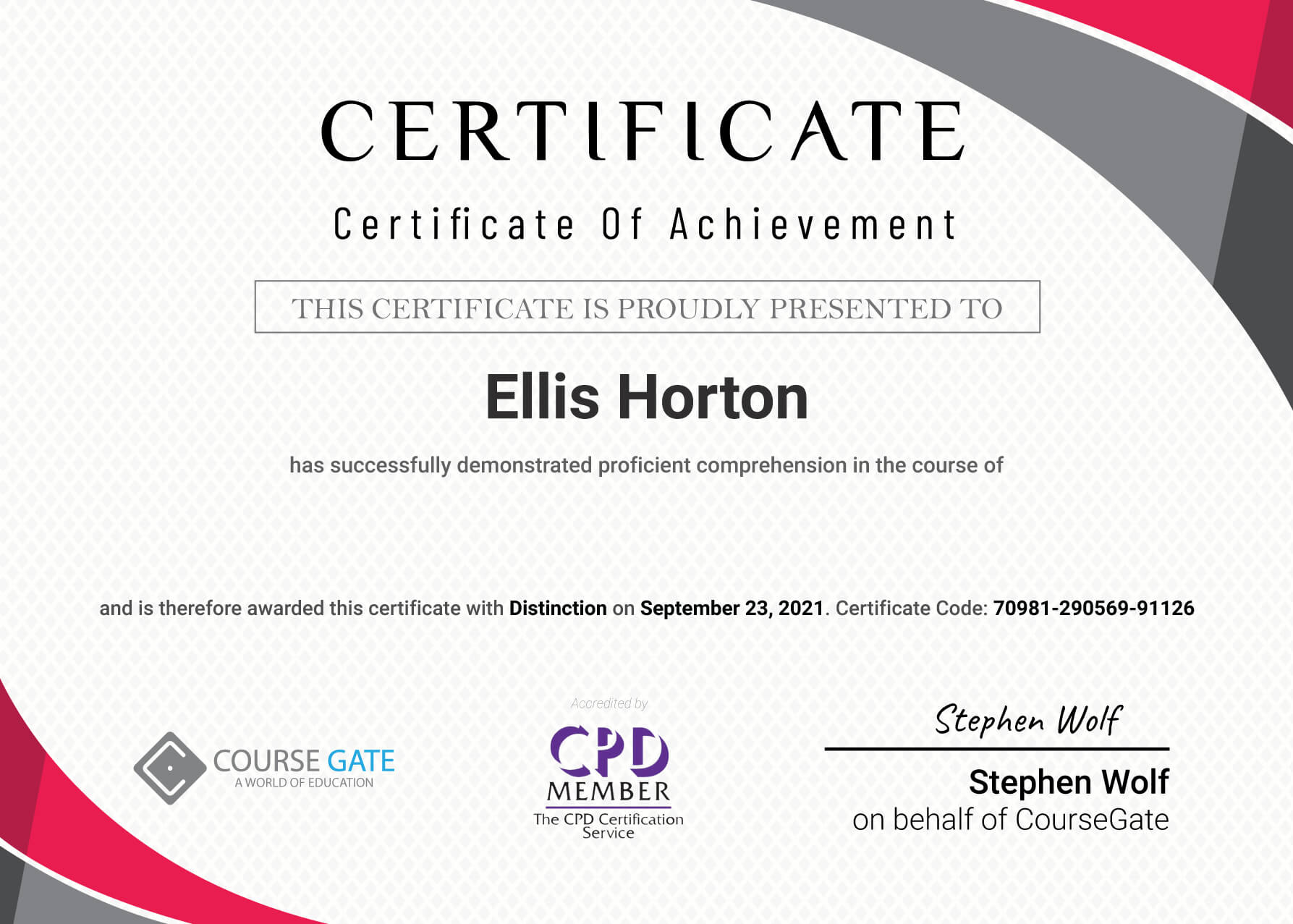 SEN Teaching Assistant Diploma