Description:
The students are not the same all over the world. Some students especially, children, physically disabled, and students suffer from behaviour problems need this education. If you want to be an expert in this role, the SEN Teaching Diploma course is essential for you. Look at the course and learn all you need further in your quest.
The course teaches you how to understand students' psychology, behaviour, and attitude in order to teach them properly. It also guides you to communicate with the students with great care and using sign languages. Following that, it enhances your ability to handle these students effectively.
Who is the course for?
Professionals who want to learn about SEN education

People who have an interest in school management

People who want to become SEN teachers

Parents with kids who have special needs
Entry Requirement:
This course is available to all learners, of all academic backgrounds.

Learners should be aged 16 or over to undertake the qualification.

Good understanding of the English language, numeracy and ICT are required to attend this course.
CPD Certificate from Course Gate
At the successful completion of the course, you can obtain your CPD certificate from us. You can order the PDF certificate for £9 and the hard copy for £15. Also, you can order both PDF and hardcopy certificates for £22.
Assessment:
This course does not involve any MCQ exams. Students need to answer 3 assignment questions to complete the course, the answers will be in the form of written work in pdf or word. Students can write the answers in their own time. Each answer needs to be 200 words (1 Page). Once the answers are submitted, the tutor will check and assess the work.
Course Curriculum
Fundamentals of Teaching
Understanding the Development of Children and Young Person

01:00:00

Communication and Professional Relationships with Pupils and Family

01:00:00

Safeguarding the Welfare of Children and Young Person

01:00:00

SEN: Special Educational Needs
Introduction to Special Educational Needs (SEN)

00:05:00

Understand Constructivism in the Classroom and know your role as a teacher

00:10:00

SEN Code of Practice

00:15:00

Get an understanding on SENCO

00:10:00

Classroom Management Strategies for Children with Special Needs

00:05:00

Physical Difficulties, Sensory Difficulties, Cognitive Impairments of Pupils

00:10:00

How to Deal with Pupils with Autism

00:10:00

Understanding Learning Difficulties

00:10:00

Anger Management Methods for Pupils With Special Needs

00:10:00

Teaching Children with Down Syndrome

00:10:00

Conclusion SEN

00:05:00

SEN in USA
INTRODUCTION to SEN USA

02:00:00

PRINCIPLES OF SPECIAL EDUCATION

01:00:00

SEN CURRICULUM

01:00:00

SEN TEACHING

01:00:00

CONCLUSION to SEN USA

00:15:00

ADHD
What is ADHD?

00:05:00

Causes of ADHD

00:05:00

Diagnosing ADHD

00:05:00

Treating ADHD

00:05:00

ADHD and Education

00:05:00

Reasonable Adjustments: ADHD

00:10:00

Adults with ADHD

00:10:00

Dyslexia
What is Dyslexia?

00:10:00

Identifying Dyslexia

00:05:00

Co-occurring Conditions

00:05:00

Diagnosing Dyslexia

00:05:00

Creating Dyslexia Friendly Environment

00:05:00

Solutions for Dyslexia

00:30:00

Certificate and Transcript
Order Your Certificates or Transcripts

00:00:00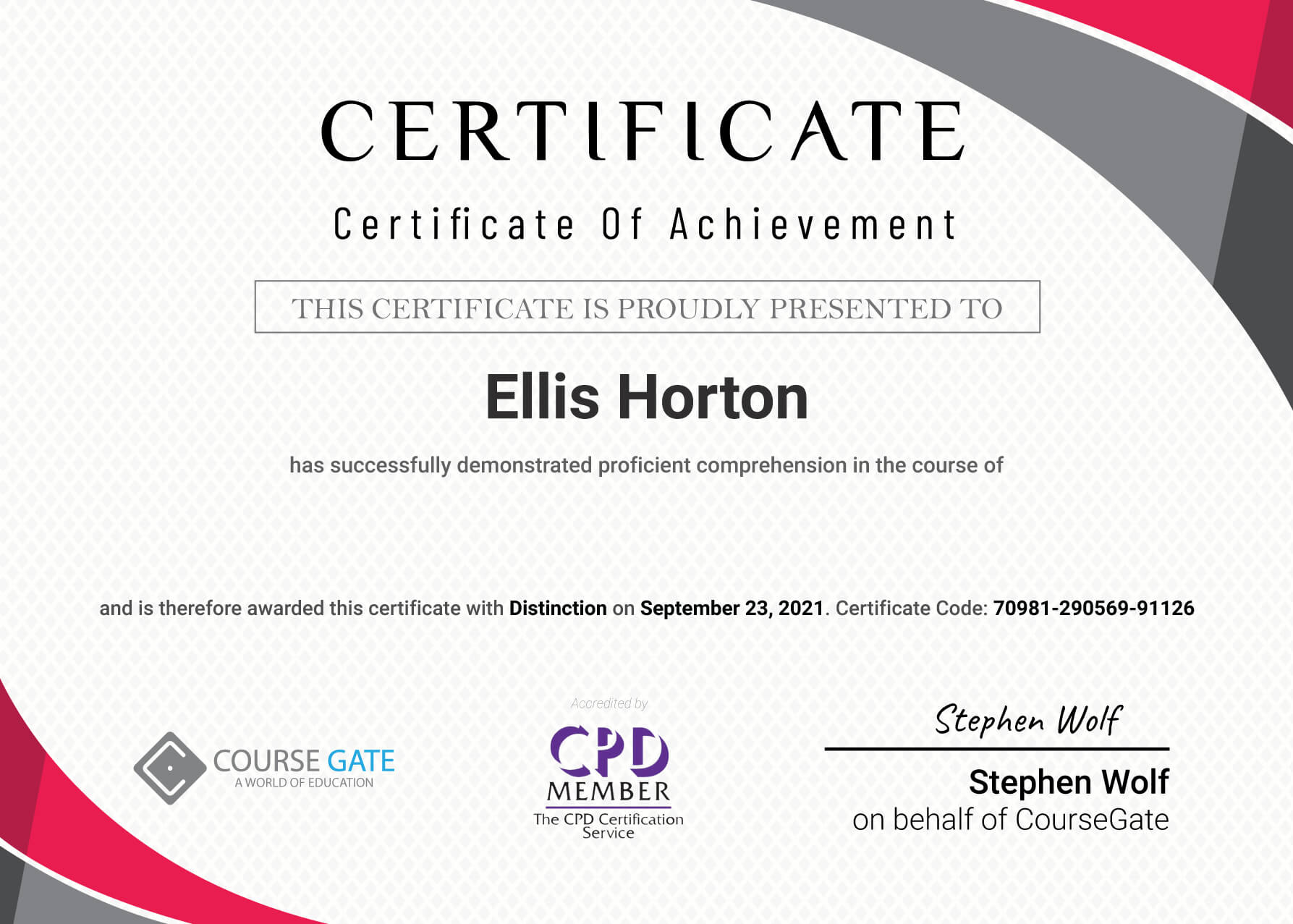 Course Reviews
5 stars

7

4 stars

0

3 stars

0

2 stars

0

1 stars

0