Overview:
A safe and healthy workplace aids in fewer injuries, better employee performance, and increased productivity. Gain the relevant skills in workplace health and safety management with the Diploma in Workplace Health and Safety course. 
Through this Diploma in Workplace Health and Safety course, you'll get equipped with the fundamental skills to create and maintain a safe and healthy workplace. From the easy-to-follow modules, you'll learn about common workplace hazards and how to avoid them. The course will familiarise you with the root causes of accidents and ill health at work. On top of that, it will teach you about the hazards arising from work equipment and how to prevent them. By the end of the course, you'll know how to ensure the welfare of the employees and maintain a safe work environment. 
Please note: Our Diploma in Workplace Health and Safety course only gives you the theoretical knowledge to excel in this field. This course doesn't entitle you to practise as a professional in this specific field.
Learning Objectives
Determine the importance of health and safety in the workplace. 

Broaden your understanding of work-related health problems

Gain the skills to ensure workplace equipment and tools are safe to use

Discover the various types of workplace safety hazards

Learn the various ways to prevent fire outbreak 

Be able to promote the wellness of employees
Who is this Course for?
This Diploma in Workplace Health and Safety course is ideal for aspiring professionals who wish to gain the relevant skills and knowledge to fast track their careers. It is for those who have little or no knowledge of workplace health and safety management or those who are new to the field and want to test their skills and knowledge. There are no entry requirements for this course. However, an eye for detail and a creative mind are essential.
Entry Requirement:
This course is available to all learners of all academic backgrounds.

Good understanding of English language, numeracy, and ICT are required to attend this course.
CPD Certificate from Course Gate 
At the successful completion of the course, you can obtain your CPD certificate from us. You can order the PDF certificate for £4.99 and the hard copy for £9.99. Also, you can order both PDF and hardcopy certificates for £12.99.
Career Path
On successful completion of the Diploma in Workplace Health and Safety course, learners can progress to a more advanced program from our course list. Career opportunities in this field include freelancing or working in-house, within a range of professional settings, with the opportunity to earn a high salary. Related professions in this industry include:
Occupational Health and Safety Specialist

Health and Safety Engineer

Health and Safety Consultant

Health and Safety Manager

Health and Safety – Loss Control Manager

Health and Safety – Environmental Engineer

Health and Safety – Director
Course Curriculum
Module 01: Health and Safety at Work and the Laws
Health and Safety at Work and the Laws

00:20:00

Module 02: Managing for Health and Safety
Managing for Health and Safety

00:28:00

Module 03: Risk Assessment and Common Risks
Risk Assessment and Common Risks

00:18:00

Module 04: Workplace Health, Safety and Welfare
Workplace Health, Safety and Welfare

00:19:00

Module 05: Accidents and Ill Health at Work
Accidents and Ill Health at Work

00:14:00

Module 06: Electrical, Fire and Gas Safety
Electrical, Fire and Gas Safety

00:22:00

Module 07: Safety in Different Work Settings
Safety in Different Work Settings

00:21:00

Module 08: Work Equipment Hazards and Risk Control
Work Equipment Hazards and Risk Control

00:21:00

Module 09: Other Health and Safety Hazards at Work
Other Health and Safety Hazards at Work

00:22:00

Certificate and Transcript
Order Your Certificates or Transcripts

00:00:00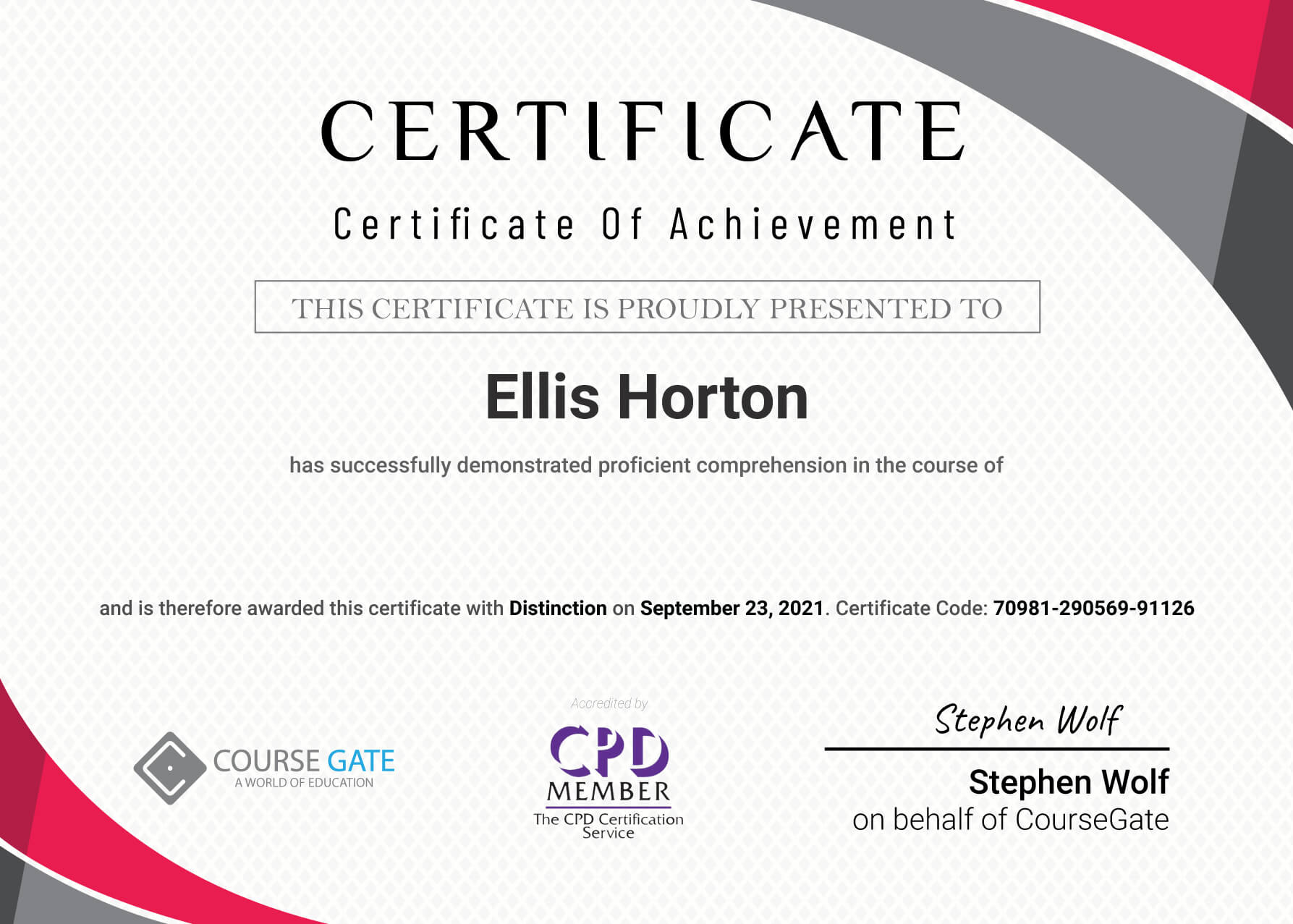 Diploma in Workplace Health and Safety